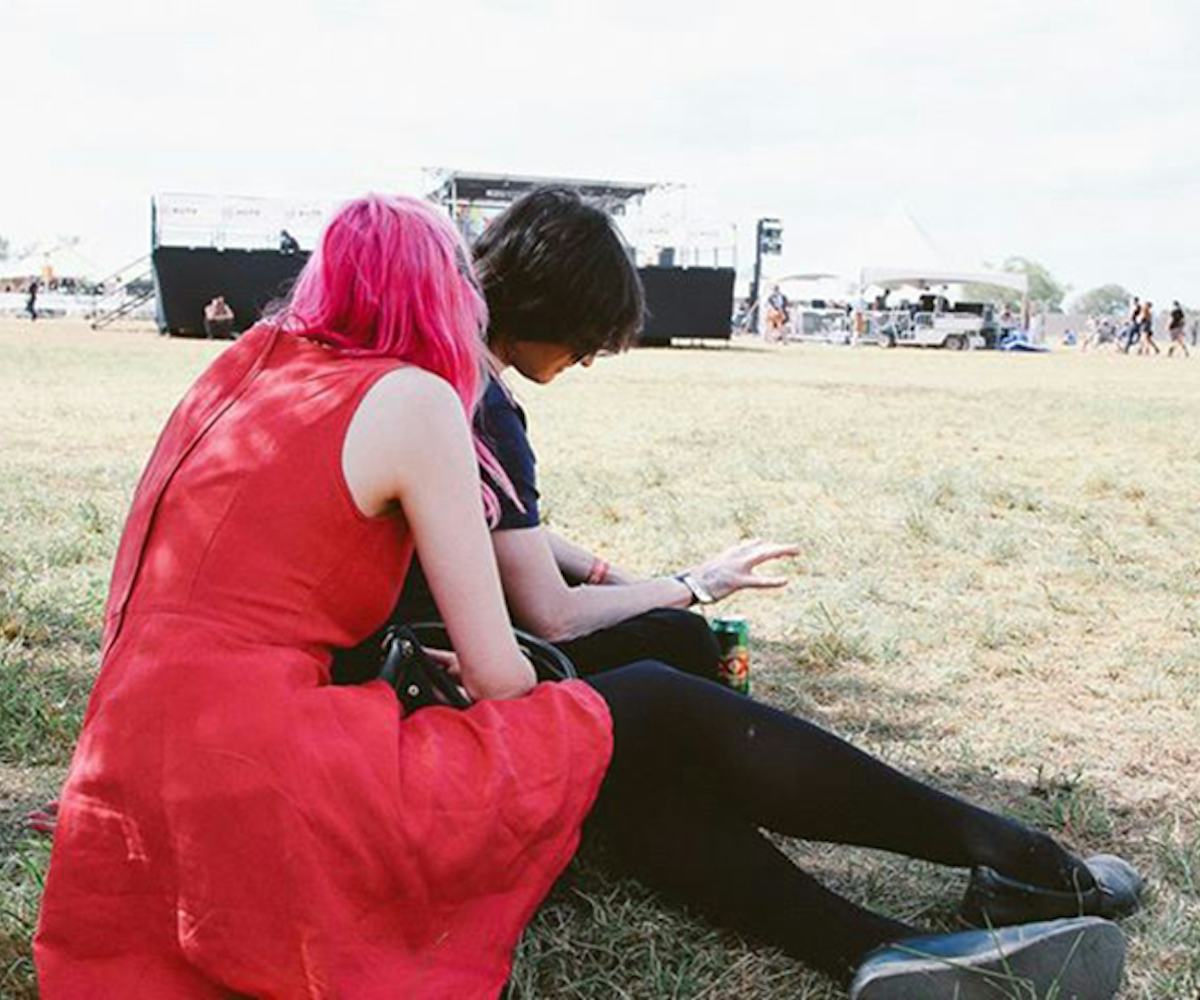 all photos by jackie lee young
artist in residence: jackie lee young
meet the portrait photographer who doesn't always show face.
Usually when an artist specializes in portrait photography, they have their own way of capturing people's faces, but for Austin-based creative Jackie Lee Young, showing the faces of her subjects in their portraits is something she often chooses not to do. Pretty crazy, right?!
Trying to find ways to capture a person without always showing their facial expressions is a signature of Young's work--from a vinyl-only DJ who is looking down at his turntable, to a group of friends at a festival who aren't looking into the camera, to a girl on an empty road who is looking into her past (or future) and not into the lens--and we wanted to know just how she pulls it off.
Read our interview with the retro-inspired literature lover below, then check out the gallery to see some of our favorite photos by Young, which we think could make up the ultimate lookbook for one of our favorite brands.
Why did you choose portrait photography as your focus?My first photography teacher in college gave me a book of African Portrait Photography from the 1960s when I was having a moment of true self doubt. It brought me out of my doubt hole and the portraits I saw in the book taught me to shoot wisely but with risk as well. Not all the photos were posed, many of them were pushing the boundaries of what I had seen of photography at that point. As an adult, I still hold on to the value I learned from studying those images--finding ways of photographing human nature in portraits, not just traditional portraits.
It's super cool that you studied both literature and photography. How do you think they work together to influence your vision?
English Literature taught me to see things in parts: beginning, middle, end. It opened me up to understanding patterns in writing and finding ways to tell stories. Combined with photography, I see it then as visual storytelling. For a long time it was difficult for me to find ways to show something, not tell it.
Most of your shoots seem to have a retro inspiration to them, why is that?This is a common thread for me because I truly enjoy creating my own visual version of found photos, but it doesn't always dictate the type of project I will collaborate on. I am always up for a good challenge.
What makes Austin a great place for photo subjects?  There are so many interesting people here, people who aren't afraid to be themselves and are not trying to impress anyone. I appreciate that. They can be totally honest and those people are the ones I tend to gravitate to.
If you could photograph the press shots for any band, who would it be? Nirvana is and will always be "the one," but since that's not a tangible possibility, then I'd say I would love to shoot Solange Knowles.Which Instagram accounts are you currently obsessing over?@theacademynewyork: My ultimate favorite.
@thisisnow_here: I check this daily to make sure I didn't miss anything.
@ideabooksltd: The world's best place for amazing never-seen-before imagery of my favorite public figures, photographers, and designers. So much inspiration.
P.S. Live in Austin, Texas? Don't miss Young's work in the Light! show, happening at Common House (906 E.49th Street) on 7/26. Get deets here!
Shown at Light!--a 2014 group exhibit at Common House in Austin, Texas.
Shown at Light!--a 2014 group exhibit at Common House in Austin, Texas.
Shown at Light!--a 2014 group exhibit at Common House in Austin, Texas.
Spring '14 editorial campaign for Prototype Vintage in Austin, Texas.
Austin Psych Fest 2014.
Austin Psych Fest 2014.
Austin Psych Fest 2014.
Austin Psych Fest 2014.
Austin Psych Fest 2014.