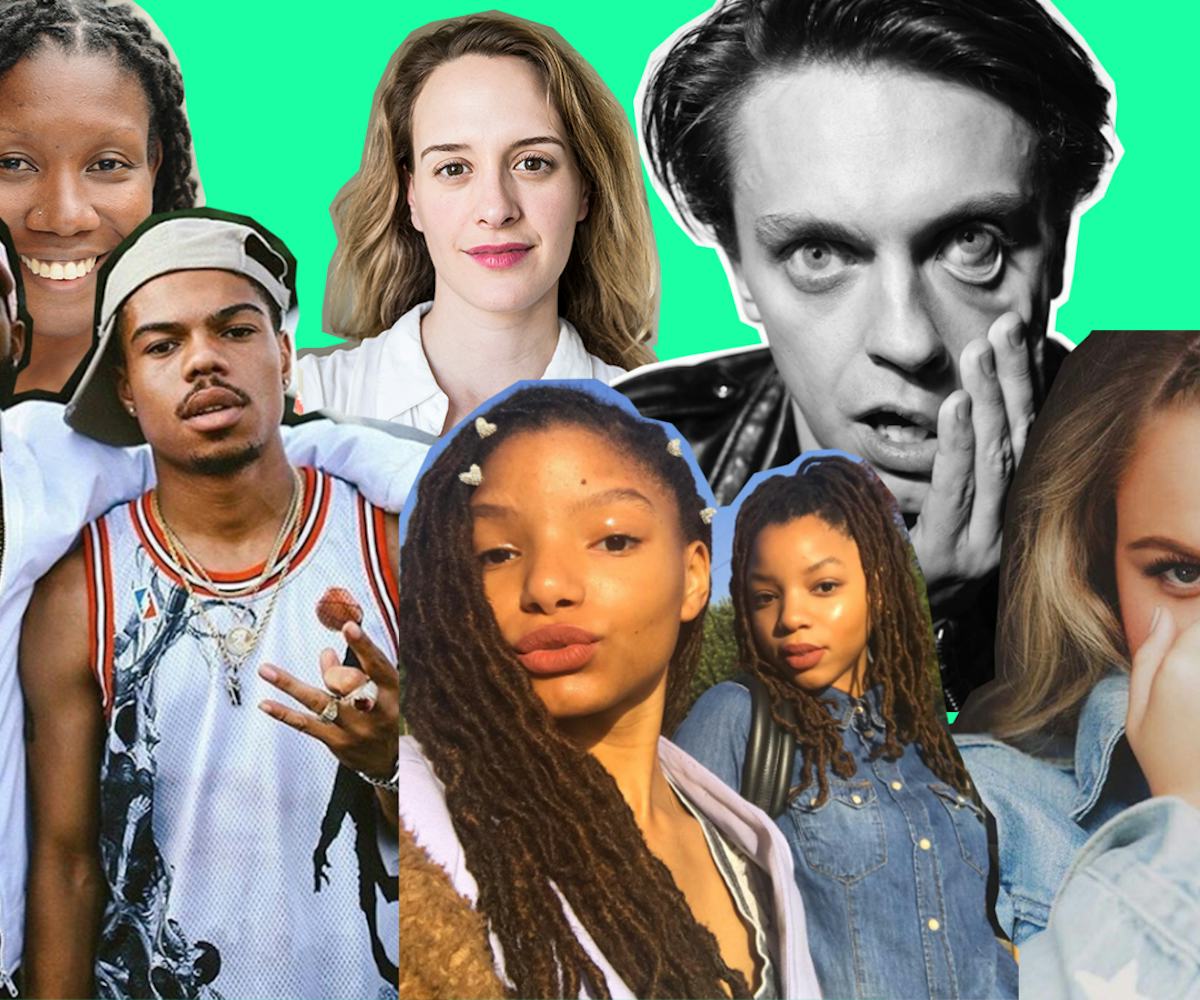 10 Artists, Singers, And Authors Reflect On Their Favorite Moments Of 2016
It's easy to dismiss 2016 as shitty, and that's because it mostly was. But with the bad came the good. The proof is all around the internet: There were some great albums and music videos released and things to read. There were some stellar films, too. There were amazing books. The number and quality of television shows has also never been better. See, there were the occasional snippets of light during an otherwise dark time.
For some much-needed optimism, we polled artists, musicians, and authors to see what their favorite moments of the year were. Some called out more personal accomplishments, while others focused on broader cultural happenings. These reflections are proof that 2016 wasn't ALL—just mostly—bad.  
It is no doubt that 2016 had been a challenge for many who are still grappling with the new direction of our country. However, there were lots of moments that stood out to me as memorable. For one, the publication of my first book, Here Comes The Sun, which has been featured and reviewed in the New York Times, among other reputable mainstream publications, in addition to receiving critical and popular acclaim. Nevertheless, my favorite moment of 2016 was my book launch.
It was a warm day in July, typical weather for the middle of summer. The chosen venue was Greenlight Bookstore, my favorite neighborhood independent bookstore in Fort Greene, Brooklyn. Upon arrival to the bookstore, after a Champagne toast with my publicist and publisher at a nearby restaurant, the whole room stood and applauded my entrance, raising their cups of rum punch. There were people everywhere; standing room only, with some people having to view the event from the glass windows outside on Fulton Street. I couldn't help but think, in that moment, that this must be what heaven feels like. It was beyond magical to see among strangers, my wife, my mother, all my friends from childhood to adulthood, my in-laws, agent, publicist, old classmates, former and current colleagues, and acquaintances in that overcrowded room, witnessing me accomplish my dream.
Colin Kaepernick's protest message resonated loud and clear across America in 2016, despite the conservative rights loud attempt to distract! "O'er the land of the FREE???"
Chloe: Definitely opening up for the Formation Tour and performing at the BET Awards. That was our very first awards show. That was really cool. [Also,] going to the White House and meeting Mrs. Obama and Mr. Obama... It's been a really fun year and we just started putting out our original music in April. We're really happy with how the response is because we just started out with our covers and with our fans that we had built up, we weren't sure how they would react to our own music and our sound. We're really happy that they welcomed our music with open arms and were able to have an open ear, because I think our music is different but is kind of familiar, as well.
Halle: The best people, ever. Those would be my top, too: BET Awards, White House, and Formation. I can't believe we did that this year.
Honestly, the Who Weekly podcast saved my life this year. Even as things in the world got extremely dark, Lindsay [Weber] and Bobby [Finger] always kept it light and amazingly ridiculous; their conversations about who-lebrities are just a flimsy pretext for their perfect banter. Example: A couple of weeks ago, they called out a nobody—a "who," as opposed to a "them" like, say, Angelina Jolie—who had "revealed her bisexuality in a scathing open letter to Donald Trump." "What if all revelations had to be in the form of an open letter to Donald Trump?" asked Lindsay, and then they riffed on that for a few glorious seconds. In a scathing open letter to Donald Trump, Lindsay Weber revealed that she still watches Hart of Dixie on the weekends. I don't know. I'm not doing it justice. All I know is that I guffaw so hard that tears come to my eyes reliably at least once per episode. Thank you, Lindsay and Bobby, for allowing my brain to release a tiny dribble of serotonin twice a week, and, as always, good form, Bella Thorne.
I remember performing and doing a show at SOBs… I remember going through this whole situation and saying, "Man, I'm out here. This is SOBs, I gotta sell this shit out. I'm from Chicago, it's a big deal." The last song we did wasn't rehearsed, we just played it, and I remember feeling, This, right here, is why I make music. This right here is why I do what I do.
Chance [The Rapper] is my older brother, and that was the first time that I realized that everyone in the crowd knew the words. That was the first time that I realized that nobody came up to me and said something about my brother. That was the first time that I realized, as an artist, I had finally stood on my own two [feet]. That was definitely a very, very important moment for me in 2016. But highlights: going on tour with Torey Lanez. He's a huge artist, he had the No. 1 R&B album, and to pick me and not be on some label shit or some politics shit like, "I fuck with his kid"… Like this is my first tour, and it's with Torey Lanez. He's not just some rapper. He fucks with me, I fuck with him. We're actually friends, we hang out after the shows and do shit… I just love everything about being an artist.
Not sure if there is a favorite moment. 2016 has been a year of extreme highs and lows. One thing that may stick with me, when I look back at this year, is that in 2016, I discovered that playing music makes me feel happy.
My favorite cultural moment of 2016 was when Kendrick Lamar released the untitled, unmastered album. No promo, no campaign, and literally took the world by storm. It showed risk and unapologetic fearlessness. Kendrick Lamar is one of my biggest inspirations as a black person being in the industry; he lets us know you don't have to sell your soul to be great.
Colin Kaepernick taking the knee during the National Anthem. He was brave, and I commend anybody who can be brave enough to use their platform to influence a generation.
Definitely releasing my album and seeing the response. Me starting off in Australia, my home country, and seeing it get picked up across Europe was really cool. I got to be a part of the Suicide Squad soundtrack, too, which just got nominated for a Grammy. That's insane. Getting to work with a legend like Quincy [Jones] and cover such an incredible record and such an epic anthem for women—I was stoked to be a part of that as it is, and then the fact that it's gotten such a warm reception is a cherry on top.
Peter Dreimanis, singer from July Talk
It was awesome to do Limits festival. That will probably always be etched in my mind for 2016. We got to meet Catfish and the Bottlemen, and they offered us this crazy sold-out arena tour to the U.K., and we got to see and hang with Cage the Elephant, just some of our favorite bands. We met Jim [Eno] from Spoon. We had this incredible personal experience, especially because it was over two weekends. It was an incredibly positive thing. I think Austin is our band's collective favorite American city.
On a different note and to keep it positive, to have everybody be able to reflect on the music of Leonard Cohen, David Bowie, Sharon Jones; as much as you can see it as a negative, it's an opportunity for the world to reflect on what those artists made.