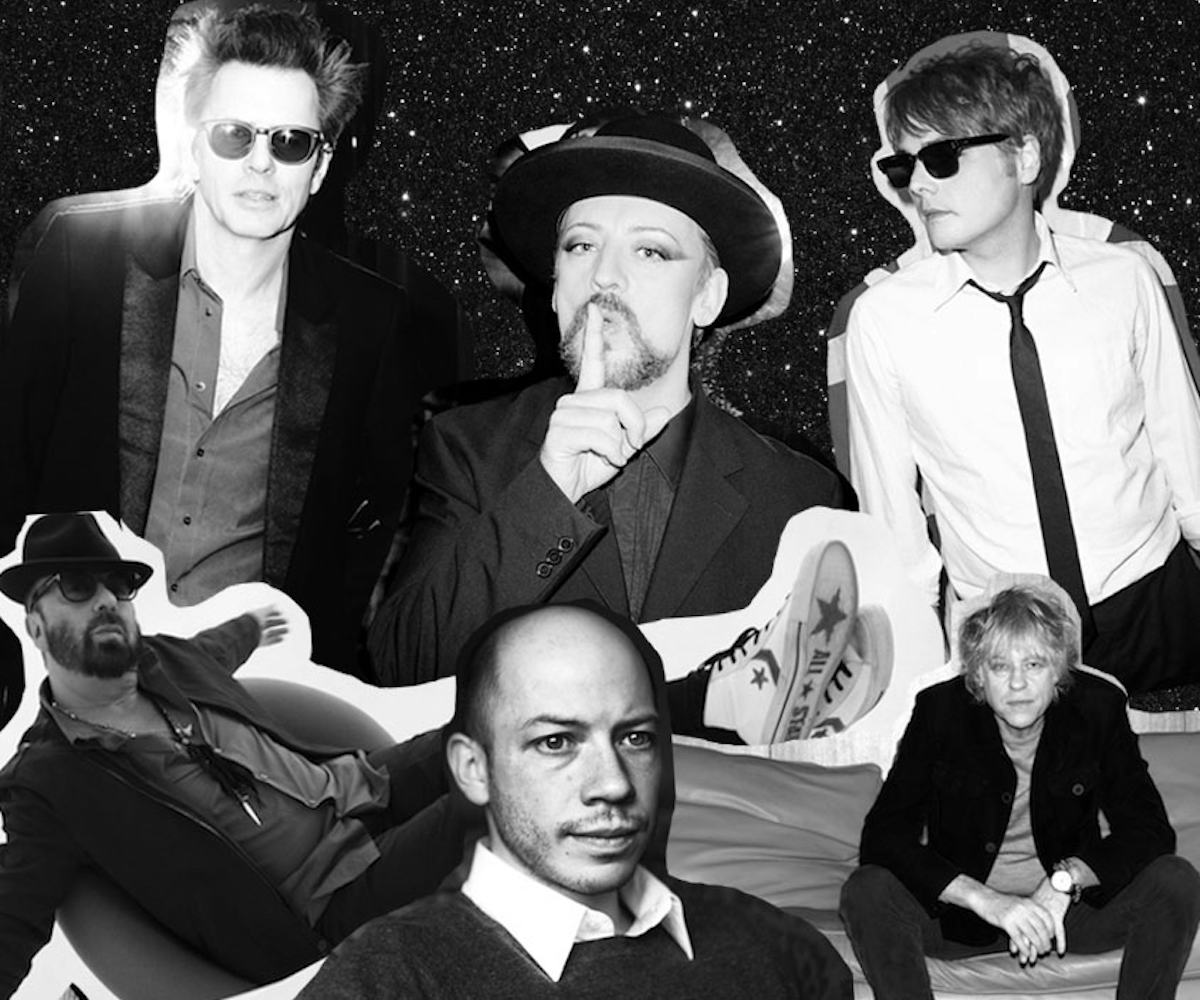 Collage photos via Norman Wong, Justin Loy, Tommy Ga-Ken Wan, Chris Shonting, Jay Hanna.
NYLON Guys Remembers David Bowie
paying homage to the starman
In the days since David Bowie's passing, we've gradually progressed from heart-stopping grief to fond reverence as we look back on his influence. But while many artists only receive the acknowledgement and respect they deserve posthumously, when it's too late, Bowie is (and here he takes the unique distinction of being referred to in the present tense even in his afterlife, as his work lives on eternally) among the few geniuses whose creations are so strong, so impactful that he demanded our attention and deference immediately—and we did our best to make that obvious while he was still with us. Clear example: A running feature in the print edition of
NYLON Guys
was "On the Record," in which iconic musicians shared the 10 albums that shaped their own sounds. While we spoke to artists from many different walks of life, with completely disparate voices, one artist proved to have been a staple in their record collections: Bowie, of course. 
Here, we look back into some "On the Record" features and reminisce with the artists who are as much a fan of Bowie as us. 
Stuart Braithwaite of Mogwai, on Low (NYLON Guys March 2011):
"This is a real landmark record, especially the second side of it, all the stuff with Brian Eno, the soundscapes. It almost goes beyond regular rock music and it becomes a neo-classical sound collage—it's amazing. When we started out and people were talking about us and Tortoise and saying it was 'post-rock,' one of the reasons I always hated the term was because people have been making pretty fucking far-out music on rock records for a long time. So to suddenly say this was our idea—if we'd actually embraced it—would make us look like total idiots. I've always been quite conscious of what has happened and how music has changed. I would never be unambitious and not try to do something really good, but to try and take credit for redefining the prevalent music of the last 100 years [laughs]? It's never gonna have a happy ending."
Bob Geldof, on The Rise and Fall of Ziggy Stardust and the Spiders From Mars (NYLON Guys May 2011):
"Why Bowie? Well, the music was spectacularly good. He sounded fantastic. And he looked just fucking amazing. I'd say Aladdin Sane was the better album, but by the time Ziggy Stardust came along, Bowie was everything a proper pop star should be. He was mesmerizing, and he was the reason many young people fell in love with music in the first place."
John Taylor of Duran Duran, on The Rise and Fall of Ziggy Stardust and the Spiders from Mars (NYLON Guys July 2011):
"Bowie was the first artist that I really identified with. I was cutting out pictures of him and putting them up on my wall. When you're an adolescent, your life is such a drama. It's like, your parents don't understand, you hate sports, you hate your body, you're so in your feelings, so music becomes really important to you. And Ziggy is the album I played the most; every song is great. It starts off really down, like a dystopian nightmare, and ends with 'Rock 'n' Roll Suicide.' It's the kind of album worth having a turntable for."
Dave Stewart, on Hunky Dory (NYLON Guys September 2011):
Gary Numan, on Aladdin Sane (NYLON Guys November 2013):
"I was actually a bit late getting into David Bowie because there was some friction between Bowie and Bolan of T. Rex—I had refused to listen to any Bowie. I was a young teenager, and stupid. I missed the whole Ziggy Stardust thing, unfortunately, but I found it later, and was a big Bowie fan until around '78, '79. Aside from the songs he did with Nine Inch Nails, I've not really liked anything since 1980. But I still think Aladdin Sane is phenomenal."
Boy George on Hunky Dory (NYLON Guys May 2014):
"My older brother Richard was the Bowie fan, originally, and I inherited Hunky Dory—the one where he kind of looks like Greta Garbo on the cover—after he'd moved on to Alice Cooper and Faces. It was such an unusual record if you think about the pop music climate then, with Harry Nilsson and Sonny & Cher. Songs like 'Eight Line Poem' and 'Kooks' were just bonkers. I remember reading the lyrics on the back and just imagining this amazing bohemian existence that he must have led and that I wanted to be part of."
Gerard Way, formerly of My Chemical Romance, on The Rise and Fall of Ziggy Stardust and the Spiders from Mars (NYLON Guys November 2014):
"I was a child in the '80s, so what Bowie meant to me was 'Let's Dance' and 'China Girl.' And I knew he was in Labyrinth and that he was pretty cool. Going into art school, I decided to check this one out, because nobody in high school listened to Bowie. I was incredibly surprised by what I heard—that record changed everything for me. It softened me up for a lot of other music—real glam, like T. Rex—and opened the door for a lot of other things, like androgyny."