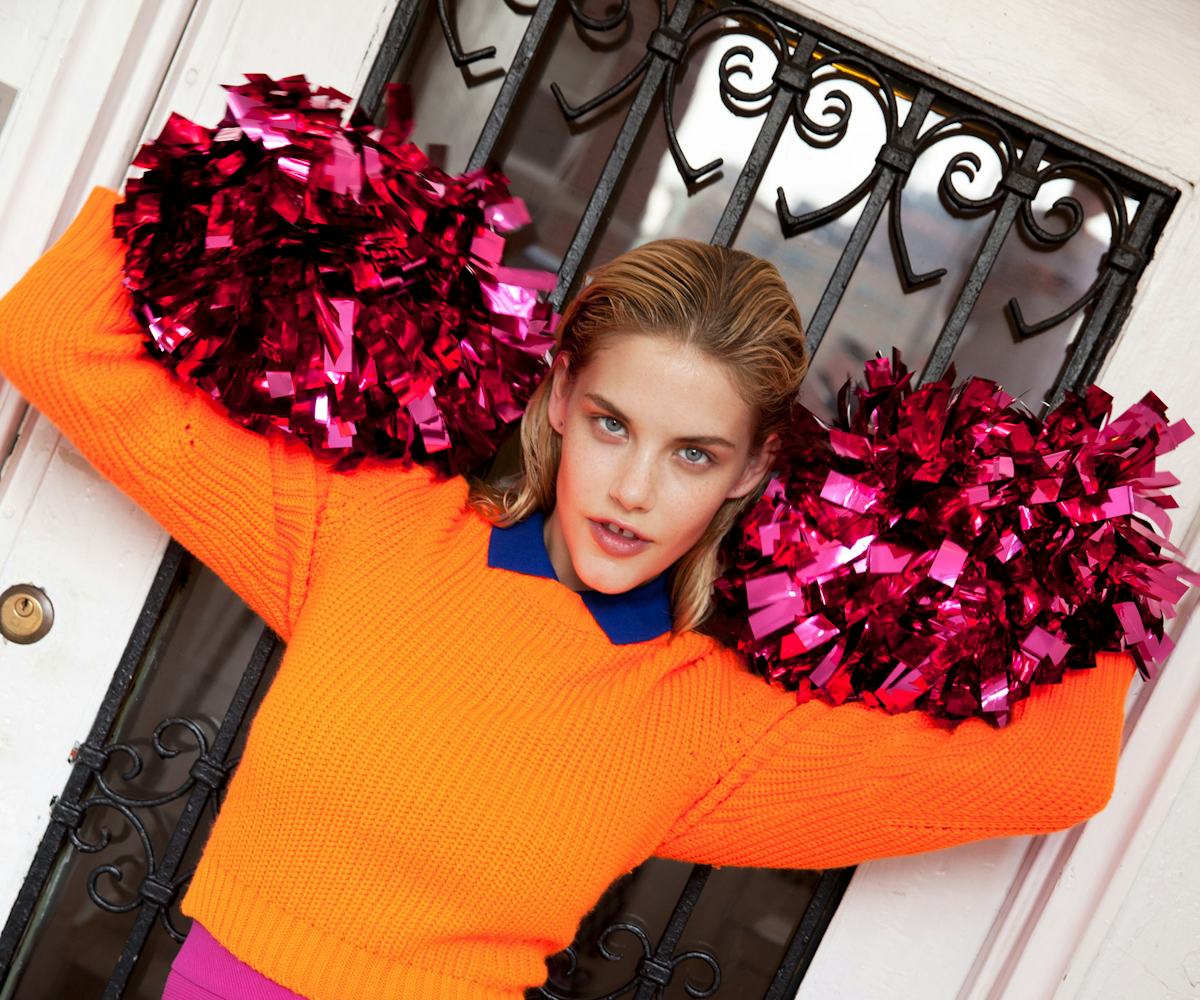 Photographed by Silja Magg
obsessed: ashley smith
our october it model tells it like it is.
When we started planning out our It Issue (you know, the one with Alexa Chung on the cover!), we knew we had to get the best It Model to star in our cheerleader-themed editorial styled by Jessica Bobince. That's when we landed on Ashley Smith, the cap toothed Texan who has posed for everyone from Urban Outfitters to Jeremy Scott. We also happen to know that Smith is about the most fun and interesting girl in the world, so after the shoot we grilled her on everything she loves right now, from eating ice cream to shopping for cat-eye sunnies.
So if you need a little life-spiration or are looking for the best place to buy '50s style clothing, read on, click through our editorial, and get ready to be obsessed with Ashley Smith.
'50s Style
"I'm really obsessed with high-waisted and cropped things together. Right now I'm wearing a cropped vintage Alaia sweater and an American Apparel high-waisted skirt. I'm obsessed with '50s style. My NYLON shoot was all high-waisted skirts. When I saw the clothing on the racks, I said, 'This is the perfect shoot for me.' I feel sexy in these clothes because this is what I actually wear. I don't actually wear cheerleading costumes, [laughs] but it feels kind of similar."
Big Gay Ice Cream, 125 East 7th Street, New York, NY 10009
"I'm obsessed with Big Gay Ice Cream. They call me "Layers Girl" because I always order the vanilla cup with crushed up vanilla wafers, but they never put enough vanilla wafers in it, and I make them add more. It's pretty embarrassing when you walk in the ice cream store and they know you."
Horror Films
"I've been watching a lot of horror films lately. I saw The Conjuring the other day, I actually squealed. the movie is super scary. It has it all: the haunted house, the kid who died, the mother who killed herself, the nanny who was there, the girl who sees ghosts. You've got to see it."
"It comes in a purple tube and it comes out purple, but you put it on your skin and turns to your skin tone and it looks like you're airbrushed. It's so light, it's like moisturizer. I'm so obsessed with it, it's insane. I went to Paris and bought eight bottles and gave them out to all my friends like, 'You're never going to use any other product again.'"
Cat-Eye Eyeliner
"I love to do cat-eyes a lot. It's a part of the whole '50s thing. Yves Saint Laurent has one of the best eyeliner pens that I've found. It has a great felt tip and gives you really nice, sharp lines."
Rosewater Toner
"I'm obsessed with toners. Is that weird? They just make you feel really clean. I started using this Roberts' Rosewater Toner from Catbird in Brooklyn. Every night before I go to bed, I'll wash my face when I get out the shower put the toner on my face. I use a cotton ball to put on the toner. It makes me feel so fresh."
Australia
"I was really obsessed with going to Australia and I finally went last year. I didn't go to Sydney, I went to Byron Bay and it was so amazing. I recently started working with RVCA and we did a trip to Australia to get to know everyone. It was basically 30 pro surfers and skaters, the RVCA staff, three houses, 1500 beers, 12 jeeps, and 1000 surfboards. It was the best time."
Of Montreal
"My favorite band is Of Montreal. I've been obsessed with them since I was really young. When I was young I wanted to join the circus and become one of the girls that dances with the silk. I was never that ambidextrous, so I never did that [laughs], but if I ever joined the circus my first performance would be to "Lysergic Bliss." It's my favorite song by them. It makes you feel like you're flying."
Keeping  a Dream Diary
"I'm obsessed with dreaming and I always I write my dreams down. It's one of the first things I like to do when I wake up in the morning. Sometimes I remember them so vividly, like last night I dreamt that every monument in the world went migrated to one part of the world. The Eiffel Tower and the Pyramids were just slowly going by."
Takahachi, 85 Avenue A, New York, NY 10009 
"I'm a restaurant kind of girl. I really like to go out to eat. I love the experience of inviting friends out and getting together and talking and sitting down and sharing a bottle of wine and experiencing food and sharing things together. That's a big thing that I spend my money on. Japanese food is my favorite food, and there are so many good places. The one I go to the most, because I have so many good memories there, is this place called Takahachi. It was the first restaurant I went to in New York, and the first place where I went on a date. It's not too expensive, and they have the best green tea ice cream."
"I collect sunglasses, especially cat-eye sunglasses. My favorite sunglasses designer is Thierry Lasry. His sunglasses are big and chunky with different colored lenses. I have a cat-eye pair that are tortoise shell but look a little like leopard print. They're cat-eye but with a round edge. They're my favorite glasses of all time."