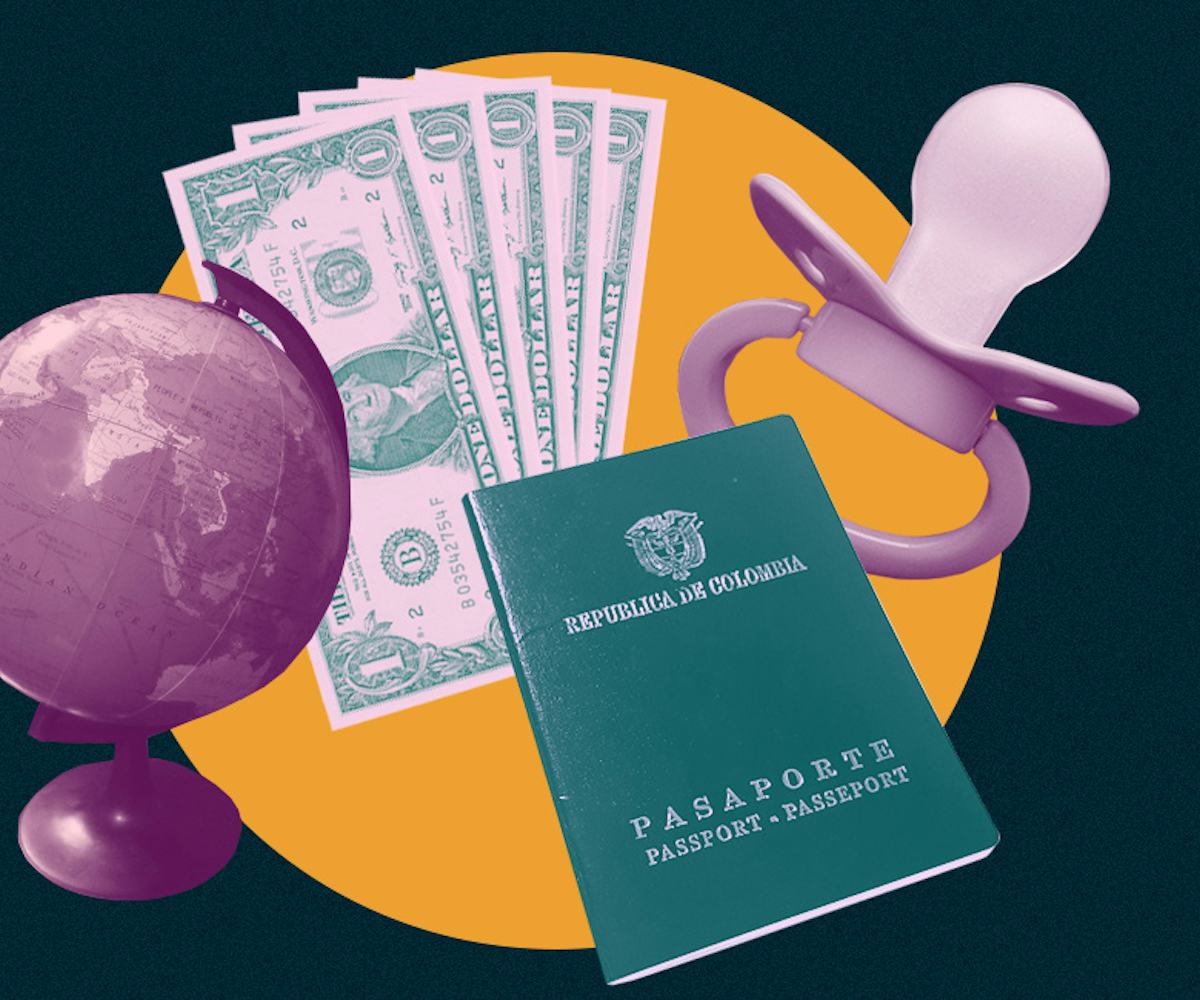 Photos from Wikipedia Commons
Is Being An Au Pair A Dream Job—Or A Nightmare?
It's a prime example of the exploitation of women's work
Shortly after graduating high school, Johana Paola Beltrán heard about an exciting opportunity: She could live and work in the U.S. for a year as an au pair. Beltrán, who is from Colombia, signed up for the program through InterExchange, a nonprofit cultural exchange program that promotes itself as a way for "adventurous souls" from around the world to "live, work, and travel abroad."
A few things were standing between Beltrán and her new life in the U.S.: She had to take English lessons, get a driver's license, and go to first aid training and swimming classes to qualify. She also had to pay a $2,500 fee for the entire process. After interviewing with a few families over Skype, Beltrán finally found her match. She'd be going to Colorado, to live with and work as a nanny for a family of four.
InterExchange bills its au pair program as a way for young people, most of whom are women, from around the world to "experience a new culture and create life-long memories around the way." Au pairs are expected to work as live-in nannies for their host families, but the program is primarily advertised as a cultural exchange; in addition to their childcare duties, au pairs are required to take English classes and can also sign up for supplemental education programs. They aren't supposed to be treated as live-in housekeepers.
Beltrán's experience, though, wasn't as advertised. She was expected to work from Monday to Saturday, and occasionally worked Sundays. In addition to her childcare duties, Beltran's host family asked her to do the family's laundry, make their beds, pack the children's luggage before and after trips, clean the host mother's car, tend to the family's garden and their chickens, and cook dinner for the family every night, a lawsuit filed in 2014 alleges. She was paid a weekly stipend of $195.75, which is the minimum amount host families are required to pay their au pairs.
It seems that Beltran's experience may also be the norm—or at least not an anomaly. Her class-action lawsuit has several co-plaintiffs and represents approximately 90,000 au pairs total. Four years after the lawsuit was first brought—it's still being litigated but has sparked concern among host families, if parenting forums are to be believed—areport released last August suggests little has changed.
The report—which was published by a coalition of immigrants' rights and labor groups, including the Centro de los Derechos del Migrante and the National Domestic Workers' Alliance—was released in August and details a litany of abuses au pairs have faced across the country, which range from wage theft to sexual harassment and forced labor.
One woman, named as "Beatriz" in the report, said that she was so overworked that she got a bladder infection because she couldn't even take bathroom breaks while caring for her host family's children. After fainting during a doctor's visit, Beatriz was late to pick up the children from school and reprimanded by her host family for doing so despite being sick. Another woman, named in the report as "Raquel," said she often received her stipend late—her host family would occasionally withhold payment to punish her for not cleaning up around the house, even though this wasn't one of her duties as an au pair. The family kicked her out after just four months.
Even in situations that aren't abusive, long hours and low pay is the norm. Of the 16 au pairs interviewed for the report, 86 percent said they work overtime; 64 percent were never paid for that extra work. In almost all cases, au pairs received their weekly stipend of $195.75 and nothing more.
This pay rate is the result of a complicated calculus by the U.S. State Department, which monitors the J-1 Exchange Visitor Program, the type of visas au pairs are allowed to enter the U.S. under. Au pairs are technically paid the federal minimum wage of $7.25 per hour, regardless of what minimum wage laws are where their host families live, minus a 40 percent deduction for room and board. That leaves just $195.75 per week for up to 45 hours of work, or $4.35 per hour. It's worth noting that this rate is the minimum payment and 45 hours is the maximum workweek; host families are allowed to pay their au pairs more money or have them work fewer hours, but, for most au pairs, it's the norm.
Thaty Oliveira, a former au pair who is part of the Matahari Women Workers' Center's au pair committee, told NYLON that her experience was exceptional in that it was largely positive. Oliveira, who is originally from Brazil, worked as an au pair in 2003 for a Boston family.
Olivera said she learned about the program through her best friend when she was 18. "Since I was 10 years old, I said I was going to come to the U.S. I started working when I was 11 years old—I started saving money to come to the U.S.," Oliveira said. "When that opportunity came, I had the exact same amount [as the fees]," about $700, though she doesn't remember the exact amount. "I was like, 'This is it! I can actually pay for it. I was already a teacher in Brazil, I already worked with kids, so for me, it just seemed like a dream come true."
In Boston, Olivera usually worked 30 to 35 hours a week, which she says was less than what other au pairs in the area typically worked. "I found out over the years that I was the exception, not the norm," she said. "The more I got to know au pairs, I found out I was really the exception to the rule." At meetings with other au pairs and their program liaison, she recalls, other young women would complain about how they were being treated, often saying they felt overworked and exploited.
Olivera says the discrepancy between what au pairs were expecting and what they actually experienced is due to false advertising by the agencies that recruit young women to work abroad and match them with families in the U.S. "They will tell you, 'You're like a big sister, you're part of the family,' but they don't really go into the details," she said. "For most of the families, it's cheap childcare. I see it on the mom boards all the time, they talk about how cheap and affordable 24/7 care is, and are always advising other moms to get an au pair."
In one thread on the DC Urban Moms forum, a woman asks whether it's worth it to pay an au pair lower wages since she only needs her to work "say 25-30 hrs a week," since her child goes to pre-school during the week. "Happy to give room and board, just looking to see if I can reduce expenses, because clearly 40-45 hrs is too many hours for us."
"You can't reduce expenses," another mom replied, "but you can have the AP [au pair] work one Saturday morning a month, a weekday evening for date night, fold your kids' laundry, and manage all kid-related task. I put a morning when the kids are in school on her schedule and tell her the stuff just has to be done by the end of the week. If you train well, the AP can really help the household run more smoothly."
In another thread, host moms discuss whether it's okay to limit an au pair's phone hours. "We already told her that she is not to be on her phone during working hours, and I even wrote it down as part of our 'household rules' sheet that I give my au pairs, and she said she understood," one woman wrote. "How many warnings do I give her? Also, do I let her occasionally talk to her parents during working hours for no more than a few minutes since there is a 6 hour time difference? Or do I tell her absolutely no talking to anyone overseas during working hours unless emergency?"
Another poster dispensed some wisdom: "A family I know had this issue. They ended up getting a prepaid flip phone and had her lock her smart phone in her room during the day and carry the prepaid phone for checking in with the parents."
Several other threads delve into what housekeeping it's acceptable to ask au pairs to do. One woman said her au pair "is responsible for the childrens laundry- clean, dry put away," in addition to cooking the children's breakfast and lunch, which is not "a chore, more like part of the childcare aspect."
"If au pair task is to put away dishes that are related to child care," another poster asked, "then does that mean that the coffee mug used by dad boss can be left on the coffee table?"
"If the AP wants to strictly be treated as an employee and nothing more, then leave the dad boss' mug on the table. However, this makes for a very long year," another replied. "AP cannot have her cake and eat it, too (want to be treated like a family member and be given family benefits but not in return give courtesy like putting away another family member's mug)."
Janie Chuang, an associate professor of law at American University's Washington College of Law, called this mentality—that au pairs aren't domestic workers, but rather "part of the family"—a weaponization of "false kinship."
In a 2013 paper for the Harvard Journal of Law & Gender, Chuang detailed how host families exploit au pairs' labor, often under the guise of a familial relationship. "Employers are referred to as 'host parents,' 'host mom,' or 'host dad,' and au pairs as a 'daughter' to the host parents or a 'big sister' to the children," Chuang wrote. "Just as the mother/child idiom can be used to mark kinship, it can be used for inclusive effect to extract additional labor that the au pair would otherwise refuse beyond her required duties."
The idea that the au pair is a member of the family who is just helping out—and getting free room and board, plus spending money for doing so—is also instrumental in keeping wages low.
The 2014 au pair lawsuit doesn't just allege that au pairs are overworked and underpaid; it also claims that the country's largest au pair matching agencies, including InterExchange, Cultural Care, Inc., and American Culture Exchange, have colluded to keep the wage floor low, and in doing so, have violated federal anti-trust laws. "[T]he program has been co-opted by an illegal cartel of approved 'sponsors' that set wages for the industry far below the market rate for non-immigrant professionals in the same industry," the suit claims. "Many au pairs are lucky to join great families and have exceptional experiences, but the situation is ripe for exploitation by unscrupulous 'hosts.'"
The response to the suit has been telling. In a 2015 filing, Go Au Pair said that the suit "attacks the very existence of our nation's au pair program," the Wall Street Journal reported. One commenter on the website Au Pair Mom said the stipend is fair because "it does not take into account all the other things [host families] provide the AP. Considering the AP is living independently as a renter of a single room in a shared apartment…. Room cost is just one variable that chips away at the gross minimum wage earnings."
"If they get minimum wage, does that mean we can charge rent?" another commenter asked.
People on the DC Urban Moms forum put it more bluntly. "Grateful in this instance that the wheels of justice don't turn very fast," one wrote. "If that happens, there will be no incentive for families to participate in the program. Why would anyone pay what we can pay our neighbor's teen daughter…. No benefit to the family," wrote another.
But in January, 15 of the companies authorized to provide au pair services reached a $65.5 million settlement with the au pairs. The settlement not only requires the companies to compensate au pairs who were underpaid but to provide future au pairs with information about their rights. "This settlement, the hard-fought victory of our clients who fought for years on behalf of about 100,000 fellow au pairs, will be perhaps the largest settlement ever on behalf of minimum wage workers and will finally give au pairs the opportunity to seek higher wages and better working conditions," David Seligman, the director of the Denver-based advocacy group Towards Justice, which filed the suit in 2014, told NPR in a statement.
Even some denizens of parenting forums seem happy about the settlement. "I hope au pairs do ask for more money," one wrote. The au pair program "[n]ever sat well with me as an antitrust lawyer."