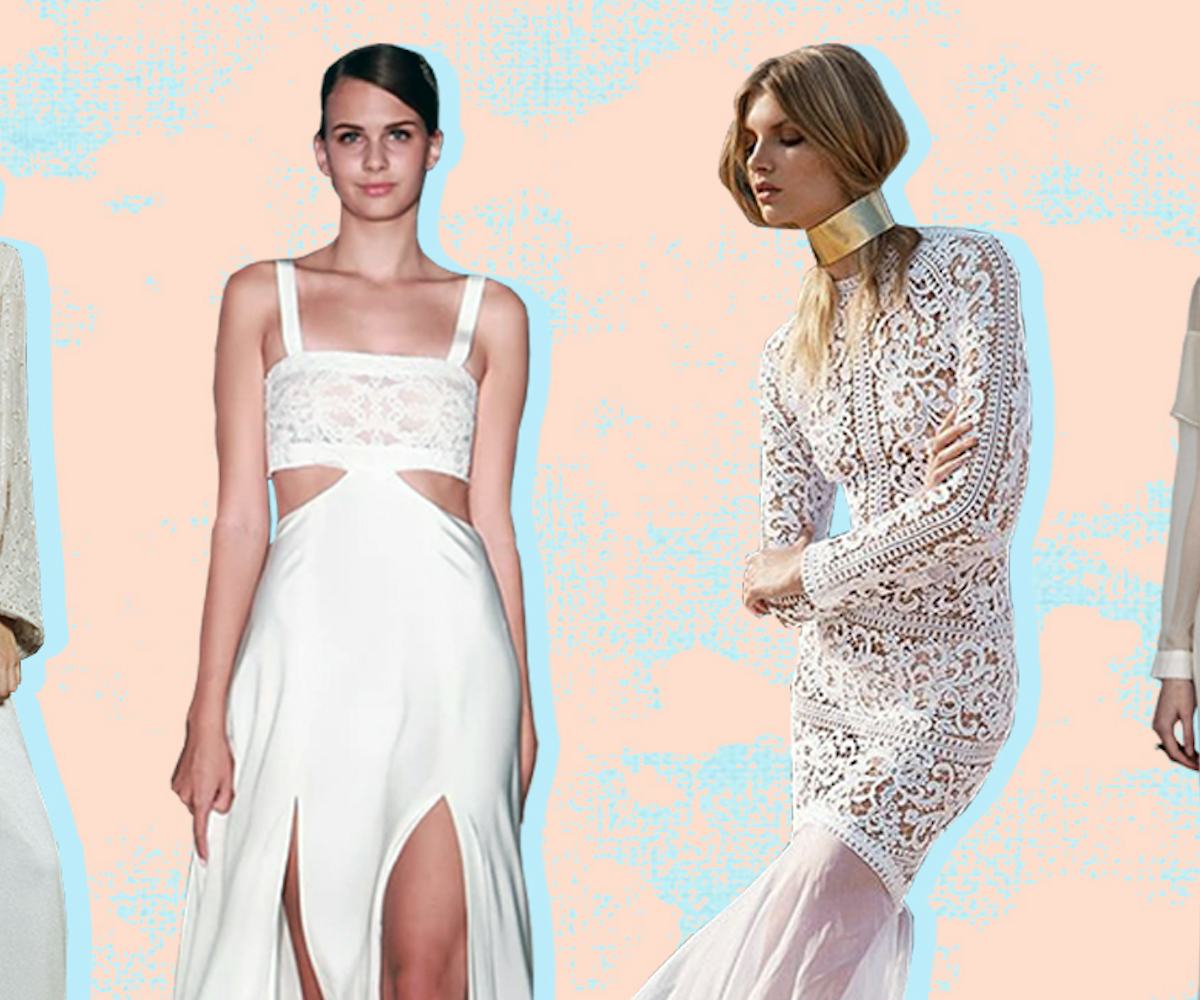 10 Australian Bridal Designers We Love
Aussie labels are having a moment with modern-day brides, here's why
As someone who spent three years in the bridal industry, I tend to become a very popular date come engagement season. Friends and acquaintances seek me out for lunch or dinner under the pretense of "picking my brain" and getting my "expert opinion." And while topics usually include inquiries into whether I think mailed wedding invitations are necessary in our digital age and which side I'm on in the band versus DJ debate, most recently, the question that has come up among my bride friends has been one I haven't answered hundreds of times: What do I think about Australian designers?
Relative newcomers to the wedding fashion scene, Australian bridal designers are currently having a moment Stateside, particularly with millennials. Avant-garde and ahead-of-the-curve in comparison to the traditional-leaning American and European designers, Aussies are appealing to brides who want to march down the aisle to the beat of their own "Canon in D," in dresses that fulfill nuptial requirements without screaming, "I am a bride!"
"Australian designers offer gowns that steer away from the traditional all while keeping it bridal," confirms Giselle Dubois, co-founder of Manhattan's Spina Bride that carries Australian favorites like Dan Jones and Lola Varma. "Our brides really appreciate that and have commented positively when comparing [Australian designers] against the industry."
There is also the fact that the designs, in keeping with the country's easygoing way of life, are also no-fuss in silhouettes and styles, which is appealing to a growing number of wedding couples who are now looking to have more laid-back weddings, ones where they may lose a formal sit-down dinner in favor of passed hors d'oeuvres and a local food truck. "I think that Australian brides have always leaned non-traditional and fashion-forward, so typical bridal gowns just never connected for them. Big ballgowns don't translate to outdoor/beach weddings, so the designers there really listened to that and got inspired by that woman," says Christy Baird, founder of California's LOHO Bride salons that carry Aussie labels like Bo&Luca and Suzanne Harward. 
When asked why they're suddenly popular in the State, she points to social media: "Once Instagram came out, it became easier for American women to idealize this vibe. This resulted in more stores taking interest in carrying Australian designers, so now they're more easily accessible!" And while Baird's accurate, in that Down Under bridal designs have always been around, they're still a novelty in the States—which can also explain their current appeal with an age group that prizes a one-of-a-kind aesthetic over a popular one. "Australian designers are not oversaturated in the [Stateside] market, they are not easily available. The cool bride likes the adventure of seeking out their dream dress. She is looking for something her friends have not worn, something less traditional, a statement piece for her special day," says Dubois. "Australian bridal style is fashion-forward, cutting-edge, and seeks out the cool bride," says Dubois. Only now the cool bride is seeking it out too.
With the current generation more mindful of the need for sustainable fashion, modern brides also don't see the point of a dress that will be worn only once, walking away from princess gowns of marshmallow proportions and looking for sleek dresses that are wedding-appropriate rather than wedding-specific. Baird points out that Australian designers, inspired by ready-to-wear, typically buck all sartorial traditions—and invite their customers to do the same. "We've seen a lot of this in Aussie RTW, so it makes sense that we would see the same resonate in bridal," adds Baird, who currently has her eyes on Australian RTW designers like Dion Lee and AQAQ. 
In addition to being fashion-forward and unconventional, Australian designs are also meticulously made. "The types of silhouettes that these designers create, in combination with the fabrics, is so hard to achieve. They use top-quality fabrics and their workmanship is amazing," says Dubois. Baird seconds that sentiment: "I think it's that mix that's harder to accomplish than you might imagine—cool factor mixed with flattering cuts done at high-quality," says Baird. "That combination is dynamite, and our girl really strives for that!"
So, in short, to answer the question posed to me earlier by my friends, I love Australian bridal designers. Particularly, the 10 brands in the gallery, below.
Described by Baird as "the new cool kids on the block," Lola Varma offers elegant, sleek gowns and fashion-forward separates and styles, like a sheer pussy bow blouse paired with a maxi skirt, long-sleeve dresses with high necks and exaggerated flared hand detailing, and asymmetrical off-the-shoulder gowns with intricate draping. "They are killing it in separates and they get that It Girl who wants to define herself with styling over the flash," adds Baird.
Probably the most popular Aussie designer Stateside, Dan Jones is, according to Baird, "The king of taking traditional laces and cuts and making them modern. He's the perfect balance of classic and chic." His latest collection, which involves sexy side cutouts, high slits, and lace bodices, is currently one of our favorites.
Brides who are unafraid to turn heads: Check out One Day Bridal, an unabashedly edgy yet incredibly feminine label known for geometric lace and embroidery, bodysuits paired with big skirts, and plunging jumpsuits.
Grace Loves Lave attracts the more bohemian-minded brides with breezy silhouettes, fuss-free embellishments, and lots and lots of, as the name suggests, lace. These dresses are made for brides getting married on the beach or in a retro-esque venue like an updated barn or loft.
"Their beading is unprecedented," says Baird. "They've defined bohemian luxury from day one. You can't compare Bo&Luca to any other brand out there!" A look at any of their unexpectedly cut gowns and modern separates proves just that.
A ready-to-wear brand for fashion-lovers who happen to be brides, as opposed to brides who love fashion, Georgia Young Couture's creations are never not sexy or wow-worthy. Expect lots of sheer detailing, geometric detailing, and clean fabrics.
Newer on the bridal market, this ready-to-wear brand is quickly making a name for its custom-made gowns that are part witchy, part ethereal, and 100 percent statement-making.
Comparable to BHLDN in Australia, Spell Bride is probably the most affordable label on this list. With easy silhouettes and feminine lace, the designs are made for the boho brides-to-be.
Another popular brand, Jane Hill "paved the way for Australian bridal," says Baird. "We love how relatable Jane Hill has been to our brides. They know how to shape a bride, while still bringing unique designs to the table." More classic than most of the brands here, Jane Hill's designs focus on the perfect fit and craftsmanship.
Another popular brand, Jane Hill "paved the way for Australian bridal," says Baird. "We love how relatable Jane Hill has been to our brides. They know how to shape a bride, while still bringing unique designs to the table." More classic than most of the brands here, Jane Hill's designs focus on the perfect fit and craftsmanship.
"Another quality Aussie brand who knows how to push the boundaries," according to Baird, "it's hard to not love their gowns once they hit your body." Known for her modern silhouettes, Suzanne Harward puts a twist on classic styles with luxe detailing like feathers, floral 3-D embroidery, and unexpected patterns.