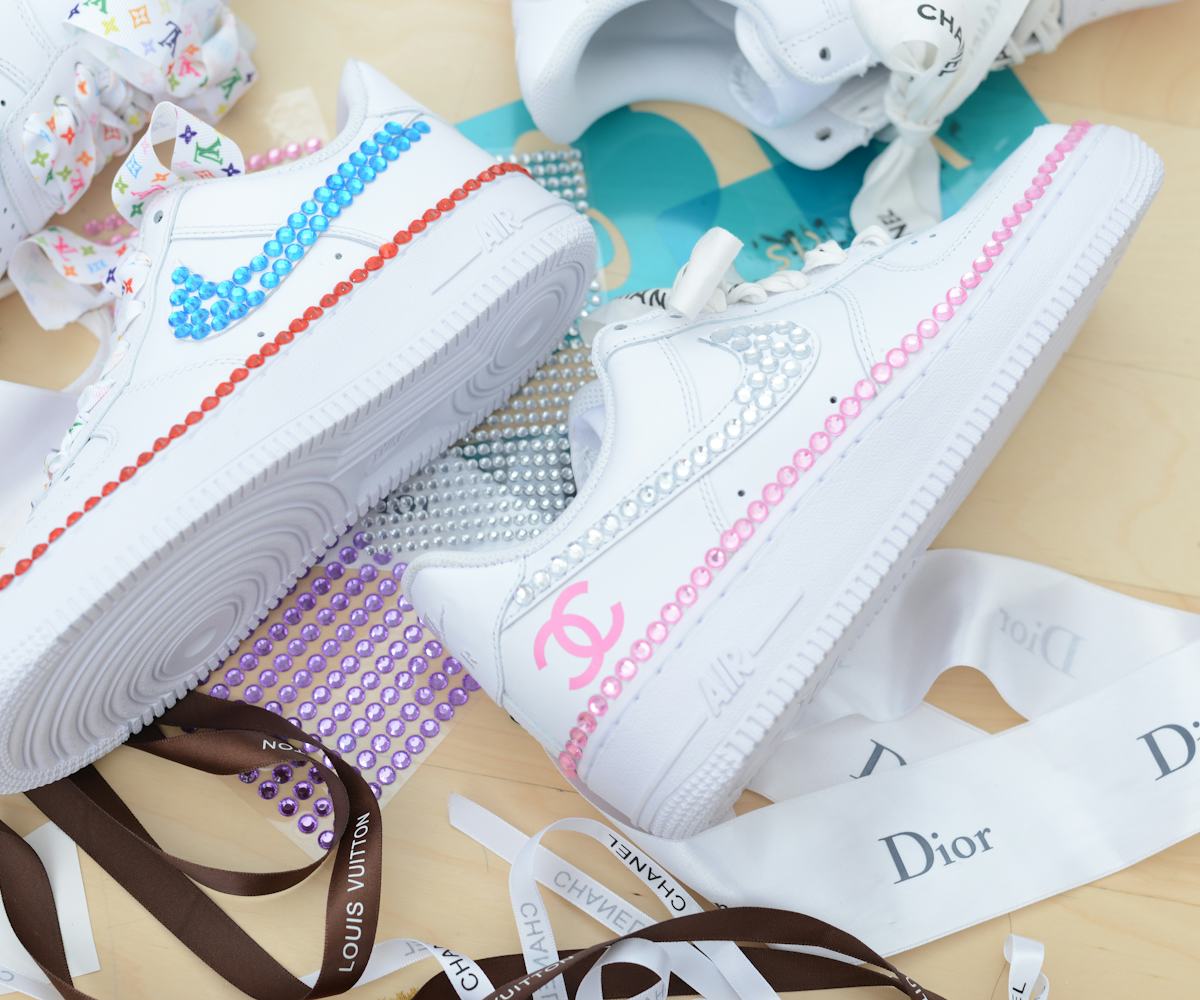 Photo by Ricky Michiels
DIY Dream: Decking Out Air Force Ones With Crafts Queen Ava Nirui
She shows us the bootlegging ropes
At NYLON, we're all about DIY. And, if there's anyone who is the master at DIY fashion, it's Ava Nirui, better known as @AvaNope. On top of being a writer and photographer, Australian-born Nirui has found Instagram stardom while rethinking clothes and accessories using everything from Dorito bags to knock-off Louis Vuitton textiles. We invited her to our office to show us the ropes and help us DIY some Nike Air Force Ones. The end result? Some bomb-ass Chanel and Louis Vuitton knock-offs that we can't wait to wear this fashion week.
So how did this all begin? By making Barbie clothes, believe it or not. About a year ago, Nirui and her friend Alex Lee started their designer Barbie project, where they created runway-inspired outfits for the dolls based off of gender-neutral labels like Hood By Air, Eckhaus Latta, and more. From there, her fascination with bootlegging and conceptualizing unrealistic products or collaborations was born. "The idea that you can dramatically skew the meaning and value of something just by adding logos, iconography, or some other mild customization is fascinating to me," she says. "From there, I began repurposing, reusing, and recutting old designer packing material, like ribbons and dustbags, and giving these seemingly valueless items a sense of worth. To me, no object or product—whether it be trash or not—is intended to have one sole meaning."
But what really set her project off is Vetements—and a deep frustration with the brand.
"After seeing every second person wearing the Vetements sweater or raincoat last year during fashion week, I was I was horrified by the money that people were open to putting into a new, unestablished designer and the lack of individualism," she says. From there, her knock-off fashion hobby was born. "My Champion sweaters, which knock off luxury designers, cost $40 max—not $700. People in fashion are so afraid of not fitting in that they start to just imitate each other, no matter what the cost. It's just unfortunate because after one season, those sweaters are irrelevant. The fact that they were ripping off the Champion logo and charging that amount of money completely defeats the purpose of bootlegging." 
While you might think she would get negative feedback for her knock-off pieces, it's the food-related items that seem to grab the attention of most internet trolls. Her vegetable #HeelConcept not only gained her a ton of followers, and was even got turned into a meme, but also brought on the most social media hate she's ever experienced. "It's like 2,000 back-to-back comments expressing disgust over a foot squishing a tomato," she says.
So, aside from Vetements-related frustration, where does she draw her inspiration? Quite a mixed bag of places, actually. While there's the obvious Canal Street connection, there's also Paddy's Markets in Australia, lad/chav culture, late '90s/early 2000s rappers (Cam'ron, Soulja Boy, etc.), 99-cent stores, Tom Sachs, Vivienne Westwood, Chanel Sport, and her mother. Out of all the things she bedazzles and repurposes, her favorite things she's ever created are her decked-out inhalers. "I'm asthmatic, so they're a dream for me."
There is a message behind it all, and it's more than just poking fun at a label-obsessed culture. "I began to notice how sterile the industry is, and how terribly serious people can take it," she says, adding:
Fashion can be fun and interesting—it doesn't have to be so rigid and inaccessible to normal people. I think my work is more so born out a frustration toward the industry on a wider scale and in general—like the pricing of designer goods and how precious people are about the luxury products they own. I'm not afraid to spray paint my Louis Vuitton bag or cut up my old Chanel shoes—if you can personalize or customize something to make it more "you," then why not?