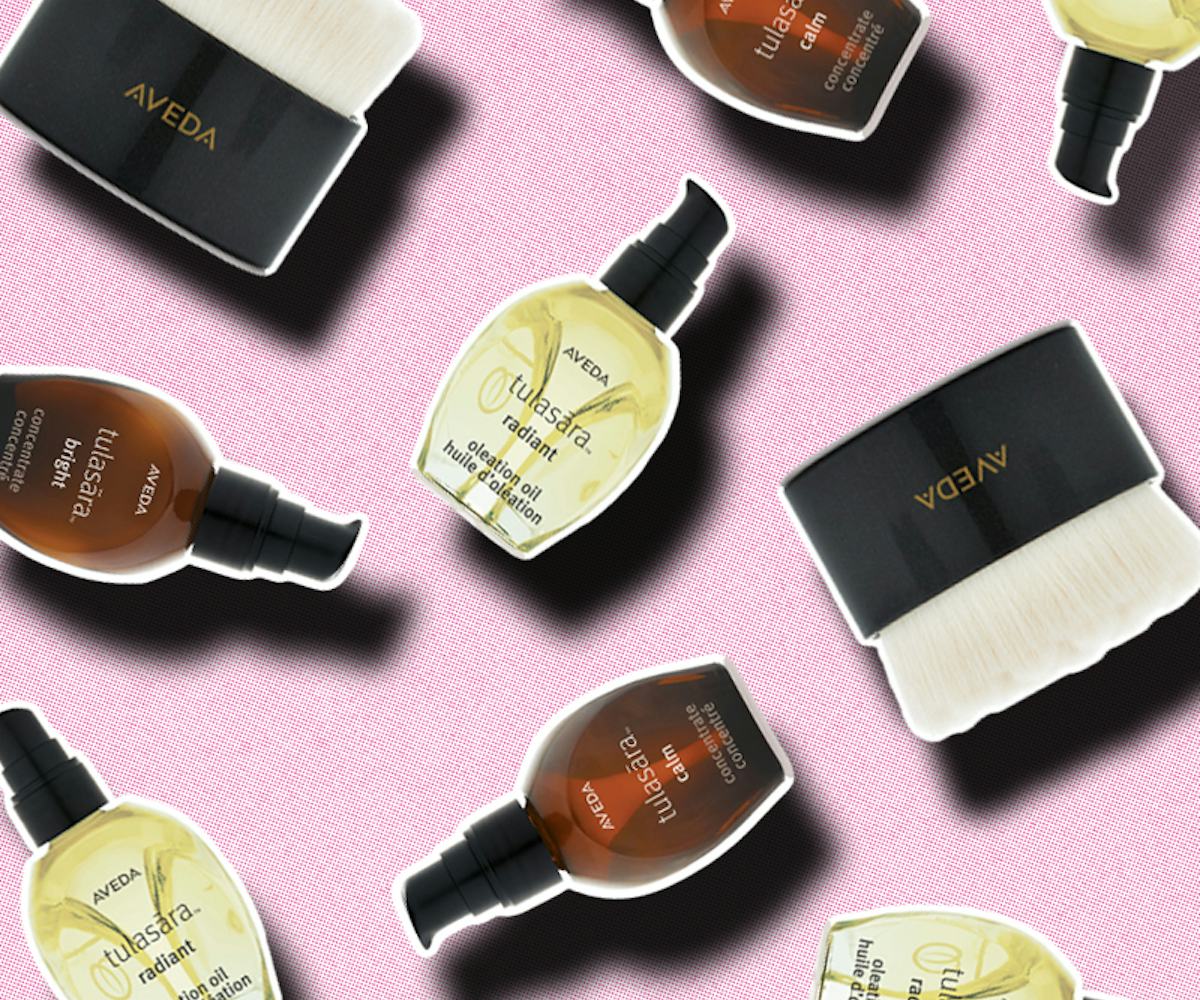 Aveda's Tulasara Collection Saved My Post NYFW Skin
The Ayurvedic-inspired line brought back my inner glow
Every September and February, a very special and exciting week comes around that involves never-ending days of running from one super inconvenient location to another, a lack of sleep, and quite a bit of stress. With that being said, this week—otherwise known as New York Fashion Week—has been taking a toll on my skin twice a year since I was just an intern, over six years ago. 
This season, I decided that once it was over, I was going to pamper myself properly—because what's better than a little self-indulgence? While I had been curious to try Aveda's new Tulasara collection, a new line inspired by ancient Ayurvedic techniques of dry brushing and facial massage that exfoliates, soothes, nourishes, and improves circulation, I hadn't had the chance. I figured this was my chance to give it a go. 
Starting on the Friday after NYFW ended, I begin by new ritual right before my daily morning shower. I start by giving myself an Ayurvedic dry brush massage, taking the Tulasara Facial Dry Brush and brushing it in outward and upward circular motions over my décolleté up to my forehead, then moving back down in downward and outward motions. Afterwards, in back and forth movements, I massage the Tulasara Radiant Oleation Oil into my neck and face for one minute, and then let soak in for another four. After I cleanse my face during the shower, I apply one of  three Tulasara concentrates before I start my daily beauty routine.  
I had been following this schedule for about four days when I noticed that my exhausted and dull post-NYFW skin had quite a lively glow to it again. Is this real? Is this a miracle? 
Though I was pretty satisfied with the results only after a few days, I plan on continuing my new morning ritual going forward so that I continue glowing. Every morning should start with a little "me" time, anyway, am I right? And of course, I'll be keeping a surplus supply handy for the next time NYFW comes around to kick my ass. Here's to looking at you, February.
Click through the gallery below to take a closer look at each product from Aveda's Tulasara collection, and shop the collection now on Aveda.com.
Aveda, Tulasara Radiant Facial Dry Brush, $44, available at Aveda.
Aveda, Tulasara Radiant Oleation Oil, $49, available at Aveda.
Aveda, Tulasara Firm Concentrate, $59, available at Aveda.
Aveda, Tulasara Calm Concentrate, $59, available at Aveda.
Aveda, Tulasara Bright Concentrate, $59, available at Aveda.