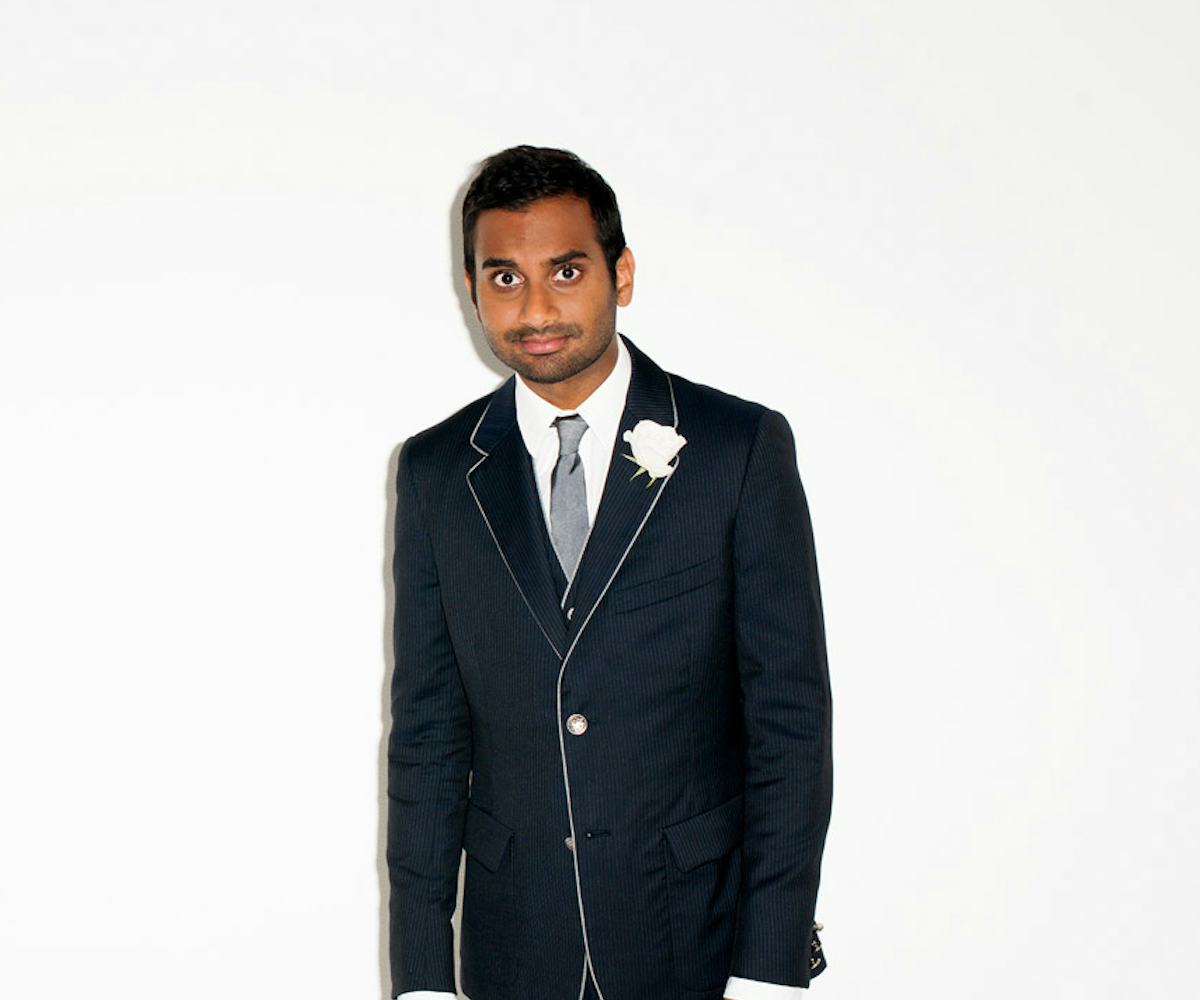 the insider: aziz ansari
everything you need to know before you watch his new netflix special.
Start November on the right foot (and ease out of your Halloween hangover) by snuggling up and watching Aziz Ansari's new comedy special Buried Alive on Netflix. It premiere's today and you know by tonight everyone will be talking about Ansari's very un-PC jokes.
We spoke with the comedian earlier in October to get the scoop on what being funny for a living is like and find out what happens when you tell him he's your dream prom date. Read on to find out!
What is it about standup that still does it for you, keeps you doing this?
I just think standup is a very unique artwork. It's like a platform, I get where I can really discuss whatever I want to discuss and my viewpoints on things. I can think of something today and then work on it tonight on stage and that's just kind of a really creative process for me, that I don't think will ever get old.
Was there a pivotal moment in your life when you realized that you could be funny for a living?
No, not really. I started standup with the intent of just trying to get good at standup and then eventually all these other things started happening, and I was able to make a living doing it.  But you know, when I started doing standup, I really just enjoyed it and wanted to get better at it in a way that you would want to get better at playing guitar or something like that.  
This special seems very personal, like you were working through a lot of things on stage.
Well, it is – it just came about organically, I'm kind of like standing above whatever is kind of going on in my life, whatever is in my head and this time it was kind of heavier things I was dealing with: the wife, the babies, marriage, and stuff.  And that's just kind of what happened and how it ended up, well it was especially mostly about that stuff.  And so then, if anything kind of random came up that was funny and didn't really put in – because I have so much about the other stuff, does that make sense?
There's a joke about child molesters in the special -- how do you decide how far you can push the envelope with your jokes and do you think people are more sensitive or less sensitive now to stuff that's considered taboo?
All right. I think you have to take that all case by case. I mean if you took things out of context, you could make me seem like a horrible person, but ultimately that joke is about like how I'd be scared to have a kid because and I would be so scared for the safety of my kids. That's the part that scares me, how parents let their kids run around in the mall by themselves and things like that. 
In your last stand-up special, you talked a lot about Kanye West and on Parks and Rec, Tom is always talking about like Diddy and Justin Timberlake.  Is that the music that you like to listen to in real life?
I do listen to rock music.  I also listen to plenty of rap music. My taste is pretty across the board but I do – I do like rap music.
Is there a certain song or certain band that you listen to before you're about to perform to like get in the zone?
No. I'm just kind of going over the material and things like that, so I don't really listen to music before.
How did you pick out what outfit that you were going to wear in your stand-up special?
There was some poster for the tour that kind of looked like an old magician poster, so I wanted something that kind of remind of that. That's why i chose kind of like an old, tiny, kind of classic look.
You look like my dream prom date.
Oh, wow.
Any plans for any more books?
Any more books?  I haven't even written one yet. There's a deal for one and I haven't written anything yet.  So we'll see, but this book that I'm going to work on now, it kind of came organically from the path of my next kind of special.  So, you know, we'll see. But with the book I'm doing, it seems like I can have a unique opportunity to do something different, but I would never stop stand-up
And if you weren't acting and doing on stand-up, what would you be doing?
You know, I would be a chubby man living in a mediocre town somewhere.