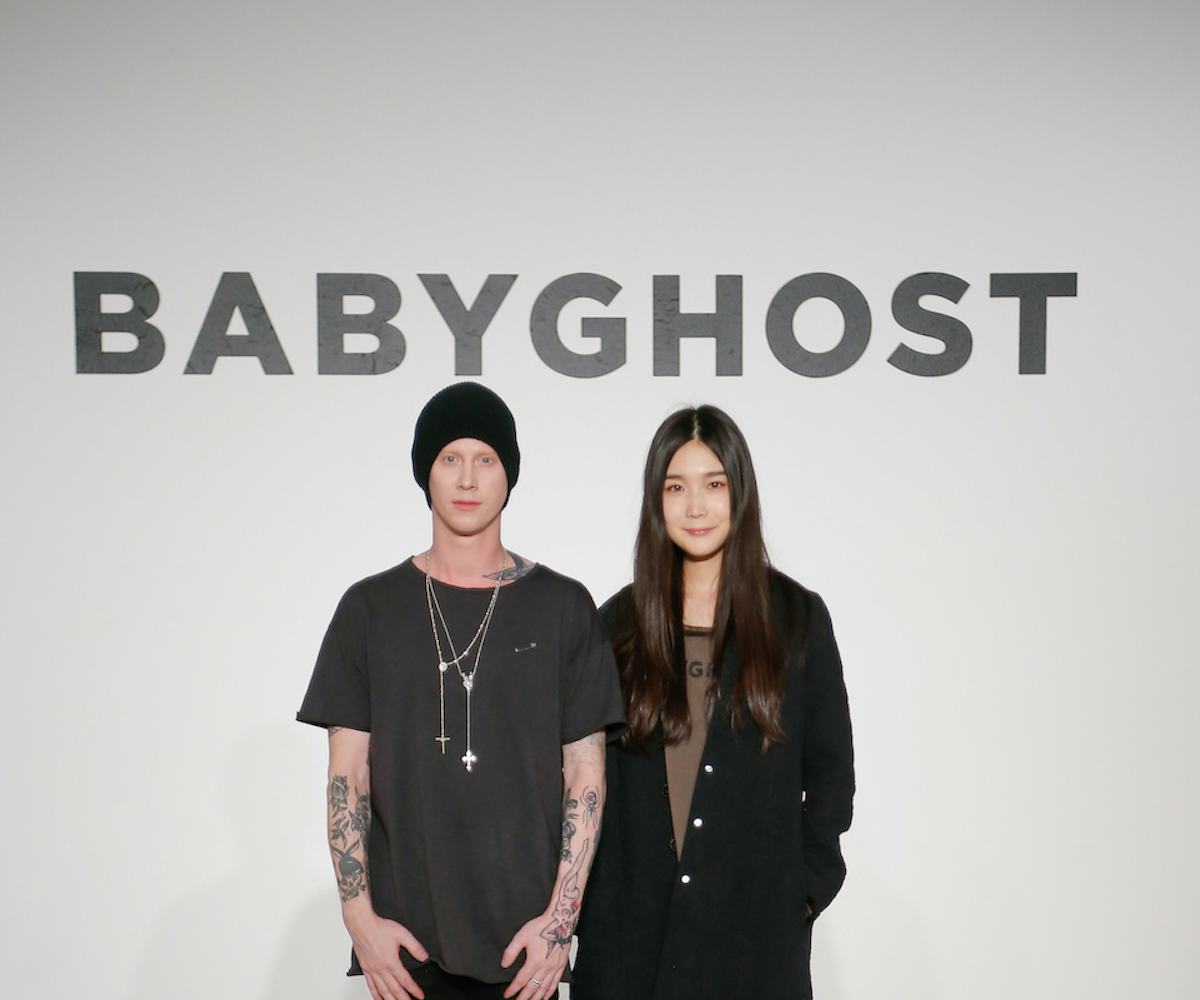 Brand To Watch: BABYGHOST
We chatted with the designers about the inspiration behind their latest collection
BABYGHOST, the brainchild of designers Joshua Hupper and Qiaoran Huang, is the up-and-coming brand to look out for. The label is a grungy mix of East meets West, with influences hailing from New York City's downtown neighborhoods and Huang's native China.
Their Lower East Side studio is housed in a well-known property on Chrystie Street, filled with some of New York's most cutting-edge creatives—from fashion designers to stylists and artists. It's only fitting that a brand like BABYGHOST would settle here as their label perfectly encapsulates the Lower East Side lifestyle.
So what exactly is behind the name BABYGHOST, you ask? It's a moniker they came up with during a 30-minute brainstorm at a restaurant. Don't believe it? The proof is on the scribbled napkin, now living somewhere in their archives. "Babyghost" to them is a mix of old and new; unique and cute. "But at the same time, it's totally creepy. It's a dead baby," says Hupper.  
The two met years ago, when they were both working for the (now defunct) label Nathan Jenden, and found BABYGHOST in 2010. The brand, now on their 12th collection, has gained tons of traction as of late—their past two shows have taken place at MADE Fashion Week, and they've tapped their friend and model Xiao Wen Ju to be their muse, model, and occasional stylist.
The two have quite a history of drawing inspiration from really unique and out-there places for each collection. Previous seasons include a Halston-meets-Gap-meets-Clarence E. Flynn's poem "Death"-inspired collection and a line that pays homage to a multitude of things—from chopper culture to True Detective and interiors of The Shining's Overlook Hotel. 
For their latest collection for Fall 2016, the duo based their designs around the idea of jin sha, a Chinese practice that involves repairing broken jade with gold. Huang told me, "We went to Beijing one time and saw this exhibit called 'Open Your Eyes.' All of the artwork focused a lot on repair. We found it really interesting, so we looked more into it and we discovered the Chinese tradition called jin sha. It's basically like, a really expensive plate is broken and they use gold to glue it back together, and the plate becomes even prettier." From digging deeper into this practice, they fell in love with the idea of deconstructing and reconstructing old designs from previous collections—which is apparent in the slew of oversized, pieced together coats, and patchwork dresses and skirts that sashayed down the runway, emulating their characteristic edgy feel. 
"It was a lot of taking garments apart, and then using a liner and turning that into a dress, or making the liner the outer piece by fitting it that way and making the outer piece the inner piece. We did some Frankenstein stuff where we would take garments and reconstruct them into something else," said Hupper. Their now-signature marbled liner was inspired by a lesson in The Dangerous Book for Boys, a sort of "how-to" book for boys. Building more on the idea of construction and reconstruction, Hupper was influenced by the Morrissey song "Glamorous Glue," in terms of meshing pieces of the collection together. One of their dresses features pieces of lace glued together with a rubbery type substance, using a special machine intended for sportswear.
They also drew inspiration from Cindy Crawford's daughter Kaia Gerber's editorial featured in CR Fashion Book, Hupper telling me "[When we saw it] we were like, 'That's our brand.' Our brand is really about the innocence of children—the way that you look at clothing or styling is that you maybe don't have as many of the rules."
To supplement the collection, they've just shot a video for it with Van Alpert. While there's no release date just yet ("sometimes in August, perhaps"), they're excited for the world to see it. It was shot in L.A., and the styling has a California aesthetic to it, showing the collection in a totally new light. With this, they hope to widen their reach in America, since, as Hupper says, "Most of our customers are based in Asia. But that's starting to expand, and I feel like, with this collection especially, we'll really break through to a broader audience outside of China."
The cast boasts a number of Instagram influencers. This isn't the first time the brand drew inspiration from Insta celebrities and bloggers, though—in fact, they're heavily inspired by these kinds of girls daily. Some of their favorites include Princess Gollum, Creepyyeha, and Susie Lau, or, according to Hupper, "Anybody that has an Instagram that's consistent. Some of them are wildly consistent, and they're younger than me. I'm jealous of them. How could you be this good at marketing yourself at 22, you know?" 
Check out the sneak peek below:
Video by Van Alpert/Milk LA.
Instagram is something the brand holds very important. Their account is beautifully curated, drawing in followers. However, just by taking a quick glance, you wouldn't necessarily assume them a clothing label—the account features a hodgepodge of backstage shots, skateboarding clips (Hupper is quite the fan of skateboard culture), and snaps of cats and dogs.
While they may value Instagram, it can be a bit of a challenge for them too. They may have 37.5k followers, but a huge portion of their customer base is Chinese, and Instagram is blocked in China—along with a ton of other platforms, like Google and SoundCloud, that seem like an everyday part of American life. There are ways to get around it, accessing websites through servers that allow you to get past the block, but the process slow and frustrating. To reach their Asian audience, they've had to take advantage of Chinese social media platforms as well, such as WeChat.  Huang said of this, "For us, because we live in both places, we have to kind of know both sides. When we go [to China], we're ultimately changing everything we do. That's something I never realized. We have to completely change our social media usage."
While the two post and draw inspiration from the Internet and social media, when they can't use Internet sources while in China, they still very much turn to magazines—collecting scraps and tears from print publications such as Streets, Fruits, and CR Fashion Book. Hupper said, "Usually we'll go on magazine binges at the Japanese bookstore and downtown. I'll just tear out a gazillion things."
The design duo has always been bicontinental, splitting their time between their Lower East Side studio and China, but soon Hupper will be permanently moving to China to handle operations over there. The two will still spend half of the year together designing, but they hope this move will help them build the brand in both markets.
Click through the gallery for a closer look at the collection.
BABYGHOST Fall Winter 2016
BABYGHOST Fall Winter 2016
BABYGHOST Fall Winter 2016
BABYGHOST Fall Winter 2016
BABYGHOST Fall Winter 2016
BABYGHOST Fall Winter 2016
BABYGHOST Fall Winter 2016
BABYGHOST Fall Winter 2016
BABYGHOST Fall Winter 2016
BABYGHOST Fall Winter 2016
BABYGHOST Fall Winter 2016
BABYGHOST Fall Winter 2016
BABYGHOST Fall Winter 2016
BABYGHOST Fall Winter 2016
BABYGHOST Fall Winter 2016
BABYGHOST Fall Winter 2016
BABYGHOST Fall Winter 2016
BABYGHOST Fall Winter 2016
BABYGHOST Fall Winter 2016
BABYGHOST Fall Winter 2016