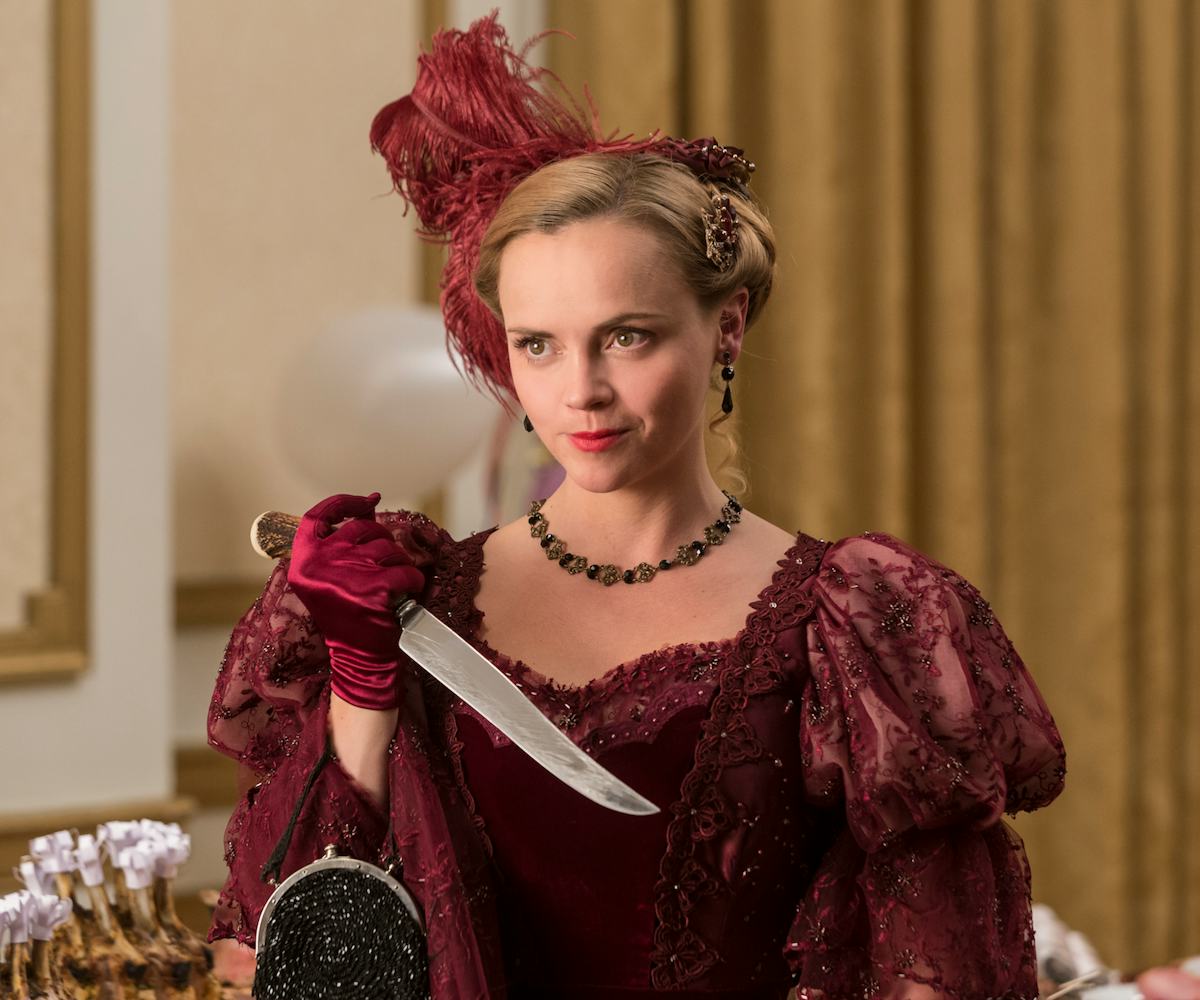 Image via Lifetime
13 Terrible, Awful Shows To Binge On Right Now
When only the worst will do
You want some bad, bad TV shows? We've got your bad, bad TV shows right here.
Look, it's often said we're in a golden age of television. It's certainly the golden age of bingeing. With Hulu, Amazon Instant, HBO, and dear, dear Netflix offering near endless hours of shows including Breaking Bad, Mad Men, The Sopranos, Outlander, Girls, Game of Thrones, Making A Murderer, and, yes, even The People Vs. O.J. Simpson, you're almost never at a loss for fine, critically acclaimed, high-quality content.
And, yet, you don't always want fine, critically acclaimed, high-quality content, do you? Sometimes all you want to do is dive into the worst of what's out there, to chow down on the guiltiest of guilty streaming pleasures.
Now, to be clear, we aren't just talking about reality shows, poorly executed dramas, or deliberately campy series such as Scream Queens. No, today it's all about the ambitious, bold programs that attempted to be good, that strived to be the new Mad Men or even True Blood and wound up being, well, Pan Am and Hemlock Grove. 
That, however, doesn't they don't deserve to be celebrated and binged on. Like an endless bag of Cool Ranch Doritos, we present to you a collection of bad, delicious television series available on Netflix, Hulu, Amazon Instant, and elsewhere for your guilty enjoyment. Gobble 'em down.
Hemlock Grove
Someone somewhere once watched a few episodes of True Blood and thought to themselves, "You know what would be good? What if we did the exact same thing with werewolves, and less sex, and Famke Janssen?" These were good intentions, to be sure. The result, however, is the equivalent of McDonald's french fries—bad for you, greasy, and just impossibly delicious.
Hemlock Grove is available on Netflix.
Pan Am
Oh, poor Pan Am. Like Hemlock Grove, it was inspired by a well-loved, successful show—Mad Men. It was all supposed to be retro flavor and jet-set sex in the skies. Alas, network tinkering infused it with spy dramas, absurd plot lines, and dialogue as light and smart as bricks. It's beautiful. Watch it.
Pan Am is available for rent on Amazon.
The Lizzie Borden Chronicles
Oh my god, this show! If you like American Horror Story and Scream Queens in any way, you must chow down on this. Angled off of the bonkers Lifetime historical movie Lizzie Borden Took An Ax, The Lizzie Borden Chronicles sees Christina Ricci's Borden turn into a sleuth… or is she a wicked schemer? Or is she both? Hard to know because it's just that bonkers. Yeah, it's supposed to be camp, but it's also bad. Bad camp for the win! Also, what's up with Christina Ricci and awesomely bad television?
The Lizzie Borden Chronicles is available on Netflix.
Mercy Street
This Civil War medical drama set in an occupied Southern town was selected by PBS as something to fill up the yawning gap in our hearts left by the departure of Downton Abbey. But, wow, is it not that. Instead, we've got truly qualified actors—Mary Elizabeth Winstead and Josh Radnor—swimming through the most overly melodramatic show ever. It's like late-stage ER with yellow fever and hoop skirts. You couldn't ask for more.
Mercy Street is still airing on PBS and available for rent on Amazon Instant.
One Tree Hill
An absolute classic in the so-good-it's-bad genre, One Tree Hill became required watching for guilty pleasure seekers on the WB, running for nine seasons of increasingly absurd soap-opera fun. At some point, it realized exactly how bad it was, which made the show simultaneously worse and better. Also, Chad Michael Murray and Sophia Bush were glorious. If you missed this when it ran, don't miss it now.
One Tree Hill is available on Netflix.
Fuller House
Much love to Netflix for bringing the Full House gang back together (sans Olsens), but, man, did this one fall on the floor and smash into a million pieces—a million highly watchable pieces. What this series does is remind you about the groaningly bad parts of the original Full House (because it forgot to include the cute, charming parts of the '80s/'90s classic). If you like bad dad humor, you won't be able to put this down.
Fuller House is available on Netflix.
The Royals
So good. The Royals, if you haven't been following, is basically a mashup of the real-life House of Windsor, Gossip Girl, with a bit of 20th century Game of Thrones tossed in for good measure. In this alternate reality, the Queen is Elizabeth Hurley (we bow), the princess is a pill-popping, kohl-eyed celebutante (we also bow), and nothing makes sense in any way. It's meant to be a guilty pleasure, yes—but was it intended to be this guilty (and this pleasurable)?
The Royals is available for rent on Amazon Instant.
Catfish: The TV Show
We've tried to keep reality TV out of this conversation, but given the ambitions of this one, it was just too good to pass up. Some of the bros who put together the creepy, evocative Catfish movie decided it would be a good idea to turn themselves into the stars of a docu-series helpfully named Catfish: The TV Show and go out hunting for people who are fooling other people online. What we get is not so much a look into the weirdness of online culture, but the weirdness of self-important bros who tripped on early success and ran in the wrong direction with it. It's truly engrossing, but not for the reasons it thinks it is.
Catfish: The TV Show is available on Hulu.
Salem
Pretty people? Sex? Witches? Colonial New England? Bad dialogue? Goth style? Sign us the hell up. Sign us the hell up forever.
Salem is available on Hulu.
Whitechapel
Like dark, gripping detective shows? Like smart British dramas? Whitechapel started off as both of those things and became… well… cuckoo bananas. Originally addressing issues of class while tagging along in the footsteps of Jack The Ripper, this show quickly went from a Se7en-inspired series in the mold of The Fall into a semi-supernatural procedural as entrancing as it is dumbly melodramatic. It's the perfect thing to drink wine to.
Whitechapel is available on Amazon Instant.
Reign
There's a pattern here, if you haven't noticed: Sex multiplied by period trappings divided by Gossip Girl-type plot lines equals perfection. Such is the case with Reign, that is, supposedly, the story of Mary Queen of Scots, (if Mary Queen of Scots was a brunette mix of Daenerys Targaryen and Serena van der Woodsen). It's lovely garbage and the star, Adelaide Kane, is genuinely captivating. Don't sleep on it.
Reign is available on Netflix.
Wildfire
What do you need to know about this mix between My Friend Flicka, Twilight (without the supernatural stuff), and One Tree Hill? Well, there are hot guys with good shoulders, horses, more hot guys, and more horses. Makes sense that this thing lasted four whole seasons, right?
Wildfire is available for rent on Amazon Instant.
The Secret Life Of The American Teenager
Merriam-Webster tells us that the first recorded instance of the term "guilty pleasure" dates from 1907. That means it took 106 years for Shaliene Woodley and this show to come along and create something that actually lived up to the phrase.
The Secret Life Of The American Teenager is available on Netflix.