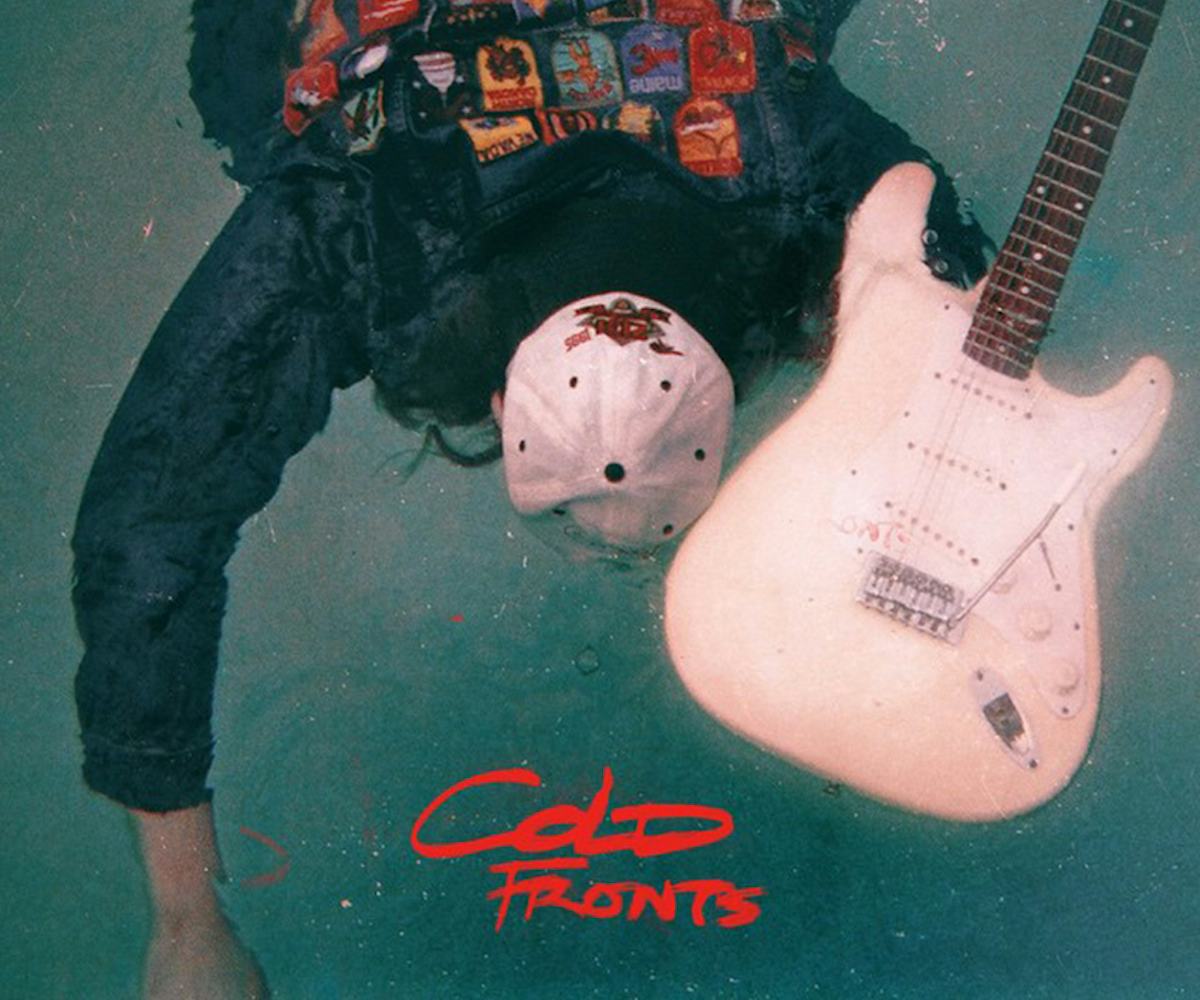 band crush: cold fronts
play this ep while jumping on your bed…trust me.
I think we can all relate to that scene in Bring It On, where Torrance finds a gift from Cliff in her room after a really bad day: a cassette tape attached to a bouquet of flowers. She pops the tape into the deck and dances around her room (something we just all need to do every now and then). Ever since that moment, I never thought I'd uncover a better jam for rocking out alone in my room to; for singing into a brush, for getting mad at the fact that I can't have who I want, for being ecstatic that I actually have a crush on someone after the age of 16.
Today, though, Philadelphia band, Cold Fronts, have released their own version of what I see as the perfect bedroom rock record—one that is heavily influenced by those pop-y head bangers that dropped around the same time Bring it On hit theaters in 2000.
A few days before their own record release, I hit up some Halloween parties in Brooklyn with Cold Fronts frontman, Craig Almquist (who was dressed as Pharrell at The Grammy's). The next day we met up for coffee, fried chicken and waffles, and blueberry pancakes in Williamsburg to chat about their latest EP. On Forever (Cold Fronts' first release since their 2012 Pretty American demo) you'll find two songs from the band's forthcoming full-length album: "Hit Me" and "Know It All"—plus two B-Sides: "Faded" and "Jackie," the latter of which totally isn't written about me (a bone I have already tried to pick with the band—but, hey, a girl can dream).
What was the most challenging part about making this EP?
We had been spending a ton of time together all at once and we were actively learning those songs for three to four months. Everyone had a lot of opinions on how the songs would sound. It involved a lot of teamwork and it was a building experience trying to get everyone's vision all in one. I think we did it, which is cool. Joe had just broken his arm, so we couldn't even practice that much before for recording, everyone had just quit their jobs. We were really trying to make the cookies stretch for, like, half a year—really working on the band.
What was it like to hear one of your songs on the radio?
I heard "Catch" (Pretty American) on the radio, I literally just turned on my car. I actually made a Vine of it. I was pumped. I was like, "I feel like I'm in the Oneders right now."
Who is your dream band to go on tour with living or dead?
I can't speak for the whole band, but personally I would love to go on tour with Drake. I would love to go on tour with Phantom Planet, but they're not really touring anymore—if they ever get a reunion, I want to be first in line for that. I would really just like to tour with Phoenix. I want to go on tour with Stillwater [sings] "Feeeever Dog!" Or Pavement. I love them. Our song, "Strange Architecture," which was on our EP and is going to be re-recorded for our full-length, is about a Pavement song that I had stuck in my head. I emailed Stephen Malkmus' manager and I was like, "Hey can you send him this song and explain it to him?" I'm just assuming that he sent it and that maybe he listened to it…I did that to Phantom Planet, too.
What would have to happen to your band for you to be like, "We made it," or has that happened already?
There have been a couple of those times. I feel like every year something crazy happens, like hearing our song on the radio, I was like, "Sick!" Then signing with Warner Brothers, I was like, "Sick!" Then when we got a booking agent, I was like "Holy Shit!" The first time we got a manager I was like "We're legit!" The second time we got a manager I was like, "Sweet! Someone still believes in us!" I feel like that's what keeps bands going; you obviously have slumps where you're going through hard times, your van's breaking down, but then there will be a couple things that will happen in a year, like when we played SXSW. I know at some point we're going to play at Coachella and Bonnaroo. The next milestone I want is to play a festival overseas.
Where is the best pizza?
Pizza Brain. They're literally the best. They have the most fun ambiance. Every time you get a slice from there, it'll be something you haven't tasted before. They had a fried chicken and donuts pizza, they had this one pizza with a pretzel crust that tasted like a Big Mac. They make special pizzas where they team up with other local business; they made one with Yards, this nacho-y kind of pizza that paired really well with their beer.
Where are you most excited to go on tour?
Boston. It's so close but we've never played it. The one time we were supposed to play Boston with The Gay Blades, it was our first tour and the van broke down in The Bronx. We were stuck in The Bronx all day, and then we've never played Boston since. This time we're playing Church of Boston.
What are some of your favorite records that came out this year?
There are so many but the new Parquet Courts album (Sunbathing Animal) is probably my favorite.
If you could take any band out on a date who would it be?
I wrote a demo about Haim this year, called "Baby Haim," it's just, like, a bedroom recording right now. I was writing the song about the bassist, I thought she was Baby Haim. The whole thing is about her bass face and stuff. Then I played it for a friend and he was like, "Baby Haim doesn't play bass." So I was like, "OK well I'm just crushing on Haim." So I would take Haim out to Loco Pez in Philly and I would buy them a taco.
What are you going to be doing on Tuesday the night your album drops?
Good question, probably getting ready for tour, probably celebrating. We'll definitely go out and get drinks together and cheers each other, give each other high fives all night.
Scoop up your own copy of Forever, on iTunes right here and stream it on Spotify here!