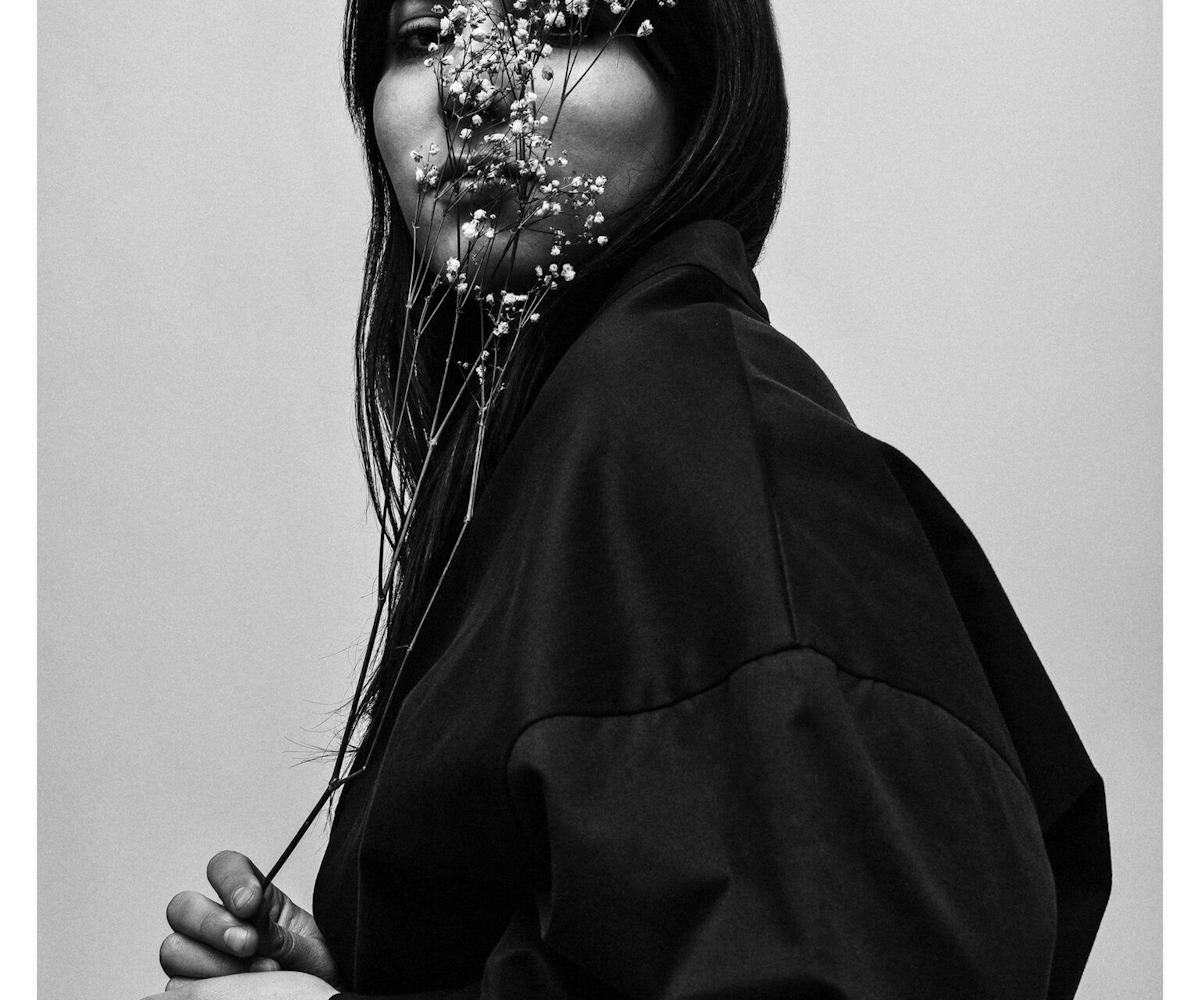 Julien Laperriere
Keeping Up With KROY
The indie darling discusses the importance of isolation
Camille Poliquin has a knack for making music that is all-encompassing. Whether it's with bandmate Laurence Lafond-Beaulne for Milk & Bone or under her solo moniker, KROY, the Canadian electro-pop artist's impressive discography underscores her ability to juxtapose light and darkness. The world of KROY is a place of perfect harmony between hopelessness and euphoria. But in her latest solo endeavor, Poliquin takes a conscious step toward darkness by immersing herself into a persona full of sorrow. This energy becomes like a warm fog, seeping into everything with which it comes in contact.  
You can hear this dual energy lacing her syrupy vocals on "Hull" off of her last EP, Scavenger. The light, joyful synth pattern of the track juxtaposed with the brooding lyrics, "I'm aching 'til I can't ache no more/ I want to fight but I can't fight like before /I'm drowning bath of blood on the floor," is proof of the paradox-filled world of KROY, who challenges the status quo of what a pop song is and what it can be, through the brilliant way in which Poliquin successfully manifests and executes it. 
Below, we catch up with KROY to see what she's been up to since the release of Scavenger and what she's working on next.
You mentioned in one interview that it was important for you to feel completely alone. Is that your attitude when it comes to creating music?
When creating, it's really important for me to isolate myself, because I like for the creations to come from somewhere very genuine. And before working with other people, I want to make sure that I like where I'm going, that I'm happy with the song. Usually, I'll work with friends for the producing part—I want their ideas, I want to know what they're thinking—but to start with, I need to have the song that's just written by me. But I also love to just collaborate with other people, and I have a few collaborations coming up in the next few months. I am excited about that, but it is a very different kind of creation. I think it's good to have both. 
The Scavenger EP is dark in many ways but was underscored by bright moments. Are you leaning toward the sunnier side of things, moving forward and with your different collaborations?
They're definitely less dark, and what I like about collaborations is that usually when working with producers, I get to just go out of my comfort zone just because I have an excuse to. I like my persona to be this dark character that I love so much, like for my EP, Scavenger. But I have this song coming out very soon with this artist from Montreal called Hoodies At Night, and it's a lot more pop and dance-y. And I'm also working with a producer from Belgium called Alex Lustig. And we've been just trying so many things, trying different genres, just figuring out what we want to do, and I'm very excited about that.
Have you been working on any solo material or non-collaborations? 
It will be mainly collaborations, but I just recently started getting very creative again, and I'm very happy about that because I had this hiatus moment where I was freaked out over doing more shows and stuff, and I was just scared that I wasn't creative anymore. So, I started to write a bunch more songs. And although I'd love to be working on them right now and producing them, I feel like I want to keep them for either the next EP or an album. In the meantime, what I'm working on right now are also covers. I love to do covers, so I have a few ongoing projects that will be released under KROY. 
Can you tell us anything about those projects? 
There's one song that I'm very excited about that I don't want to say too much about because it's coming out soon, and I feel like not many people have covered it yet. I don't want to jinx it. But I want to release just a four-track EP of ABBA covers, in, like, a very dark, depressive way. 
That sounds really exciting. 
To me, ABBA's pop songs are the best, and to just take them out of their context and put them into a much darker environment, I feel like they can thrive in such a different way. So I'm working on that at the moment. 
Are there any artists that currently inspire you?
There are so many artists that I'm excited about right now. Even though my inspirations for Scavenger were older bands, like trip-hop kind of stuff. I just freak out over Lil Peep. He's so cool. I love what he does. And I was just at The xx show in New York. I freaked out. And their most recent album was so good. I'm so inspired by what they do, and what Jamie xx does. And, I've recently been completely transformed by the work of Mitski. I'm so in love with her. She's so cool.
What do you hope to accomplish when thinking about an upcoming sophomore release under KROY?
I think I want to be happy about my songs still, go further into the creation. But also, I think I want to get it to a broader audience. I want to travel more with it. I've done a bunch of shows, like, here in Canada, but also in the U.S. I've been to Europe, too, but I feel like I want to go to Asia and I want to go to Australia, and I want to get my music to as many people as I can. Even if it's in venues that are like five people, I don't care. I want to go, I want to meet people, I want to play. I'm headed for Australia in two weeks, and I'm hoping that I might just work with different people and meet people over there and maybe go back to do shows, too. 
You can stream Scavenger in full, below.