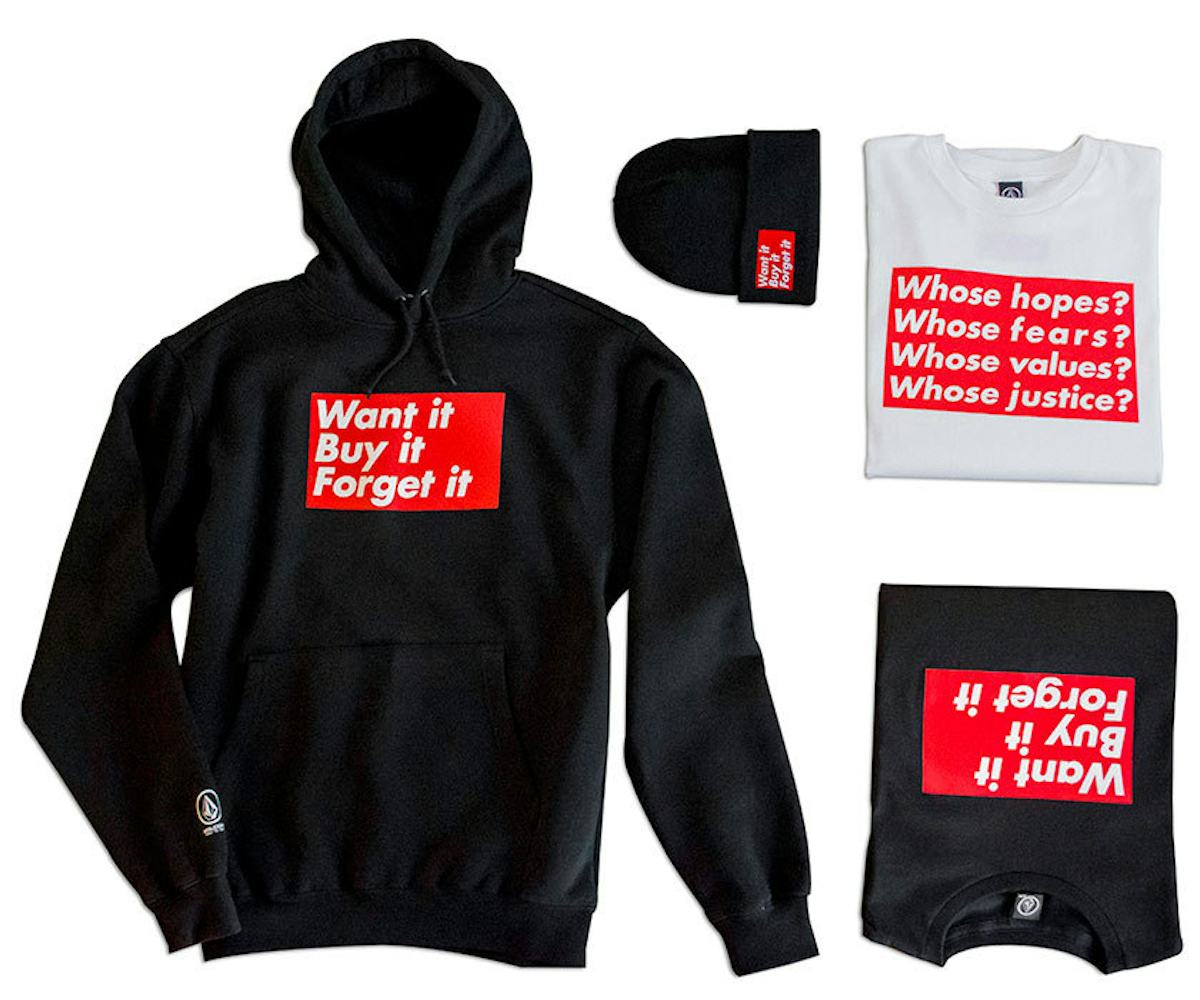 Courtesy Photo
Barbara Kruger's Volcom x Performa Collection Is Not A Dig At Supreme
If you see a white Futura typeface printed within a vibrant red box, what's the first thing that comes to mind: Supreme or Barbara Kruger? The answer could go either way, depending on who you ask. Kruger's text-based propaganda artwork came first, though; Supreme merely spun it into skate culture. This makes it easy to believe Kruger's latest artwork, a performance piece for Performa's 17th Biennial which includes a capsule fashion collection, pop-up store, and redesigned skatepark, is a jab at the cult-favorite streetwear brand. Mike Aho, Volcom's global creative director, is certain it's not.
"She's making a statement with [the piece], for sure, and I do think she wanted to do something in the skate space, but I don't really think she necessarily cares about Supreme," he tells me over the phone. "Her outlook on her own artwork is that she doesn't own that font—she doesn't own any of it; that's one of the main messages of the whole thing, who owns what?" Indeed, printed on the four-piece capsule collection, made in partnership with Volcom, are phrases directly critiquing consumerism and our incessant need for... stuff.
The Barbara Kruger x Performa x Volcom collection came about after Performa approached Kruger to do a piece for its biennial. Steve Rodriguez, who Aho calls the "mayor of New York City skate," got looped in, which led to Volcom, which led to the collection, which led to, you guessed it, the full performance piece. "Untitled (The Drop)" has taken place throughout the month of November, with its final performance happing tomorrow. "The performance itself is really the people standing in line [for the collection]," Aho says, touching on the consumerist aspect of the show. "She's charging $5 for entry, so you're paying $5 to literally stand in line to buy stuff. It's a reflection why you would stand in line for something."
There's also the skatepark extension to Kruger's performance. Her propaganda phrases are now emblazoned across the Lower East Side skatepark that Rodriguez designed. "One of the rails that run across the middle just says, 'Plenty should be enough,' which I thought was so perfect for right now with how messed-up the world is," Aho says. Indeed, plenty should be enough, yet we're pressured to want and buy more; the rise in pop-up stores and limited-edition collections is a testament to that. It's a dangerous cycle, but one we're groomed to accept as the norm. 
Kruger's mocking of the notion of a "drop," from fashion to limited-edition MetroCards (which Supreme has also made into a thing), shows she's keenly aware of that. Though it may look like it, this collection isn't a dig at one brand in particular. It's a dig at us, the consumers. Upsetting? A little, but if there's anyone who could mock us, we'd want it to be Kruger.
Kruger's "Untitled (The Drop)" will hold its final performance from 4pm to 8pm at the Performa 17 Hub at 427 Broadway tomorrow, November 16. Tickets can be bought here.