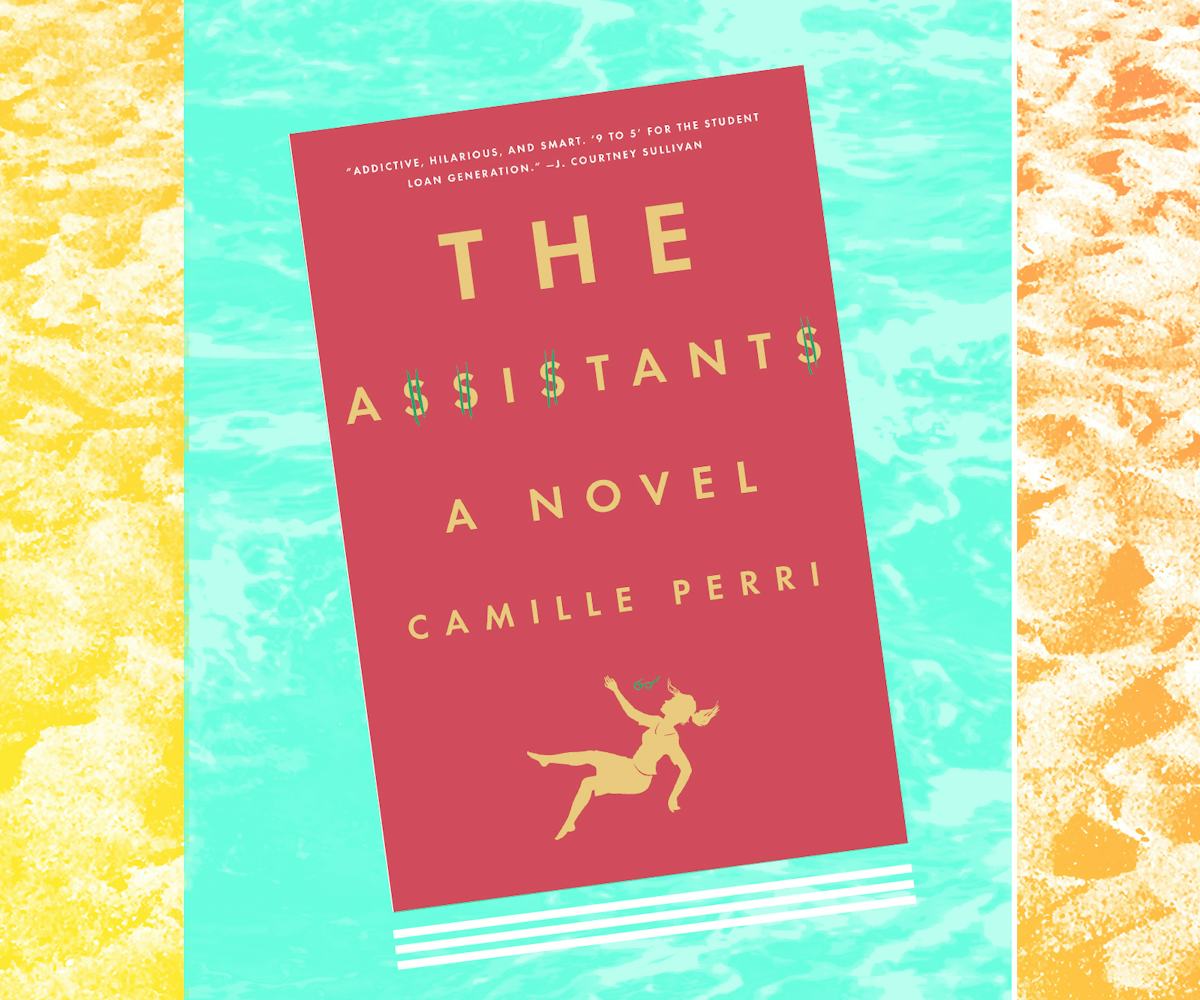 It's Lit: Guilty Pleasures
Beach reads that you won't be able to put down
If we could, we would spend the majority of our time here on earth skimming through our favorite bookshops and running through libraries. But even if we could, there sadly wouldn't be enough time to read every book in existence—that's why we rely on recommendations from friends, family, and our favorite authors. Every week, we'll be sharing some of our favorite reads because literature is, well, lit.
As writers and editors, the majority of the little time that we have left to read for our own indulgence is dedicated to tomes that leave us inspired or, at the very least, having learned something new. But summer is the time we give into our favorite guilty pleasure—the beach read. Entertaining, humorous, and typically far-fetched—not without a healthy dose of romance and coming-of-age lessons, of course—these plots take our minds off of things and on a vacation that is sometimes much more needed than our physical getaways.
With about six weeks of summer left, we didn't want you digging for the best page-turners to accompany you poolside or on a long weekend escape, so we picked out the best books we've read all summer for you. Note: As hard as it may be to peel away from these reads, make sure to reapply sunscreen and actually enjoy the water.
The Singles Game by Lauren Weisberger
Just in time for the 10th anniversary of The Devil Wears Prada, Lauren Weisberger returns with a new novel. Tennis courts replace fashion magazine offices as we follow tennis pro on the rise, Charlotte "Charlie" Silver, on a jet-setting whirlwind of competitions from Wimbledon to the Australian Open and US Open. After hiring an famously ruthless coach, following a Wimbledon injury, to overhaul her entire image from America's sweetheart to a warrior princess and get her in shape to win the coveted Grand Slam title, Charlie is thrown into the world of private parties, PR stunts, fashion stylists, and scandalous flings. With tennis wins, brand endorsements, and magazine features coming in at the speed of light, Charlie soon finds out that no one succeeds in the industry by playing nice. Is she willing to lose herself to win the ultimate prize?
Rich and Pretty by Rumaan Alam
There have been a countless number of books attempting to analyze the intricacies of female friendships. Rumaan Alam's Rich and Pretty stands apart from the rest in its focus on the transformation that happens with age—when the inseparability and closeness of friendships in adolescence turn to a complete lack of understanding and inability see eye to eye come third decade. Written from the perspectives of Sarah and Lauren, two longtime friends, the novel begins with news of Sarah's engagement to a man who Lauren finds dull. As the wedding approaches, the two are forced to confront their relationship and the different lives they now lead, with an ending that's part optimistic, and part melancholy, which is not that surprising given the inevitable realization that sometimes things can never go back to how they once were.
Modern Lovers by Emma Straub
If you enjoyed Emma Straub's The Vacationers, you are going to love this delightful new novel, which follows two somewhat-dysfunctional neighboring families in Brooklyn, New York, "falling in and out of love simultaneously," as teenage protagonist, Harry, says in his college thesis. After a married couple, Elizabeth and Andrew, and their Oberlin College friend Zoe (along with her wife, Jane, and teenage daughter, Ruby) are approached by a producer to buy the rights to the story of their '80s band, secrets come forth and relationships are tested. With a blooming young romance juxtaposed against mid-life crises, the novel, as best put again by Harry, "celebrates the youthful embrace of reckless love and the way that older people struggle with those same feelings some decades down the line."
Sweetbitter by Stephanie Danler
It's been a while since a coming-of-age story of such delicious proportions has come along. After 22-year-old Tess moves from a small town to New York City, she is hired as a back waiter for one of the city's best restaurants. What follows is a lesson in experiences, one that includes the discovery of oysters, fine wine, drugs, dive bars, and sex. Intoxicating to all five senses, the story, which seamlessly parallels food with lust, induces an appetite of both the educational and gastronomical variety. You will feel the dark and seductive pull of the restaurant industry that Tess comes up against, unable to put the book down. When all is said and done, what remains is a nostalgic aftertaste of sweet and bitter that is so common when one looks back on life's most formative lessons, that contributes to who you become as an adult.
The Assistants by Camille Perri
Anyone who has been asked to run an unreasonable errand, bring another cup of coffee, do the expenses, or make a reservation at a fully booked restaurant one time too many, has had a fantasy of screwing over their boss and running away with the money that has been rightfully earned in blood, sweat, and tears. In this hilarious and witty novel, a pair of underpaid, entry-level employees, led by 30-something protagonist Tina, carry out that fantasy and embezzle a big chunk of money from a major media conglomerate to, out of all things, pay off their student loans. You can guess that not all goes smoothly after that, especially when news of their scheme spreads to other dissatisfied assistants and when Tina begins dating the company's lawyer who is unaware of her exploits.
The Nest by Cynthia D'Aprix Sweeney
Cynthia D'Aprix Sweeney opens up her first novel with three siblings who are forced to come together when their older brother, Leo, threatens to jeopardize their mutual inheritance, known as The Nest, following his alcohol/drug-fueled driving crash and a stint in rehab. What follows is a hilarious playing out of darkly comic dysfunctional dynamics as the plot mockingly, but not without lightheartedness, provides a look at the entitled family's despair over the possible loss of finances that they have come to fantasize about. While set in satire, the novel, as the plot progresses, reveals unexpected character depth, desire for redemption and forgiveness, and the siblings' sincere need for family union despite how things appear on the surface.
Losing It by Emma Rathbone
Losing It finds the protagonist, Julia Greenfield, a 26-year-old virgin, stuck in a New York City job that is going nowhere. In an attempt to discover herself and map out her next move, Julia decides to spend the summer with her eccentric and mysterious aunt Vivienne in a small town in North Carolina. What ensues is a series of shenanigans as Julia attempts to obsessively lose her virginity and figure out what to do with her life. Oh, and did we mention that her 58-year-old aunt is a virgin too? She is, and serves as a cautionary tale for Julia for what life could become, while also breaking down the stereotypes surrounding voluntary abstinence for the reader. Losing It sheds light on alternative sex positivity (one that respects one's choice to wait), and shatters the stigma surrounding the subject, but not without plenty of humor involved.
Eligible by Curtis Sittenfeld
A modern day, laugh-out-loud take on the retelling of Pride and Prejudice, Eligible follows the story of Liz, a magazine writer, and Jane, her older sister and yoga instructor, living in New York City. When they are forced to come back to Cincinnati because of their father's ailing health, they find their childhood home falling to ruins, their sisters unemployed and living at home (Kitty and Lydia are addicted to CrossFit and Mary, a recluse, is earning her third degree), and their mother obsessed with marrying them off (especially Jane, who's on the brink of turning 40). Against the backdrop of Eligible, a Bachelor-like reality show, we are introduced Chip Bingley, a handsome doctor new to town, and his standoffish neurosurgeon friend, Fitzwilliam Darcy. Well, you know the rest.