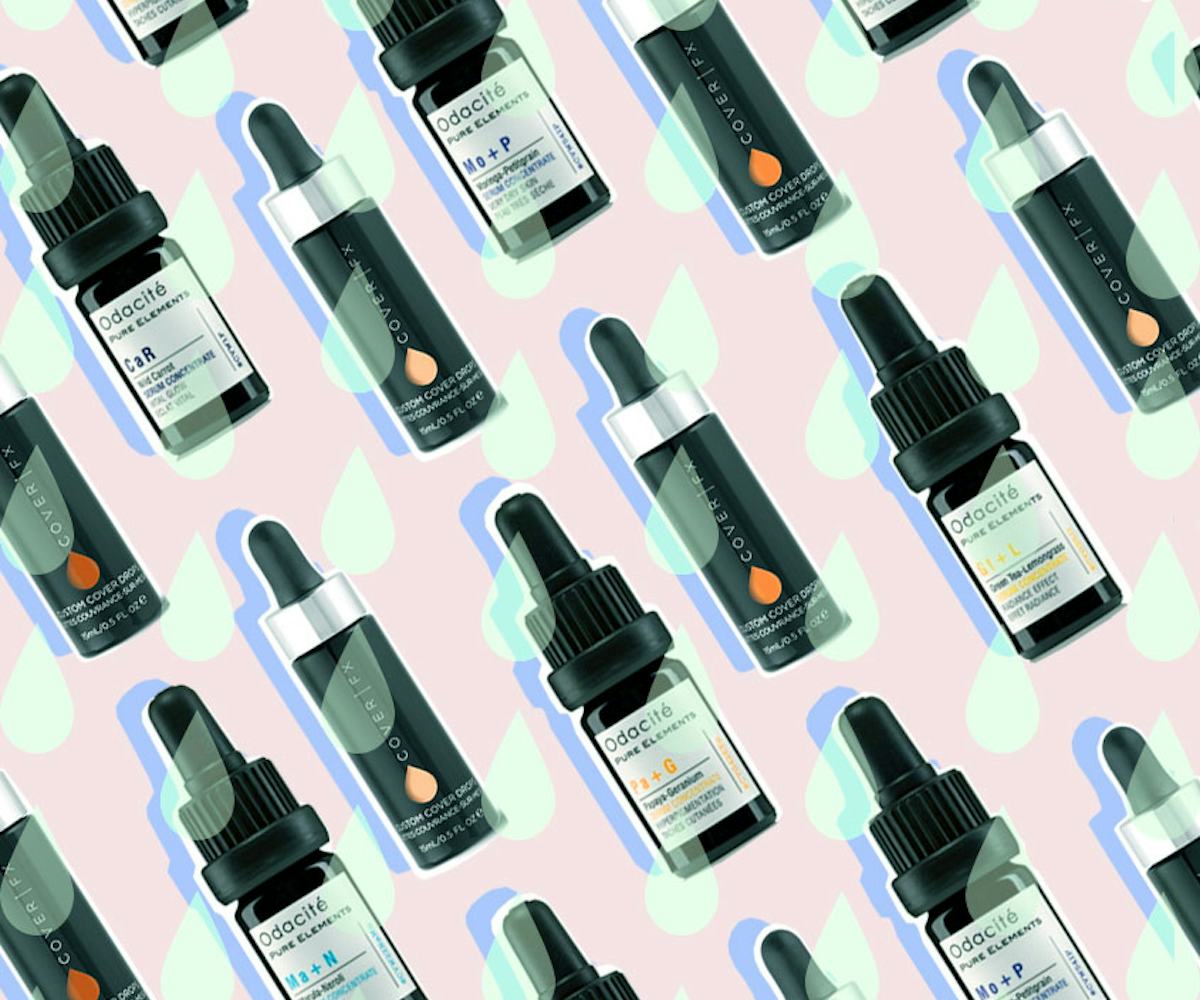 this is a thing: beauty drops
Let's get hypothetical: It's Monday morning. After a weekend full of onion rings and waking up on your couch with a full face of makeup, you discover an unsightly spread of zits. You could run to the local CVS and get an anti-blemish lotion and some concealer... Hell, no! We don't have time for that before rush hour.
Enter beauty drops. They are the godsends that enable you to alchemize your skin care and cosmetics to adapt to your skin's mercurial nature—as well as its reactions to your (at times less-than-wholesome and unpredictable) behavior. Essentially, what they do is allow you to adjust your favorite products so you can cater to your finicky complexion.
Odacité's Pure Elements collection offers 16 highly concentrated serums you can drop into your daily moisturizer to target specific issues, such as breakouts, dullness, wrinkles, extra dryness, and hyperpigmentation. This means you can potentially have 16 different moisturizers at your disposal.
Valérie Grandury, the founder of Odacité explains, "Your skin isn't the same throughout the year—not even from day to night. Some days your complexion will be duller, drier, oilier. Maybe you're going through a stressful time, or maybe you're vacationing in a dry climate. I created Pure Elements so anyone can easily adapt their skincare routines to their ever-changing skin concerns."
What differentiates these serums is that they're so gentle, they won't further compromise your skin. (Raise your hand if you've ever slathered on a new cream in desperation and caused major irritation.) Instead, these Pure Elements serums employ the formidable power of plants to nurture your skin in a more motherly way—they're gentle and caring, but they also get some serious work done.
Paula Begoun, international beauty expert and founder of Paula's Choice, says, "Mixing a bit of non-fragrant plant oil into your non-SPF moisturizer or serum is a great way to boost the moisture and repair benefits of your routine. And there isn't a single best way to apply a face oil—they can be used with any serum, treatment, AHA/BHA or other product. However, you don't want to mix your face oil into your daytime moisturizer with SPF—doing so dilutes the sunscreen's effectiveness."
Now, back to your pimple-riddled morning. Rather than getting full-coverage foundation, you can add Cover FX's Custom Cover Drops to your go-to foundation to boost its concealing abilities. The concentrated pigments are buildable for as much coverage as you want without effecting the texture. In short, you can hide the pesky evidence of your decadent weekend without caking on extra layers.
Better yet, Custom Cover Drops can be mixed into anything in liquid form, be it your serum, regular or tinted moisturizer, facial oil, primer, or alphabet creams. 
Makeup artist Megan Mulligan, who's worked runway shows for Christian Dior and DKNY, says, "The Custom Cover Drops are amazing when you need a tinted moisturizer. I have always loved the idea of tinted moisturizers, but don't always love the colors or moisture levels. With these drops, I can turn any moisturizer or skin oil into the perfect product for my clients."
So these droplets of pigment are also good for days when you want to skip the foundation altogether. For example, mix the product into your primer: One drop for sheer coverage, two for medium coverage, three for full coverage, and four for total coverage. You've just made your own foundation, exactly the way you want it!
Derek Selby, International Director of Artistry and Education at Cover FX, says, "If you mix foundation into a moisturizer, the foundation will alter the coverage but also the finish and performance of the moisturizer. Custom Cover Drops will not alter the finish nor any of the benefits of the base product. We incorporated Flash Fusion Technology, which is an innovative technology that suspends pure pigments in a weightless solution that flashes off when mixed with another beauty product. This leaves you with pure pigment mixed into your base of choice."
As you can see, simplicity and versatility are not mutually exclusive. With beauty drops, less is more.