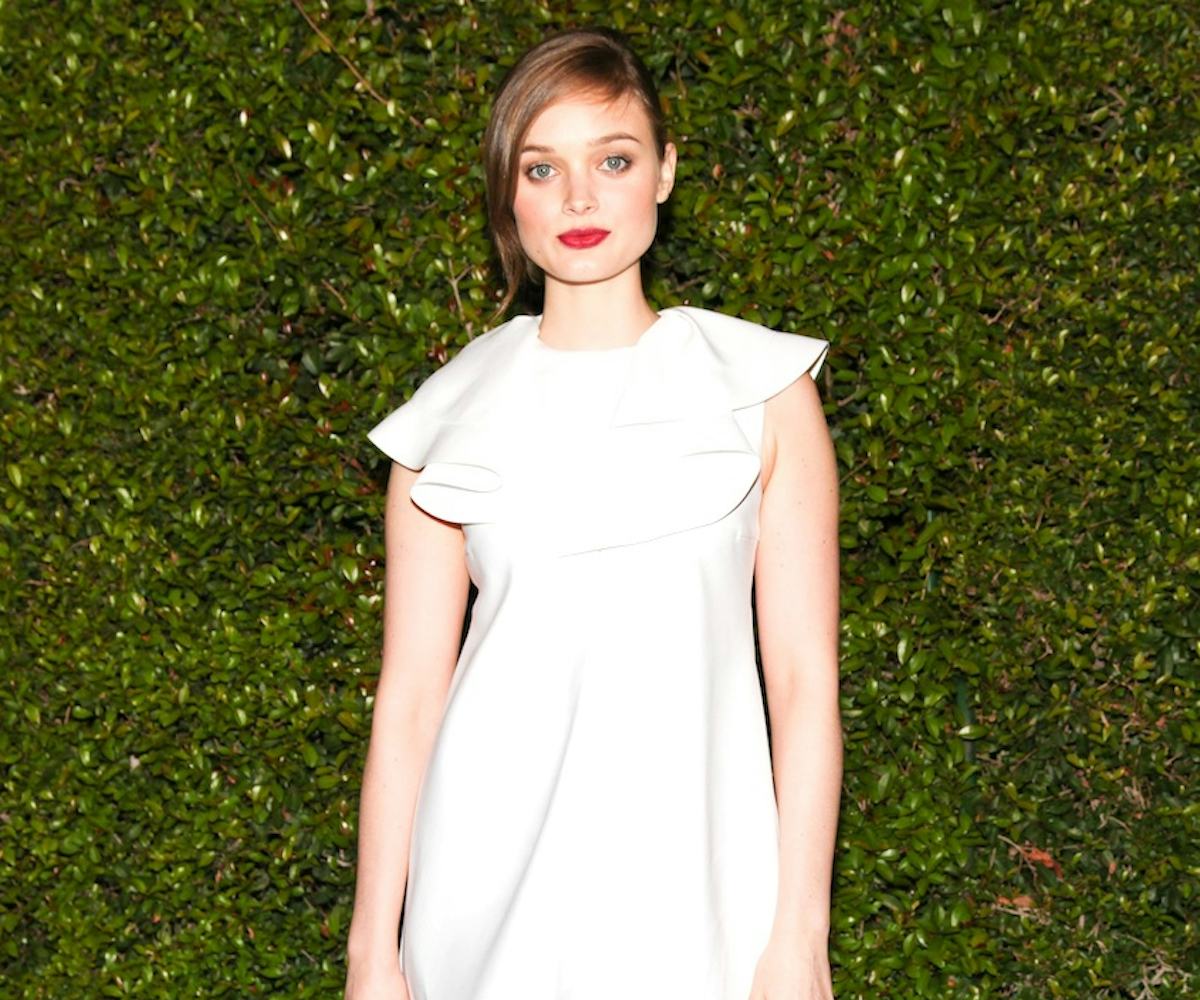 beauty queen: bella heathcote
your step-by-step guide to asymmetrical perfection.
The internet might've been abuzz about Camilla Belle's maybe-bangs earlier this week, but now there's another actress who just made a drastic hair change--but this time it's only temporary. Bella Heathcote attended the Chloe Los Angeles fashion show yesterday, sporting an asymmetrical faux chop. With a longer piece on her right side and a close crop on the other, it's the perfect sans-commitment difference that's guaranteed to get everyone talking. The key to this "effortless, girly look"? According to her stylist Anh Co Tran, it comes from a deep part in front and twisted chignon in back. Get the step-by-step guide below! 
SMOOTH IT: Oribe Volumista, $38 and Super Fine Hair Spray, $19
"First off, I started off rough drying her hair until it's almost dry, maybe like 80% dry. I then apply the Volumista from Oribe on the roots and some all over. This product is great for achieving bounce and body. Then I completely smooth her hair out, then add a little bit of Super Fine Hair Spray from Oribe all over to give it some hold."
WAVE IT: Mason Pearson Hairbrush, $88 and Drybar Curling Iron, $125
"Brush the it through with a Mason Pearson Brush to even out the product. With a 1 1/4" curling iron, I start curling her hair out to give it some movement and waves.  Remember to establish a deep side parting first. After the hair is all curled, brush it out. Start with the crown in sections and back brush the hair to create a little volume on the top and slightly back brush all of the the hair to create some texture."
PART IT: Oribe Super Fine Strong, $36 and Shine Light Reflecting Spray, $36
"Then I smooth the right side back toward the center of the lower neck part.  Secure it with a few bobby pins in a crisscrossing pattern.  I made that very sleek and smooth, but still keeping it natural and not gel down.  Then apply some Super Fine Hair Spray to keep it in place. Now on to the left side, I took the hair from the front of the ear and leave it out.  Using the remaining hair fold the hair back to the center of the lower neck part and secure it with a few bobby pins. Then I fold it back to the right side and secure it with a few bobby pins and just keep on doing it until you run out of hair.  Then spray it with some Super Fine Hair Spray to hold it in place.  The bobby pins should keep it all in place. Then for the front, I just brush it in place, like a lazy S wave, to go along with her dress.  Something that will tie it all together. Last but not least, use Super Fine Strong from Oribe and spray it all over for an all over hold. Then a little Shine Light Reflecting Spray from Oribe to give it a healthy glow!