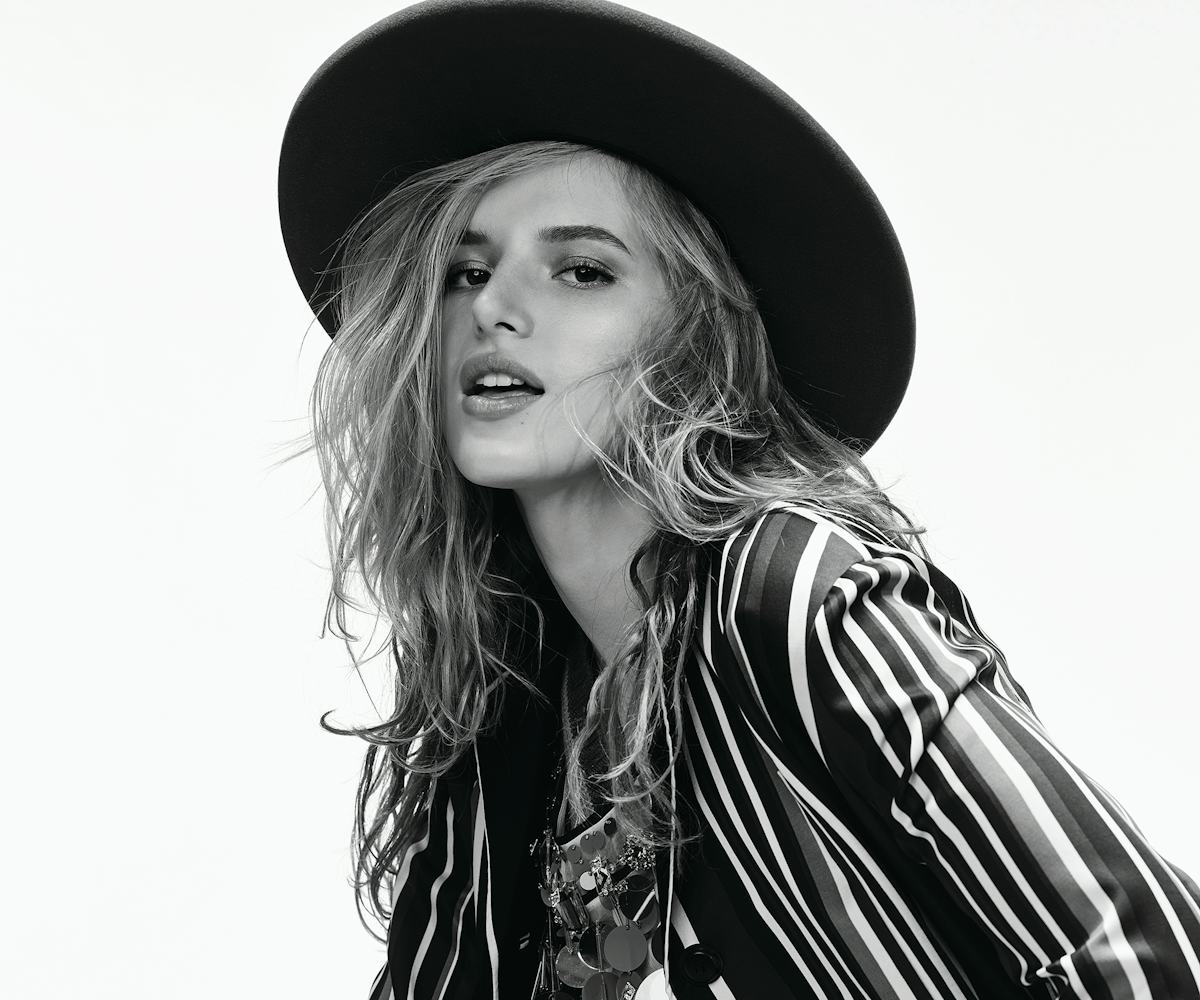 Photographed by Dani Brubaker. Coat and dress by Prada, jeans by Re/done, hat by Worth & Worth by Orlando Palacios.
Bella Thorne Is A Wild Child
The former Disney star is saying "so long" to the House of Mouse
The following feature appears in the April 2016 issue of NYLON.
"My very first line of the film is 'Choke on a cock,'" Bella Thorne says shortly after we sit down at a small Italian café in Studio City, California. She's talking about her movie Shovel Buddies, which recently premiered at South by Southwest. If I had any doubt about the 18-year-old's evolution from Disney Channel star to something a bit more, um, grown-up, this obliterates it. Though she does still seem to be easing into her edgier projects. "I tried removing one of the curse words and the directors were like, 'Cut! Bella, we need that fuck back in there.' And I was like, 'But there are two prior fucks in the same sentence so I'm just curious if we need the last one.' And they were like, 'We do,'" she continues, laughing. For the self-proclaimed potty mouth, this isn't a huge stretch, but for people who only know the stunning redhead from her three seasons as CeCe on Disney's scripted dance show Shake It Up (co-starring Zendaya, whom she affectionately calls "Z"), it might be somewhat of a surprise. It seems like a change the outspoken teenager has long been ready for, though. "People have always told me I'm too mature for my age," she says, enthusiastically shaking red pepper flakes onto a bowl of penne pasta smothered in butter and garlic. Perhaps that's a result of growing up in the industry. Or maybe it's why she's so good at what she does. 
Click through the gallery to read the rest of the feature.
But as mature as Thorne seems, she's still a teenager. Her phone dings throughout our chat (in her defense, she rarely looks at it), and though she shows up for our interview looking like a style icon in leather athleisure pants, striped slip-on sneakers, a gray cropped T-shirt, and a Dsquared2 leather jacket, she's also hugging a pillow (it was a long, early ride to her NYLON photo shoot that just wrapped, she explains). In October, she celebrated her 18th birthday at Six Flags. But her normal teenage experiences are tinged by the sheen of superstardom: After she failed her first driver's permit test, the DMV employee who graded it asked for a selfie.