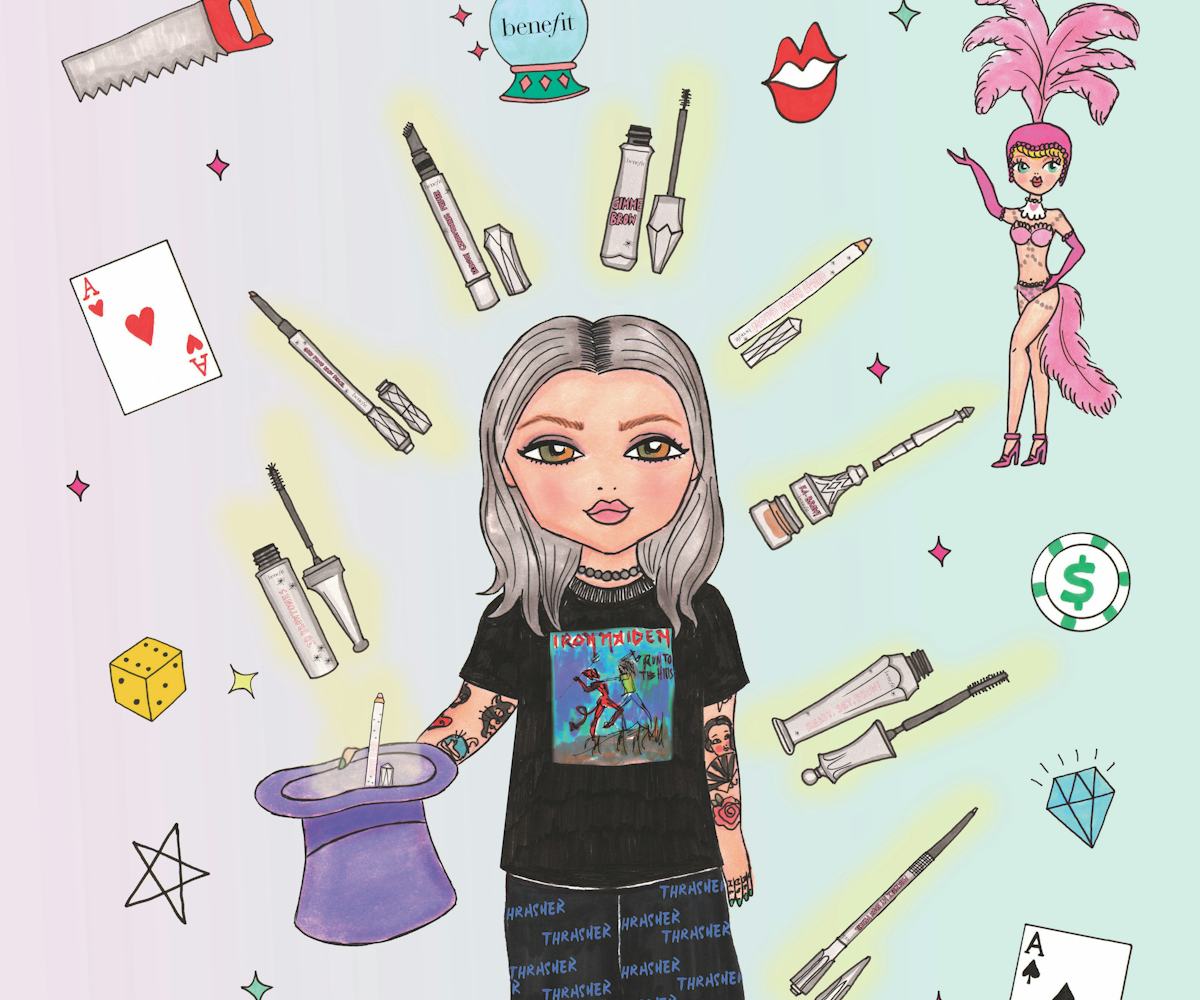 Illustrated by iscreamcolour.
NYLON Senior Beauty Editor Jade Taylor Takes Las Vegas By Storm With Benefit Cosmetics
I always imagined that my first trip to Las Vegas would be a little…weird (my favorite word to describe something that I really love—I even have it tattooed on me!)—and sure enough, my trip with Benefit Cosmetics to get a first look at their brand-new brow collection was exactly that. One minute David Blaine is doing a card trick with me, the next I'm watching showgirls with sparkly pink outfits high-kick, then I'm suddenly wearing bunny ears (don't. ask.).
Soon enough, I find myself in makeup heaven, trying out every new brow product the brand is releasing this month. And let me tell you right now: They really are magic. Not only are they repackaging some of their cult-favorite brow offerings like Brow Zings, Gimme Brow, High Brow, and High Brow Glow with ultra-sleek, futuristic-looking silver casings, but they're also introducing six brand-new products to the array as well.
Let's start with 3-D Browtones: It's a highlighting gel (yes, you read that correctly) that you can comb over your arches to enhance that natural hue, similar to how you would highlight the hair color on your head. Next up is Ka-Brow!, an innovative cream-gel color that's equipped with a precision brush and genius formula to match.
Then we have the Goof Proof Brow Pencil, an easy-to-use brow filler, and Precisely, My Brow Pencil, an ultra-fine version for extreme detail. But none of these would be complete without the Ready, Set, Brow invisible shaping and setting gel that locks loose strands into place and keeps your brows on fleek all day long. Last, but certainly not least, is the Browvo! Conditioning Primer, which is jam-packed with keratin and soy proteins to help lackluster brows grow, or make those blessed with naturally fuller brows have an even stronger and healthier set.
Needless to say, with the help of these hero products, not only will your brow game make those around you fly into a jealous rage, but all of your brow dilemmas will instantly—abracadabra—disappear!
Benefit Cosmetics Brow Collection, $22-$32, available at Benefit Cosmetics