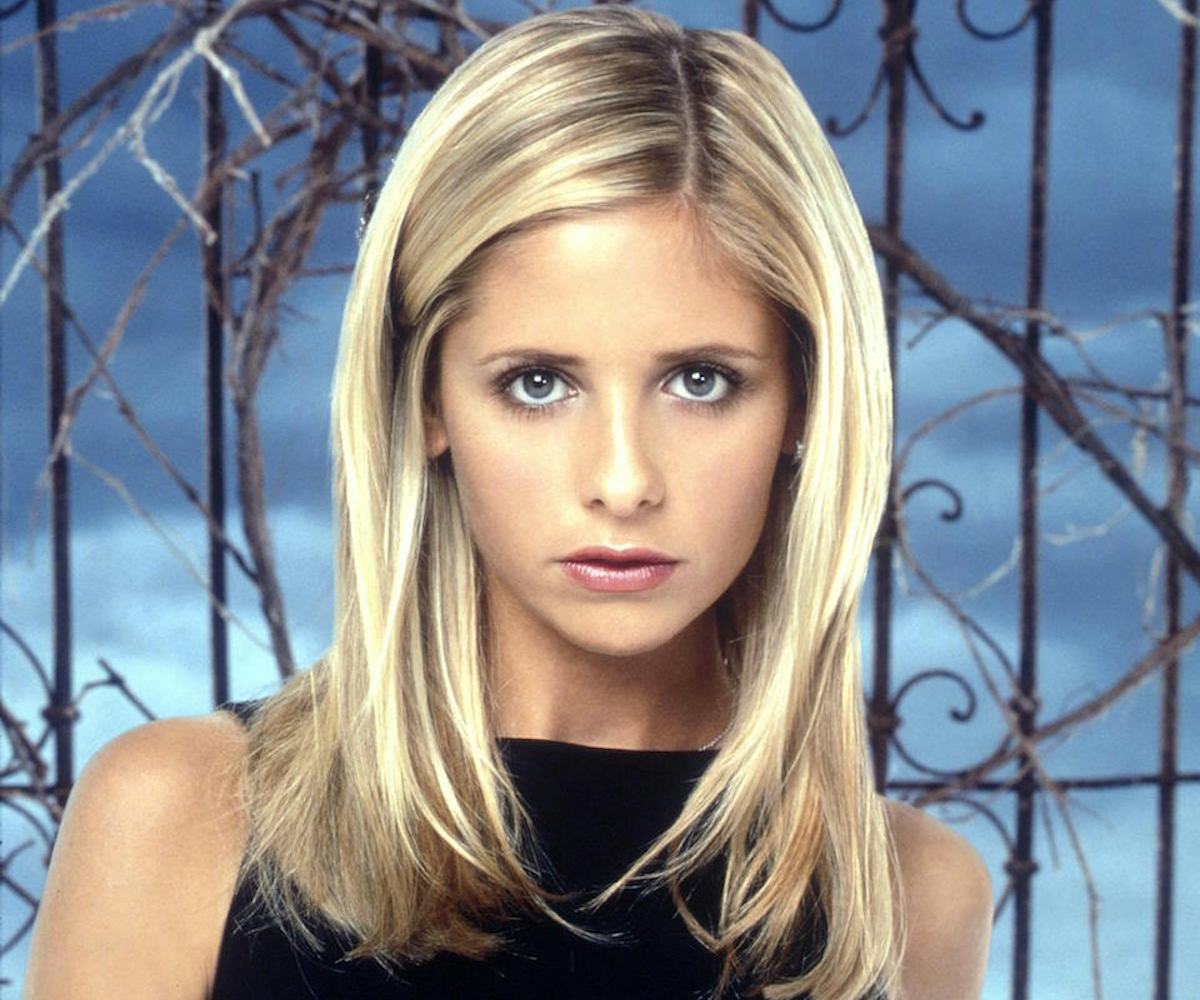 Photo via Getty Images
The 10 Most '90s Outfits Buffy Ever Wore
Buffy slayed more than vampires
Carrie Bradshaw. Olivia Pope. Blair Waldorf. Angela Chase. Betty Draper. And now add Buffy the Vampire Slayer. These characters donned fashions so unforgettable, and created aesthetics so bold, that people were (and are still) compelled to mimic them. Be it their hair, makeup, or outfits, these characters each had major impacts on how we remember fashion, with some of them becoming legitimate players in the IRL game. But unlike Sarah Jessica Parker, Sarah Michelle Gellar (of Buffy fame) often goes unrecognized for her diversity in style, fashion know-how, and normcore prowess.
Buffy looks good doing just about everything. She looks good breaking up with her boyfriend(s). She looks good saving the world from hell gods. She looks good for the prom. She looks good as a freshman. She looks good stomping the patriarchy. And, you know, she looks good fighting vampires.
Her unforgettable wardrobe is something worth immeasurable amounts of love and remembrance. In these days of '90s nostalgia, Buffy is the style icon we all need but don't deserve. It's really hard to pick just ten looks from seven seasons of the best show on television ever, but this list promised ten outfits, so ten outfits you shall get.
Here are the ones that stood above the rest (in terms of '90s power, that is…).
The Outfit That Started It All
Buffy arrived in baby blue and boots and began her ascendance to fashion royalty. History will never forget this, especially not the hair clip and boots.
For the love of Grunge
Grunge-y, baggy tops never looked so good!
If Only Instagram Had Been A Thing
Please ignore everyone besides Buffy in this photo. Bask in the floral, purple-y goodness of her ensemble. The total package screams, deep '90s It Girl.
Just Let It Wash Over You
THE PANTS and THE GLASSES. Seriously, what else is there to say?
Green Flowery Goodness
Floral was a major thing in the '90s. Paired with this skirt and that hair, it lands at a solid 14 on a scale from 1 to 10.
One Word: Overalls
Buffy can work basically anything, including overalls. She's a normcore goddess. Never before have overalls looked so simultaneously functional and adorable.
What The Slayer Wears To The Gym
This is what the '90s It Girls wore when they were planning a hard workout on the step bench. It's the colors and the shirt around the waist that really bring this look together. This outfit is the total opposite of health goth.
Things Are Starting To Get Dark…
The '90s was an all-black sort of time. Between Buffy and perhaps even more so, The Craft, wearing black became a major statement of individuality and minimalism. Bonus points for dark makeup and messy hair.
B-U-FF-Y
If you went to school in the '90s, you know this is exactly what cheerleaders looked like. This is probably why they used to be so popular. She may have only been a cheerleader for one episode, but it will never be forgotten.
Revenge Of The…
OVERALLS. You didn't think this was the last you'd seen of them, did you? Can we please bring these back? PLEASE?