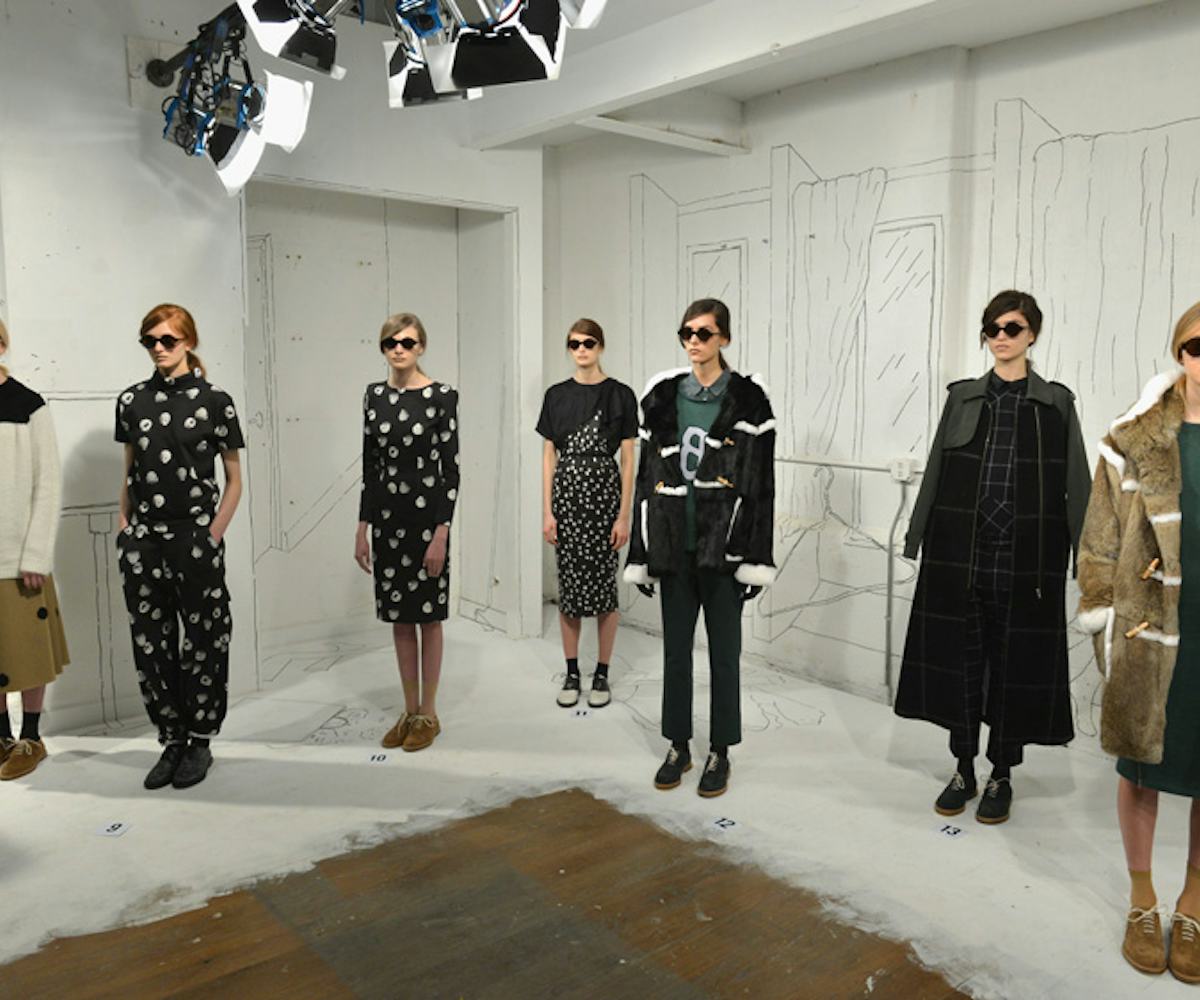 photo by getty images
the best of new york fashion week
how to get inspired by the coolest looks fresh off the runway.
New York Fashion Week might be over, but the trends that walked the runways are sticking with us, from the textured knits at Calvin Klein to the surreal trompe l'oeil at Band of Outsiders. So instead of giving up on our fall '14 dreams until, you know, fall of 2014, we've compiled the movies to watch, items to wear, songs to listen to, and beauty products to use to stay inspired by the collections all winter, spring, and summer long.
So click through the slideshow to find out which shows we're obsessing over, and how we're keeping the NYFW mood alive. 
If Charles Dickens wrote a screenplay for a female BMX movie, the main cast would be costumed in MBMJ's (formerly Marc by Marc Jacobs) fall '14 line. A little bit punk, a little bit prairie, the collection melded all of Katie Hillier and Luella Bartley's references into a group of street style worthy pieces. Totally rad. -- SY
LISTEN TO: "Miss Teen Massachusetts" by Skaters
WATCH: BMX Bandits
LISTEN TO: "Happy House" -- Siouxie and The Banshees
All I want in life is a big fuzzy coat and some comfy shoes to walk in. And Francisco Costa read my mind with his fall '14 collection for Calvin Klein. Made up primarily of knitwear, the line was not your typical take on textures. Instead Costa injected his signature archetecturalism and a little bit of grunge to create truly beautiful--and 100-percent wearable--items. -- STEFF YOTKA
WEAR: Stella McCartney Bryce Mohair Blend Faux Fur Coat -- $2,085
BEAUTIFY WITH: Too Faced Bulletproof Brows -- $30
WATCH: Singles
LISTEN TO: "Where is My Mind" -- The Pixies
WEAR: Marc Jacobs Special Item Shanghai T-Shirt -- $35
Fact: New York is the greatest city in the world. And the DKNY show captured everything that makes it awesome, from the ability to dream big to the cast of characters that populate its streets. -- SY
WEAR: DKNYPure Apron Dress -- $295
BEAUTIFY WITH: Marc Jacobs Beauty Highlighter Gel Crayon -- $25
WATCH: Kids
LISTEN TO: "Rockaway Beach" -- The Ramones
Taking cues from school classrooms (plaid, oxfords, and plenty of pencil skirts) and garden parties alike, Band of Outsiders' fall collection was a winky, tongue-in-cheek take on the label's signature twisted classics. Oh, and I'm calling it now: saddle shoes are going to be everywhere next fall... -- LD
Wear: Bass x Rachel Antonoff Oxfords -- $117
Beautify With: Shiseido Shimmering Rouge in Alabaster -- $25
Watch: Tanner Hall
Listen To: "Fred Astaire" by San Cisco
There isn't too much that can get me excited about winter, but leave it to the Proenza guys to make the coolest outerwear imaginable--not to mention, somehow linking it to a cool girl surf theme. Cocoon coats covered in jacquard, stamped with contrasting patterns and motifs are guaranteed to make next February that much more bearable. The tough part will be waiting almost a year to get my hands on one... -- LIZA DARWIN
WEAR: River Island oversize coat--$130
BEAUTIFY WITH: Bumble and Bumble Surf Foam Wash Shampoo -- $26
WATCH: Lords of Dogtown
BEAUTIFY WITH: Urban Decay Naked Lip Gloss -- $20