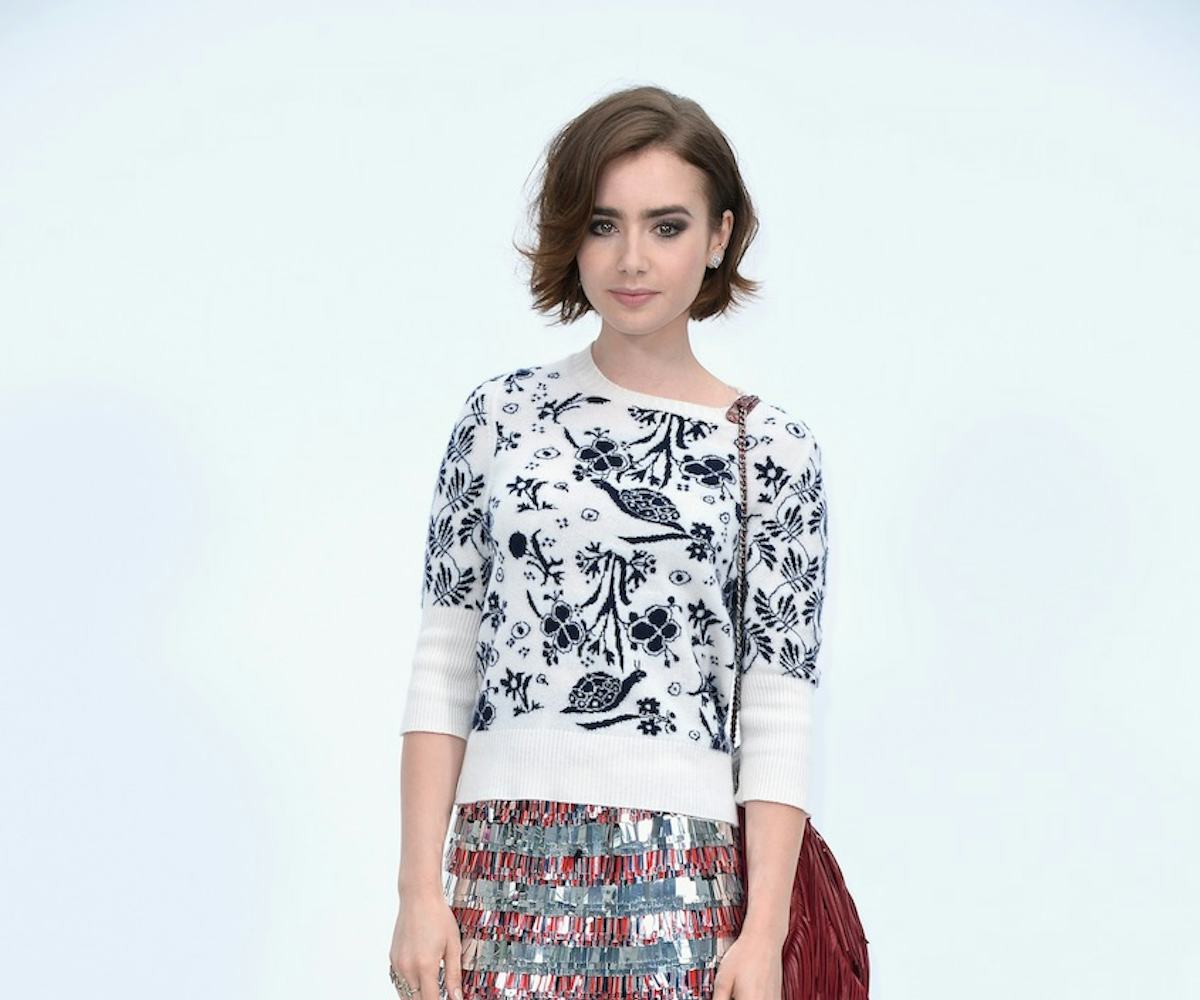 photo via getty images
best dressed: lily collins at chanel haute couture
When I was younger, my mother, teachers, and just about every person around me (including my own peers) would always look me up and down and say, "You know you're not matching, right?" Yes, of course I knew that a pink and purple striped shirt didn't "match" a plaid tulle skirt and gray polka dot leggings. (And yes, I now know that outfit sounds horrifying. It was.) But why did I have to match? Why did anyone have to match?
If you also like to mix prints/colors/styles/whatever, more power to you! And if anyone tries to tell you you're "doing it wrong," just show them this picture of Lily Collins. Because blending is exactly the reason why this ensemble works. And the reason why I haven't been able to get it out of my head this entire week.
Pairing an asymmetric teacup-print sweater with a metallic fringe skirt adds complexity to the outfit, toning down whatever hallucinatory properties are hidden inside the jangling trims. And her ladylike heels anchor the look, adding more dimension and texture.
I think this is one of the best front-row looks of the week. Check out our other front-row fashion round-ups below and decide for yourself.
MUST: Steve Madden BMocha Handbag, $68
TRUST: Rebecca Minkoff Frieze Jacquard-Sleeve Knit Sweater, $168
LUST: Nicole Miller Baba Fringe Skirt, $430
Check out our front-row best dressed picks from Miu Miu Croisière 2014/2015 here.
Check out our front-row best dressed picks from Dior Haute Couture 2014 here.