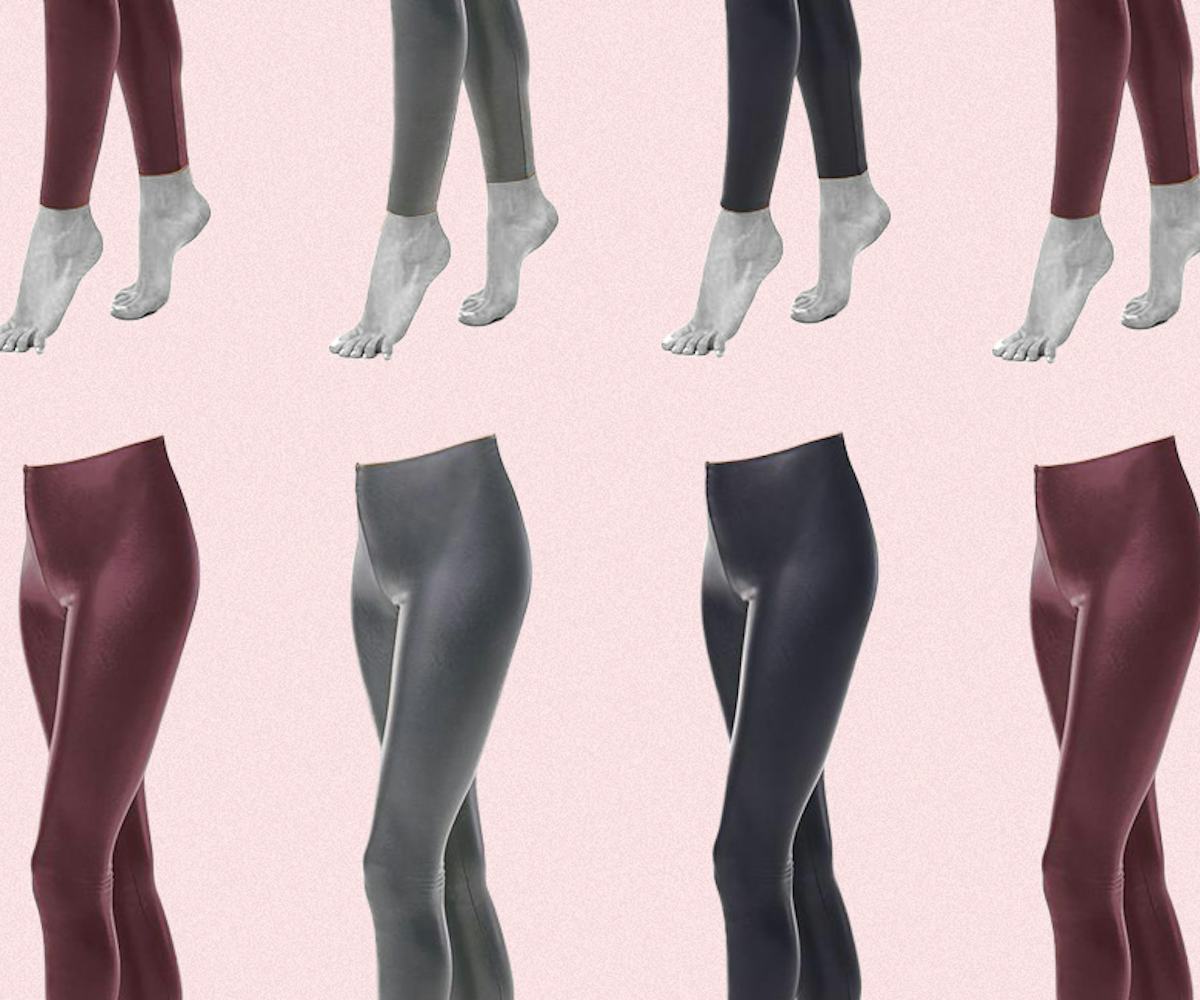 I Found The Best Pair Of Leather Leggings In An Unlikely Place
Friends don't let friends miss out on all the cool, under-the-radar things they know about, like where to buy ultra-fashionable clothes at decidedly non-runway prices or which little-known beauty brand is low-key making the best highlighter around. And because we consider our readers to be like friends, we decided to gather together all our best tips in a new series: Don't Sleep on This. Check in every week to see what things we can't wait to share with you.
While most people don't believe me when I say this, I too once had an American Apparel phase. Looking at me now—in my mostly black, leather-filled wardrobe, and rarely not in heels—it's just as hard for me to imagine that I ever shopped there as it is for everyone else to imagine it. But it wasn't the neon Lycra leggings or the form-fitting dresses that had my attention for the entirety of freshman year of college, rather it was the bodysuits that I craved in every (neutral) color to wear underneath the skin-tight BCBG skirts that I foraged Marshalls and TJ Maxx racks for. (I know, my pre-20s fashion sense was kind of tragic.)
All this to say, after those sartorially misguided 12 months, I donated my entire pile of bodysuits to a Salvation Army, and—controversy aside, which back then wasn't widely known—never stepped foot in an American Apparel store again, save for a rare Halloween run. It would be almost a decade before I would wear bodysuits again, too. In part, this is because it wasn't until last year that I found one I actually loved, one that didn't entail me performing a balancing act worthy of Cirque du Soleil in order to use public bathrooms. Where did I come across this magical garment? I found it at Commando.
Best known for its selection of tights and cultishly adored seamless thongs (you can wear them under the tightest of clothing), Commando also puts out some of the most flattering bodysuits around. Available in a variety of styles—one-shoulder, off-the-shoulder, high-necked, etc.—they are incredibly smooth and comfortable and go perfectly underneath my blazers, leather jackets, and high-waisted jeans. (They also have snap buttons, to avoid that aforementioned bathroom fiasco.)
Despite knowing about the brand's incredible bodysuits, it was only a few months ago that I discovered its faux leather leggings. Skeptical of anything described as "perfect" (or any other hyperbolic superlative, for that matter) in fashion, I still have to say that, well, they truly are everything you want in a pair of faux leather leggings. The inside of the top half is made from the brand's signature, super-smooth hosiery material, and it actually feels nice pressing on your skin. And whereas some of the other faux leather pants I've worn in the past have waistbands that dig into my skin and left obscene red marks reminiscent of a first-degree burn, these definitely don't. Yet despite how incredibly comfortable these pants are, they are not—by any means—loose or saggy anywhere. In fact, they smooth and hold in the entire lower part of my body and make my midline look trim and my legs extra-long—a perk for someone who suffers from the female version of Napoleon complex. Don't be fooled by the word "leggings" either; these are legitimate pants that can be worn alone with blouses and sweaters, and not merely a fancy version of leggings, underneath which you still have to wear shirt-dresses and skirts.
This is not to say that I haven't had faux leather pants that I have previously loved, but while Zara is my go-to for more affordable options and David Lerner for its killer styles, I hadn't yet found a pair yet that didn't make me sweat, didn't produce inappropriate noises when I sat down, and came under $100 (Zara tends to fail on the former two points, while David Lerner on the latter one), until Commando. They are indeed as their name style suggests: perfect.
And, I am not alone. These leggings are often out of stock due to their popularity. And given the customer feedback, the brand will be launching a faux leather skirt this spring. But, no, I won't stop wearing my faux leather leggings when I buy it, too.
Commando, Perfect Control Faux Leather Leggings, $98, available at Commando.