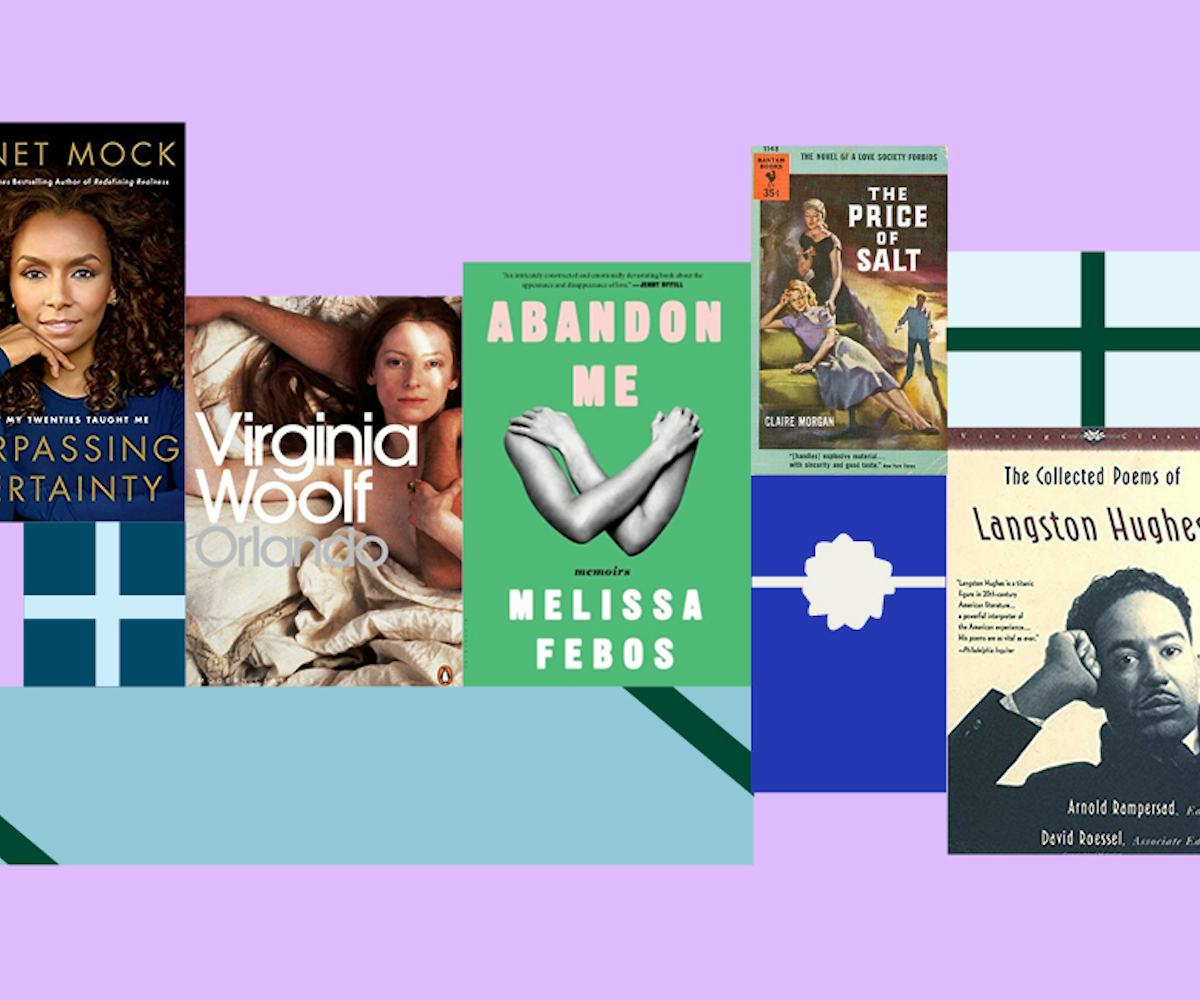 7 Books By LGBTQ+ Authors To Give This Holiday Season
Books by queers make extra good gifts
This holiday season, pick up a classic piece of LGBTQ+ authored literature, or a new book by a contemporary writer (who you should probably be following on Twitter). These books aren't just good options for the queers in your life, these are good reading, period. Books carry us away to new places, new people, and new experiences, and studies have shown that reading increases our capacity for empathy, which is neat!
Here are some titles guaranteed to make you think, make you cry, and maybe even make you a better person.
Abandon Me by Melissa Febos (available here)
A memoir in short essays, Abandon Me powerfully links two narratives: Febos' ill-fated, long-distance love affair with a woman who makes her heart stop, and her search for and reconnection with her birth father. In between, meditations on thematically related literature and art comprise the connective tissue that makes this a gut-wrenching read. Febos' prose is raw and unyielding. Bring tissues.
Felicity by Mary Oliver (available here)
The well-weathered poet is most known for her poems about nature, but in this collection—published after the death of her partner of 40 years—Oliver includes a section simply entitled "Love." There is nature too, of course (it's Oliver, how could there not be?), but to read Oliver's tribute to a love well-trod over the course of decades, as one partner is in decline, is the stuff great work is made of.
The Collected Poems of Langston Hughes by Langston Hughes (available here)
For any poetry lover, for anyone interested in the Harlem Renaissance, for anyone who wants to read the terror of just how similar Hughes' concerns in 1920s Harlem were to Black Lives Matter activists today, this is a must-read. While Hughes was not publicly "out," scholars cite a significant number of gay codes and latent homoerotic imagery in his work to indicate that he was either bisexual or gay.  
When My Brother Was an Aztec by Natalie Diaz (available here)
Diaz's collection moves between family and trauma, between race and gender and sexuality, between the reservation and off of it, between awkward dinners with her brother and moving tributes to the women she takes as lovers. This is a poetry collection to rip through in an evening with a bottle of wine; it'll leave you torn wide open.
Surpassing Certainty by Janet Mock (available here)
Mock's second memoir, the follow-up to her groundbreaking Redefining Realness, is exquisite. Mock details her sex work, her college years, and the early years of her work in publishing in New York, but the heart of the book is in the self-discovery she experiences through her first marriage, which spans most of the decade. Surpassing Certainty feels like a bare-your-soul night out (that is later developed into a TED Talk) with one of your best, most badass friends.
Orlando by Virginia Woolf (available here)
A classic of the British canon, and of queer literature generally, Woolf's novel features a person who goes to bed one night a man and wakes up the next day a woman. Orlando lives for centuries, witnessing the annals of British history and meeting a number of notable historical figures. What makes the story extra-delicious is that Orlando, the character, was inspired by and is a tribute to Woolf's longtime lover Vita Sackville-West. 
The Price of Salt by Patricia Highsmith (available here)
If you haven't read the 1952 romance novel the movie Carol is based on, now is a good time to do so. Patricia Highsmith's work was groundbreaking in 1952, a time when homosexuality was underground and when the few narratives available around the LGBT community usually ended in tragedy, a not-so-subtle moral punishment. In a time when it was, perhaps, unimaginable to get a happily ever after as a lesbian, Highsmith imagined one.