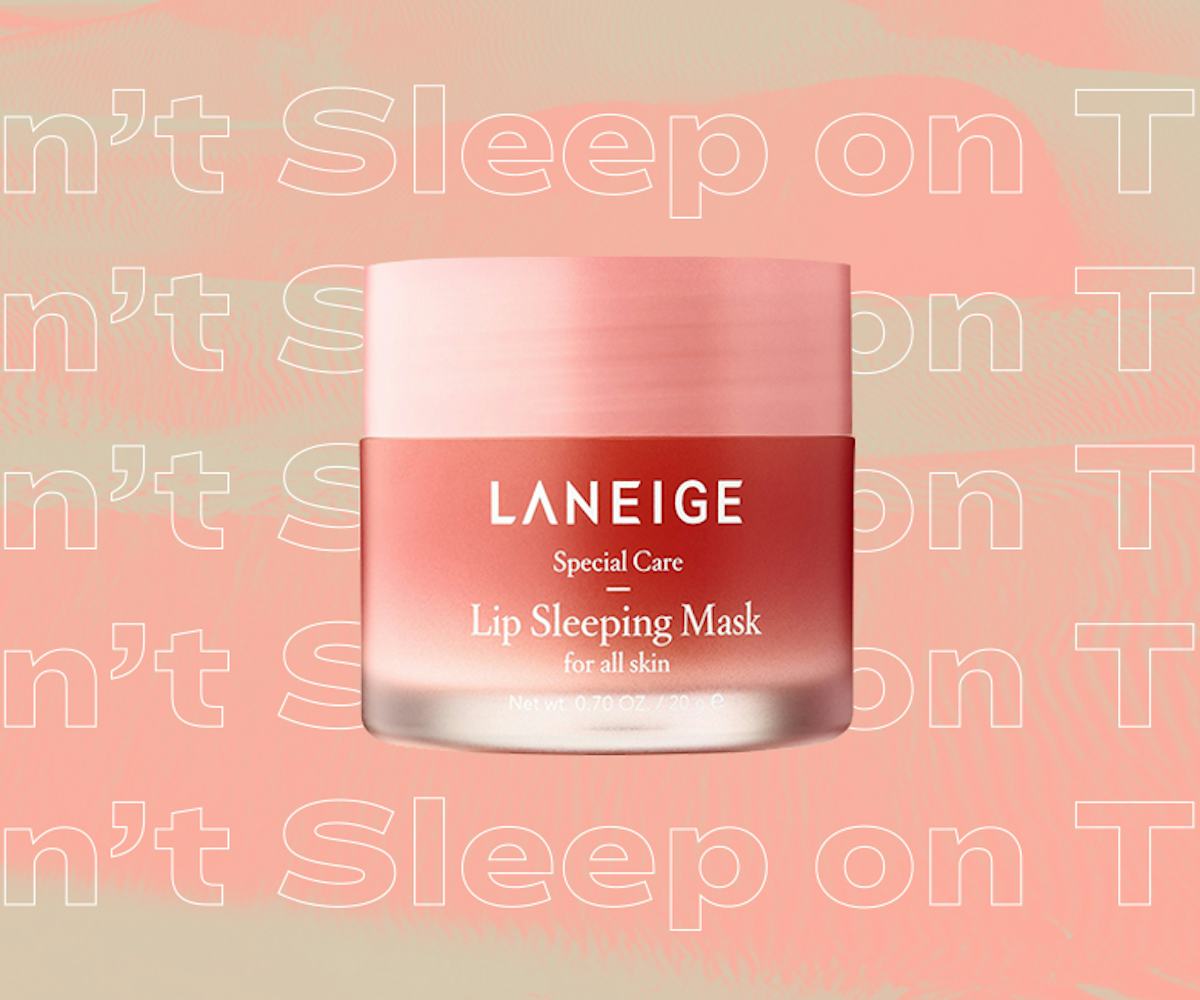 This Is The Lip Mask That Cured My Lip Balm Addiction
Don't sleep on this (but definitely sleep with this on)
Friends don't let friends miss out on all the cool, under-the-radar things they know about, like which little-known beauty brand is low-key making the best highlighter around. And because we consider our readers to be like friends, we gather together all our best finds in our Don't Sleep On This series. Check in every week to see what things we can't wait to share with you.
I try to be within arm's distance of at least three lip balms at all times. They can be found on my vanity, at my desk at work, in my purse, squirreled away around my apartment, and, during the colder months, in every pocket of every coat I have in rotation. I don't know where my addiction began, but I'm going to go ahead and blame my dad. He's carried around a tube of cherry ChapStick with him for as long as I can remember and it's likely I picked up his habit of applying and re-applying at a young age. It's a strange problem, though, because it's not so much that my lips are chronically chapped, but that I've become so reliant on it that my lips feel naked when they have nothing clinging to them. It's a dependence I'd come to accept over the years, until I learned recently that lip balm addiction is a very real thing. 
My problem isn't as serious as some people's, but turning into the girl who applies her Burt's Bees up to 300 times per day isn't something I want for future me. So, I've tried to start weaning myself off of the habit, and part of that involved finding treatments that work overnight to add a more powerful moisturizing punch that can last into the day. 
I've coveted a couple on the beauty market over the years. Bite's Agave Lip Mask is great, but a little too intense for my liking. Nuxe's Rêve de Miel is also great as far as nourishing goes, but I couldn't get past the texture (which was… grainy?). But Laneige's Lip Sleeping Mask had been on my list for a while and, as we're told to say during moments like these, third time's a charm.
I'm letting you know this in an attempt to be journalistically transparent: love at first application this was not. The consistency was thick and off-putting, and the product seemed to sit on top of my lips rather than sink in. Turns out, I was just being impatient. As is the case with other masks—hair, face, eyes—it takes a while for the berry flavored concoction to do its thing. Again, this is me being transparent: I don't have to worry about looking cute for anyone (but myself!) before going to bed, but, if you do, I would recommend getting the goodnight peck out of the way before applying because, though the product does sink in over time, it still leaves you with something of a waxy film. That's okay though because after you wake up will be prime makeout time anyway; that's when your lips will have transformed into their softest, most kissable selves thanks to the shea butter and vitamin C, which team up to swaddle your lips in moisture so that, come morning, there's no need to reapply.
The mask rings in at $20, which is steep, but the jar comes packed with a lot of product, and this is one of the rare beauty cases where less is actually more. It also comes with a mini shovel applicator that will help you not to overdo it, but you can just use your fingers if that doesn't gross you out too much… or if you're like me and lose every beauty applicator after the first use.
Now, I haven't completely abandoned my arsenal of lip balms yet (I like the security), but I do reach for them a lot less frequently. And so, with the help of a lip mask, this recovering balm addict is well on her way to step number five. 
Laneige, Lip Sleeping Mask, $20, available at Sephora.