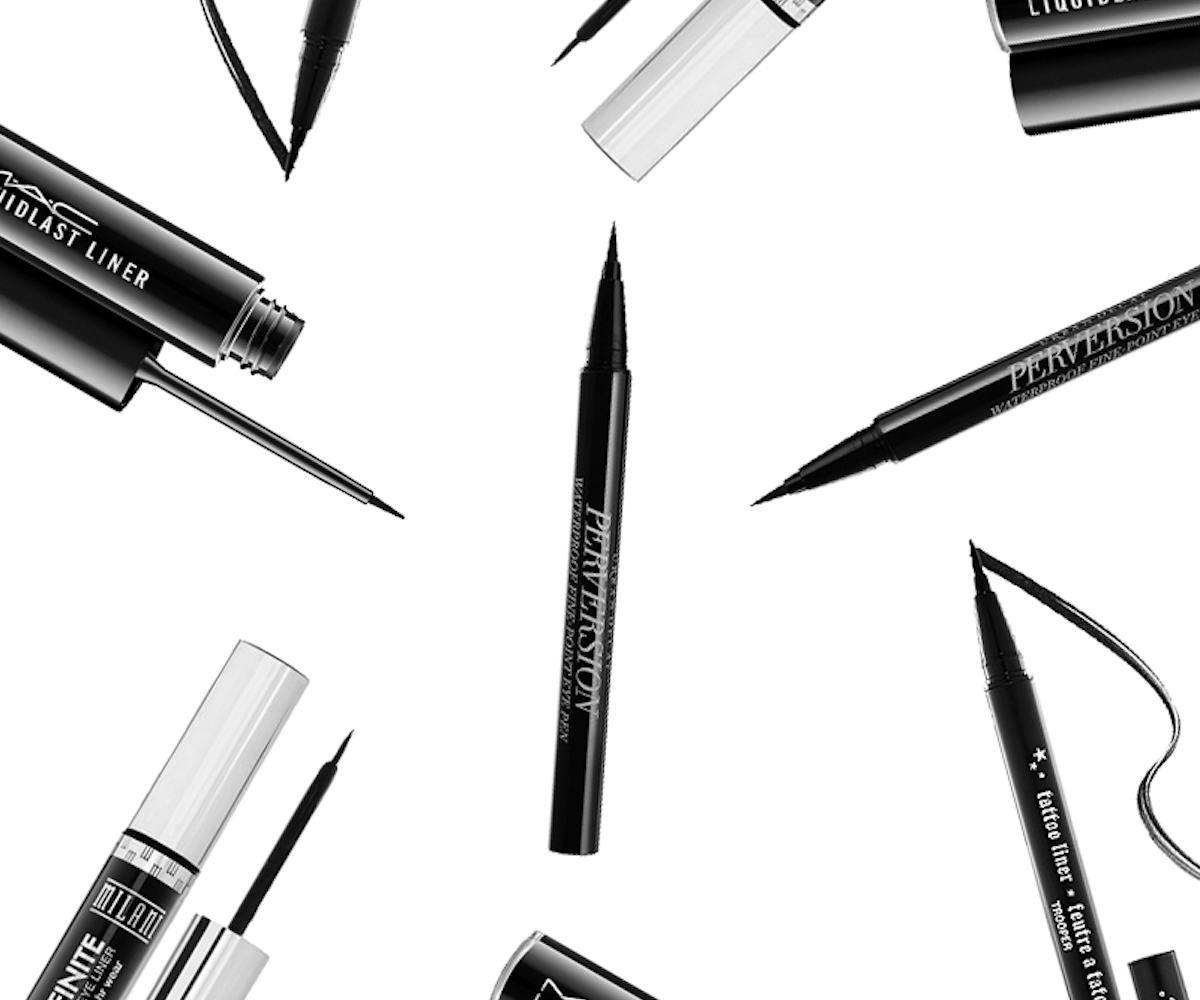 10 Long-Lasting Liquid Liners That Actually Stay Put
We put them to the (sweat) test
Maintaining the perfect cat eye can be tough, especially in the summer heat. If you're living (or should I say existing) in New York City during the month of August, it's even tougher. It's during this time that long-lasting and waterproof formulas are here to come to the rescue and to stay intact no matter how much sweat you're up against (spoiler alert: in NYC, it's a lot).
However, while tons of products—from drugstore to luxury brands—claim they'll stay on through the heat, sweat, rain, and the like, few actually live up to their promises. I was tired of trusting a liner to get me through the day (or a workout), only to end up raccoon-eyed and disappointed. It was time to put them the test, and find out who the real winners are. 
We tried out a ton of waterproof and long-lasting liquid eyeliners, from the newest fall releases to the classics that have been around for some time, to see which ones could actually make it through a hot, sweaty day. 
To be honest, it wasn't very hard to "test" these liners. Most of the time, all you had to do was take a walk around the corner before you were reduced to a puddle of sweat, and there would be the answer. It was in the mid-90s all week—sweatstache city and prime time to see if liquid liners that promised to be long-wear actually were. Not all passed the test, unfortunately, but the ones that did are truly gems—it's as if they were made for sticky, humid NYC disgustingness.
We picked out the top ten in every price point. Click through the gallery below to check 'em out.
Marc Jacobs, Magic Marc'er Precision Eyeliner Pen, $30, available at Marc Jacobs Beauty.
Claim: This liner claims to give a slick line that will last all day, no fading or transferring possible.
Reality: Once this guy quickly dries, it really stays put with no smudging at all. I also like how it dries really flat, as if melting into your skin. It survived a sweaty cardio session, so I'll give it a thumbs-up.
M.A.C., Liquidlast Liner, $21, available at M.A.C. Cosmetics.
Claim: This long-lasting, no-smudge formula allows for a perfectly thin line with its precision brush. You can allegedly wear this all day with no fade.
Reality: This one really lives up to its claims, and has been a longtime favorite of mine. While I don't have the steadiest of hands to perfect my cat eye with the smaller brush, it works great for whenever I add any graphic details to my look. It truly lasts all night.
Laura Mercier, Instant Ink 24 Hour Brush Eye Liner, $30, available at Laura Mercier.
Claim: As the title suggests, this liner claims to last for 24 hours of waterproof wear and to give you that perfect, eye-hugging line.
Reality: This liner glides on smoothly. Though it's not extremely pigmented at first, it's nicely buildable. You may need to touch it up halfway through the day, but even when it did fade, it faded evenly. It's a pretty solid liquid liner in my book!
Kat Von D, Tattoo Liner, $20, available at Sephora.
Claim: This high-pigment, waterproof liner apparently stays all day and can be easily applied using its super fine brush. Bonus: This product is also not tested on animals for all you animal activists out there.
Reality: I'm truly a fan of anything Kat Von D (and love that it's not tested on animals). The pen is really easy to draw with, so you can get pretty creative with your linework. It stays put for most of the day, with a slow, even fade.
Urban Decay, Perversion Waterproof Fine-Point Eye Pen, $22, available at Urban Decay.
Claim: Not only does this waterproof liner have smooth gliding capabilities but it also apparently lays the blackest line possible and will not smudge, no matter what.
Reality: The best fall release out there! This liner really stays put all day long and glides on smooth and dark. If you're bored with regular black color and wish to add a touch of long-lasting sparkle or milky pastels, they also just launched a colorful line of Razor Sharp Water-Resistant Longwear Liquid Eyeliner, which is now my second new favorite.
Stila, Stay All Day Waterproof Liquid Eyeliner, $22, available at Stila.
Claim: As their number one selling liner, this product allows for a variety of different eyeliner styles from thin and minimal to bold and dramatic. You supposedly can transform any look from day to night with this liner because of its versatility and long-lasting, waterproof abilities.
Reality: This lasted through two sweaty 93-degree subway commutes, as well all day at work in between. And the variety of shades is so, so pretty. Approved!
Rimmel London, ScandalEyes Micro Eyeliner, $5.99, available at Ulta.
Claim: This waterproof, "tattoo-like" formula supposedly gives a thin, artistic look that you can wear all day with no smudge or fade.
Reality: This one tends to apply a little bit streaky, but once you get past that, you have a pretty solid liner that lasts for most of the day. While it needed a slight touch-up in the afternoon, it stayed put during a quick (sweaty) workout.
Flower, Style-Eyes Liquid Eyeliner, $7.98, available at Walmart.
Claim: This water-resistant eyeliner supposedly gives you all-day wear with a unique color intensity that won't fade away.
Reality: This liner is highly pigmented, giving you a super-defined look. While it faded a little bit over time, it didn't sweat off at all during a rigorous elliptical session. For the price, it's definitely a must.
Milani, Infinite Liquid Eyeliner, $7.99, available at Milani.
Claim: Milani promises this liner will give you that bold, high-power look every girl wants, but will keep you looking fresh for 24 hours because of its semi-permanent and waterproof capabilities.
Reality: This stuff might actually be tar—it literally does not come off. My friend swears by it, and I'll never forget the time she did my cat eye before we went out, and it was perfectly intact the following afternoon when we went out for a late brunch. The texture isn't my favorite, but it definitely lasts forever. 
Too Faced, Sketch Marker Liquid Art Eyeliner, $20, available at Sephora.
Claim: Provided in a variety of different colors, this liner, inspired by Japanese calligraphy pens, allows for all-day wear that won't fade or feather. Too Faced suggests wearing two different colors for a fun, no-smudge look. 
Reality: These are awesome. They come in an array of colors as well, like pastels and navy. Though they immediately washed off when I ran my hand with swatches under water, my cat eye remained intact throughout a rigorous workout. As long as your face doesn't sweat like a faucet, you're all set.