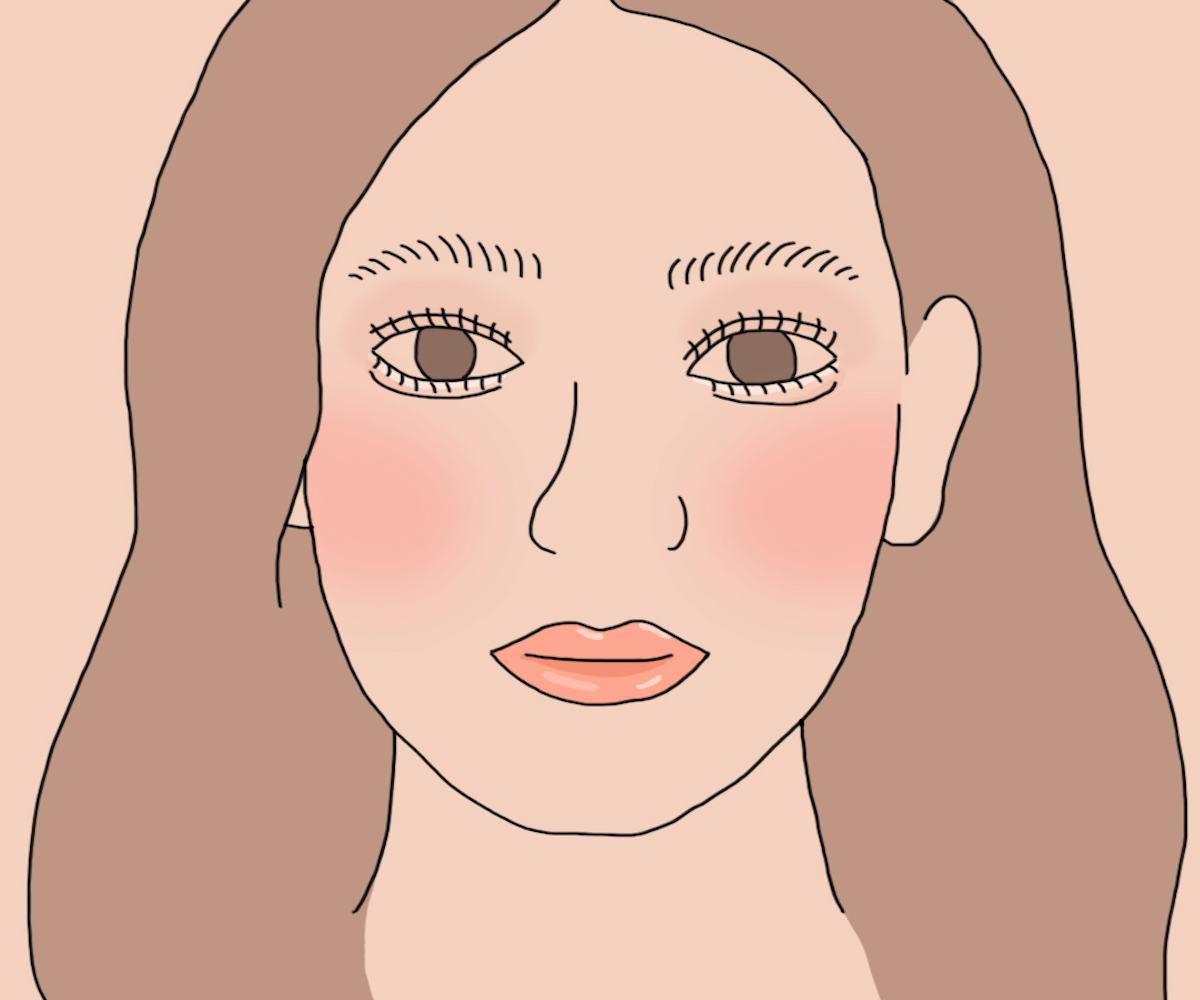 Illustrated by Jihyang Lim
How To Get The Perfect Hangover Makeup Look
It's like hair of the dog, but for your face
Saturday mornings always have this fun moment where I wonder why I ever make early (like 1pm) brunch plans. Beyond combating the "am I drunk or is this hangover nausea?" feeling, getting myself prepared both physically and mentally for the outside world is a challenge in and of itself. Because I'm an overachiever, I like to be in full makeup for that beautiful hour-long meal where I'm stuffing as much poutine into my mouth as possible, but if you have had a bad hangover, you know how daunting of a task it can be to actually get all done up.
Recently at a brunch following a post-3am night, I was complaining about this very problem. I had thrown on lots of makeup in an attempt to hide the damage I'd done to my skin by partying, but instead of concealing anything, it made me look worse. A friend who had just returned from Asia told me about how Korean and Japanese women had solved the whole "hangover makeup" problem. Of course, they did! 
As it turns out, the solution to "hangover makeup" is pretty similar to the solution for just plain hangovers; it's a riff on the "hair of the dog" method. Basically, the trick to making your face look alert and awake is to rim your eyes with red eyeshadow on days when you haven't slept, accentuating the problem instead of concealing it. "Hangover makeup," I learned, is comprised of three main features: the Korean aegyo sal which translates to "charming fat" and refers to giving yourself puffy under-eyes (no really); the Japanese me no shita chiiku, which means the aforementioned under-eye blush; and smudged eyeliner. The most effective "hangover makeup" is also defined by what it doesn't include: any additional color in the face, meaning no blush, highlighting, or contouring.
If you are actually hungover, you might not think you need to fake puffy eyes, but the name of the game is making it look like part of a cohesive look instead of evidence of last night's carnage. To enhance your aegyo sal, use a contouring pen; my personal preference is Etude House's Play 101 Contour Duo since it's the perfect size to get into those eye bags. Basically, just draw a half circle with the dark shade at the place where your deepest eye crease should be and then blend.  
Next is me no shita chiiku, or under-eye blush, which is really the crux of the look. It simultaneously masks your under-eye redness while bringing some color to your face and making your eyes pop. Make Up For Ever's Flash Color Case is a cream palette, which you can apply with your fingers, and is basically foolproof. The Rosewood and Fresh Pink shades are perfect blush substitutes and are easy enough to smear under your eyes while running out the door. The palette also had brown shades that can be used to contour your under-eyes in a pinch. 
The smudged eyeliner is supposed to look like you fell asleep with your makeup on and didn't wash your face before going out, which, in my case, is usually a very real scenario. But if you're a more put-together person, the Estee Edit Shadowstick in Jet Black (or really any of the darker shades) will do the trick. The last touch is groomed but not overly done Instagram brows. Think of easy and subtle brow gels, like Charlotte Tilbury's Legendary Brows, instead of a potted paint product.
While the idea of faking or exaggerating what can be the most physical parts of a hangover might seem bizarre, we have seen similar fads across time; think no further than the recent explosion of no-makeup makeup look. The "hangover makeup" look is a way to make yourself look youthful and vibrant, as if your body can, like, totally handle all the good times you're putting it through.