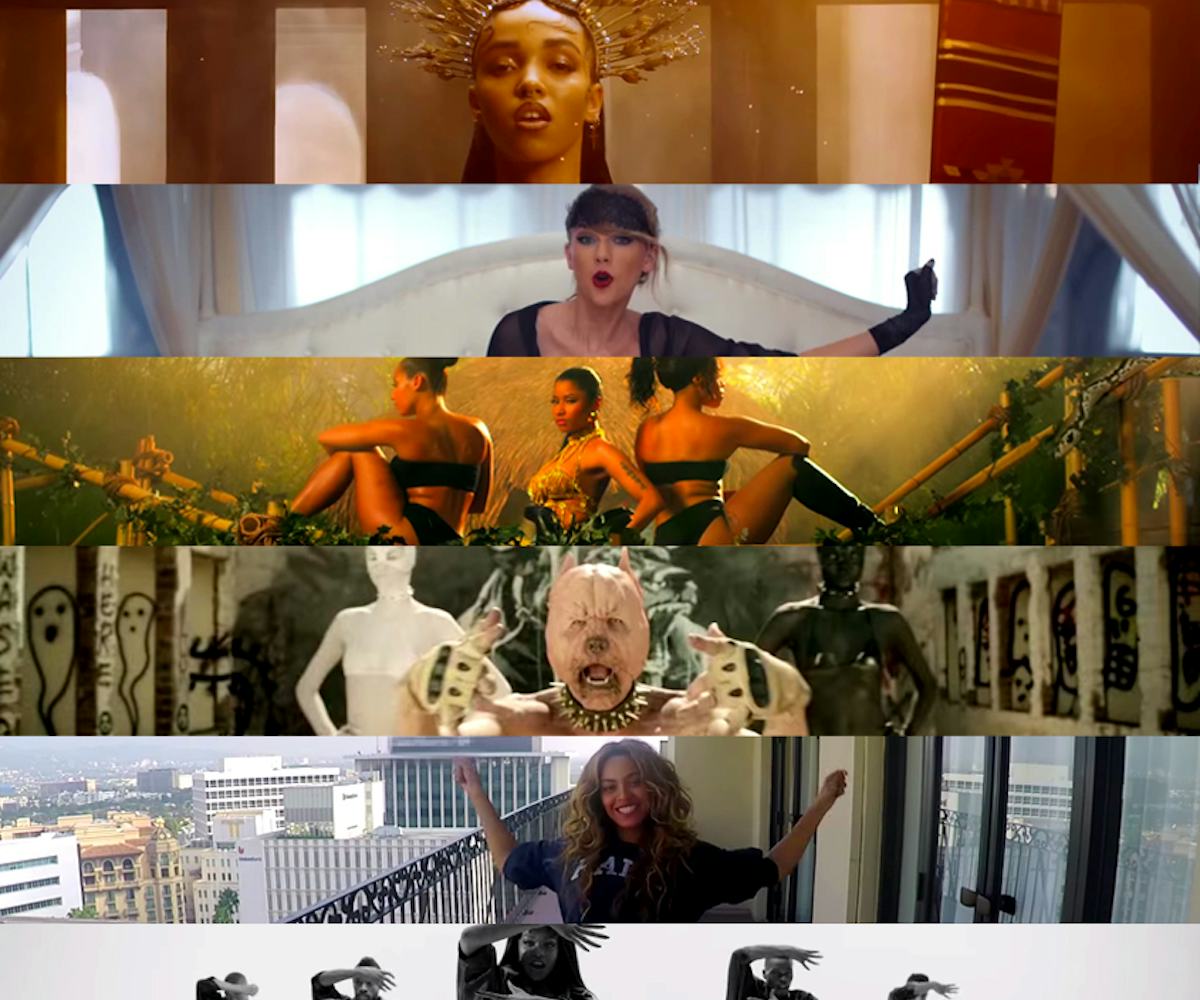 Sometimes, the best way to take the temperature of a year is to look at its most iconic music videos, the ones that got people thinking and allowed musicians to show off their full artistry. This year serves up smart sex, social commentary, and a whole lot of cameos. Here are NYLON's picks for the 15 videos that rocked our world. 
"Two Weeks" — FKA Twigs
This slow-burner not only establishes Twigs as a woman who can write one sensual jam, but also demonstrates, without being over-the-top, what a great dancer she is. The song itself is mesmerizing, and the video is nothing but a slow pan out, while goddess Twigs overlooks dancing Twigs who overlooks baby Twigs who overlooks water Twigs. There are some major Queen Of The Damned vibes going on here, and now, we can't help but thing about Robert Pattinson being gobsmacked by her awesomeness every time we watch this video. —LB
"Anaconda" — Nicki Minaj
Mic dropped, 'nuff said. —LB
"Blank Space" — Taylor Swift
Taylor Swift's savvy, cheeky video pokes fun at the media's perception of her as a boy-crazy and dramatic, proving that no one is more in on the joke than Swift herself. While the video itself doesn't do anything groundbreaking, it's the fashion (17 outfits in total) that gets us. This version of Taylor might be a bit batty, but her wardrobe is on point. Also, her cat, Olivia Benson, is such a sass-face. —LB
"Picture Me Gone" — Ariel Pink
Ariel Pink's pom pom album is easily one of the best contributions weirdo pop has seen in the past few years. For his somber, Internet age-inspired song "Picture Me Gone," the singer recruited three guys to cross-dress and wander around L.A. in latex masks in search for a greater meaning, which we have all done, from time to time. —YG
"7/11" —   Beyoncé 
Smack your hands up in the air if watching "7/11" makes you want to grab a GoPro, a selfie stick—along with your blow-dryer for the Beyoncé wind effect—and have the most epic dance party ever. Now that we know we're not alone, let's all take this moment to raise our solo red cups and thank Bey for continuously feeling us and providing us with videos (and of course, songs) for all of life's moments in 2014—even if she does it in a penthouse suite. —EL
"You're Not Good Enough" — Blood Orange
I personally have always found television music performances super strange. What I do love, however, is how Dev Hynes, Samantha Urbani, and director Gia Coppola mimicked a performance rehearsal for the re-release of his '13 song "You're Not Good Enough," complete with a red rose microphone. If it seems as if Dev Hynes can do no wrong, it's because he can't. —YG
"Chandelier" — SIA
2014's been the year of strange, self-expressing dances. And this video may just be the best one of them—carefree, awesome, and all-in-all badass. —YG
"Breaking Up" — Charli XCX
Like her entire Sucker album, "Breaking Up" is pure pop—satisfyingly indulgent, empowering, and just so. damn. catchy. And the video, directed by BRTHR, is completely awesome, with '90s graphics, fist fulls of Ring Pops, and more slip dresses than we have ever seen before. —YG 
"Not Just One Of The Guys" — Jenny Lewis
Spray painted rainbow suits, Kristen Stewart, Brie Larson, Anne Hathaway, and Tennessee Thomas. Jenny Lewis kind of hit every single mark with this one. Can you imagine what that set was like? Magic, that's what. —YG
"Weekend" — Priory
We don't often perform impeccably choreographed roller-skate routines in glittery '70s jumpsuits in our daydreams like actor Nick Krause (The Descendants, Boyhood) does in Priory's "Weekend" video as he tries to impress actress Bailey Noble (True Blood.) But, the freedom of a good dance-break (wheels or no wheels) to the soundtrack of an electro, area-rock inspired pop song accurately sums up our mental states at 4:30 P.M. on Friday afternoon. —EL
"Gold" — Chet Faker 
Roller-babes and synchronized dance moves are the recipe for Australian electronic musician Chet Faker's mesmerizing video for his breakout single "Gold." The Huro Mirai directed clip (who's also behind our fav Flying Lotus vid from this year) is almost as addicting as the R&B and soul inspired track itself. After watching (over and over again), we're rethinking that our New Year's resolutions should include a pair of skates. —EL
"Never Catch Me" —   Flying Lotus ft. Kendrick Lamar 
The video for "Never Catch Me," producer and electronic musician Flying Lotus' collaboration with Kendrick Lamar off his latest album You're Dead!, gives a whole new meaning to being buried alive—or rather, life after death. It's easy to overlook the morbid and thought-provoking concept while watching the rapturous dance moves of the two children inside the church, followed by their schoolyard games and the pair riding off into the sunset in a hearse. But, clearly the kids know something that the jaded and mourning adults left sitting the pews don't. —EL
"Pitbull Terrier" — Die Antwoord
Perhaps no musical act this side of 2010 understand their image and what it suggests quite like Die Antwoord, which may be why they have such a die-hard, dedicated following. The duo oscillate between rave-rap and actual art (just ask the Guggenheim), and "Pitbull Terrier" demonstrates Yolandi's uncanny ability to tantalize and also terrify. Also, Ninja did all the dance choreography, which is just fun to imagine. 
"My Song 5" — HAIM ft. A$ap Ferg
Jerry Springer meets Este, Danielle, and Alana Haim in a strange daytime talk show-themed video, filled with intense facial expressions, slow-mo hair flips, and mimes. Oh, and Kesha, Grime, Big Sean, Ezra Koening, and Vanessa Bayer. Yeah, it's that good. —YG
"Chasing Time" —   Azealia Banks 
After a number of delays including record label disputes, Azealia Banks finally released her album Broke With Expensive Taste and followed up the surprise with the wild, monochromatic video for "Chasing Time." The video is the ultimate homage to the '90s with Banks recreating some of the decade's most badass female icons like Missy Elliot, TLC, and Lil' Kim with the right mix of surrealist animation and perfectly choreographed dance moves. It's unanimous: Banks is back. —EL