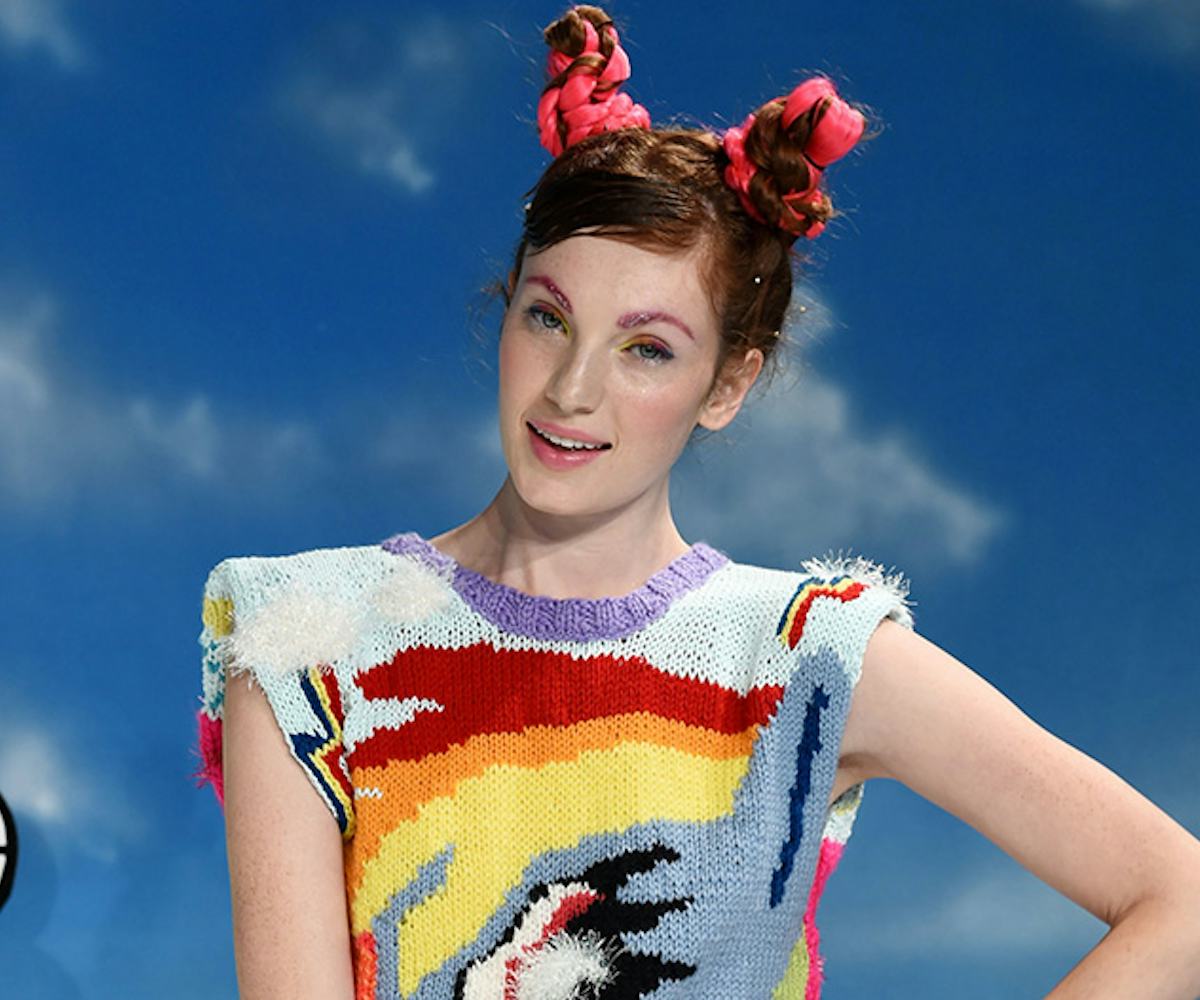 Photo by Ilya S. Savenok/Getty Images.
the 10 best nyfw labels you've never heard of
The element of discovery New York Fashion Week brings is endlessly inspiring. Sure, the Marc Jacobs and Alexander Wangs of the seven days pack a lot of punch, but the freshest names are what excite us the most. Presentations at Milk Made studios, Pier 59, and more highlighted names we normally wouldn't hear about. They brought out an eclectic crowds that thrived on individuality. Their model castings were diverse and some of the clothes were both art and fashion. The following 10 designers are names you need to write down and follow, because they're going to be shaping the way you dress years down the line. Trust us on this one.
A-R-E-AThis was A-R-E-A's first fashion week ever, and it brought the '70s with it. Athletic spins were put on traditional silhouettes that were utterly feminine and strong.
KarigamJamie Chung attended Karigam's debut NYFW show. That has to mean something, right? Karina Gamez is New York-based designer with a knack for slick silhouettes and feminine mystique. Your big-job clothes just got a whole lot more fashionable.
Baja EastAt just two years old, Baja East has quickly become a darling of NYFW's underground. This season, designers Scott Studenberg and John Targon sent rave-inspired looks down the runway. There's a reason Baja East is one of the CFDA/Vogue Fashion Fund finalists, and that reason is bold, androgynous confidence.
Sandy LiangLiang's motorcycle jackets were paired with aggressively girly designs this season that we couldn't get enough of. Liang is exactly what the quintessential Cool Girl has in her closet. Sure, she's more known for outerwear, but her expansion into more shirts, dresses, and dresses is a welcome one. File this under: NEED.
MonseLaura Kim and Fernando Garcia made their NYFW debut this year to wonderful reception. Monse is about reinventing the basics. The way they fold, wrap, and history the silhouettes we've grown accustomed to is incredibly refreshing; beautiful without being pretentious. This is the beginning of something great.
Eckhaus LattaRISD grads Mike Eckhaus and Zoe Latta are known in the fashion world as its resident avant gardes. Their latest collection continued furthering their agender agenda that doesn't seek to ostracize anyone or make them feel less-than. Rather, Eckhaus Latta is about being as inclusive as possible. Though many of the line's garments this season were transparent, they still appeared to be incredibly wearable. Cannot wait to see where they go next.
DEGENLindsay Degen's knitwear has never been more joyful than it was this season. DEGEN collaborated with My Little Pony for a colorful, poppy collection of knits, hats, and magical bags. DEGEN is a brand you can't help but feel good about. There's such a joy in her designs. To say she's a breath of fresh air would be a huge understatement.
Brandon MaxwellMaxwell is best known as Lady Gaga's stylist, however, he has his eyes on fashion world domination. And he just might get there. His debut collection was incredibly refined. It had #GIRLBOSS written all over it and felt timeless as hell. Elegance is a hard thing to achieve, but he nailed it.
Gypsy SportSome of our favorite shows this year were the most diverse. Gypsy Sport continued its genderless initiative and rocked MADE Fashion Week. Rio Uribe's work is athletic and energetic—something fashion needs more of. Gypsy Sport is a Tumblr Baby's BFF, but it's about to blow up into the mainstream. Watch this space.
PamplemousseFemininity is at the heart of Danica Zheng's Pamplemousse collections. Her history with Calvin Klein is apparent and makes for a streamlined kind of comfort. Look to Pamplemousse for elevated comfort with downtown ease.