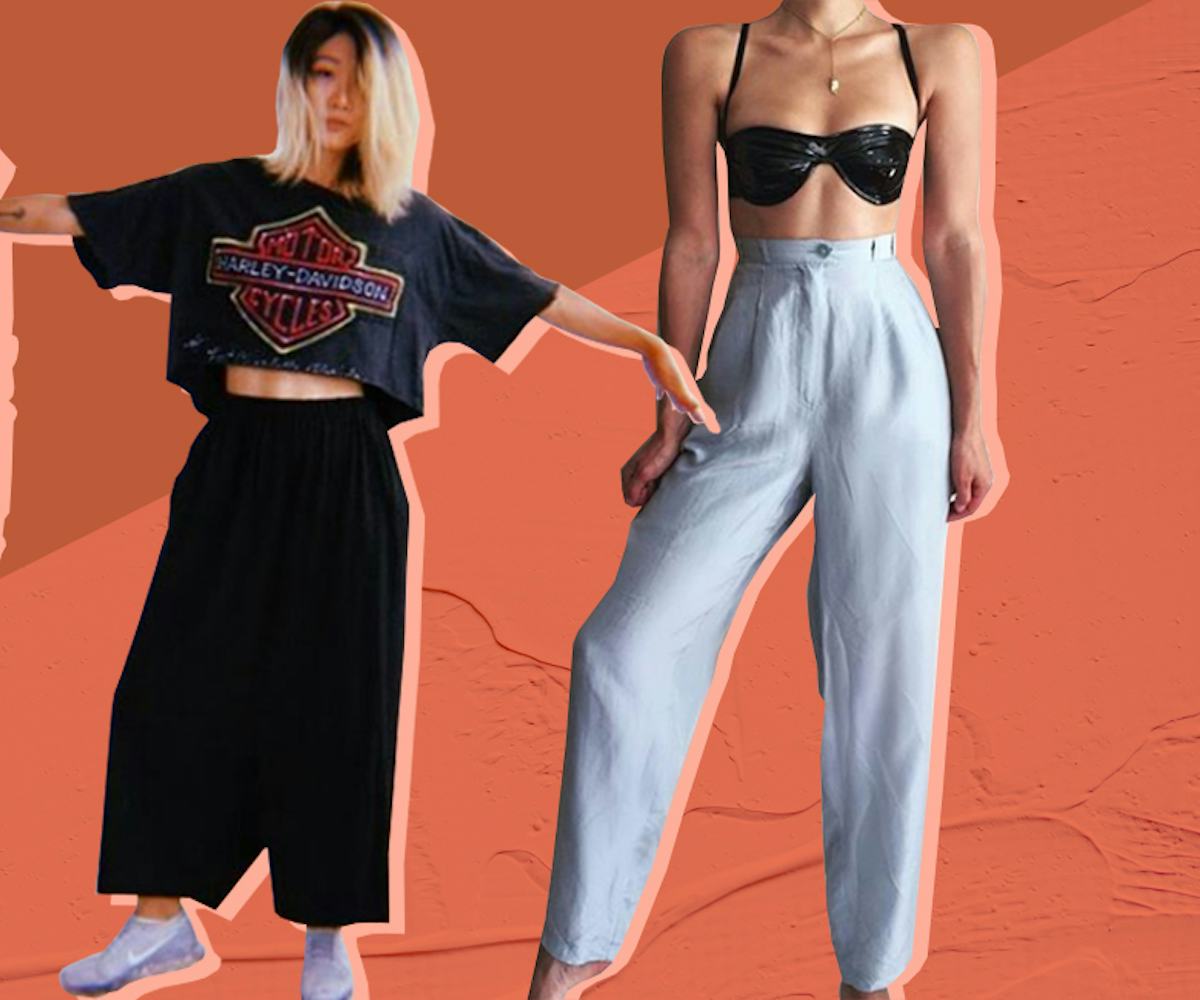 Photos via @gomvintage, @friendsnyc, @miraqivintage Instagram
These Are The 8 Instagram-Based Vintage Shops You Should Be Following
The DMs you'll want to slide into
The way we shop for clothes is constantly changing, so it shouldn't really be surprising that one of the best places to source great pieces—and specifically one-of-a-kind vintage pieces—is Instagram.
While Instagram isn't primarily known as a shopping app, that's exactly how a lot of people are using it now. It makes sense, really—not only because of the huge number of users and high engagement levels, but also because there's nothing more simple than sliding into someone's DMs to say you want to buy something, and then just paying through apps like Paypal and Venmo.
But with all these new IG-based shops popping up left and right, it can be a little overwhelming to know which ones to seek out. That's why we rounded up eight shops slaying the Instagram vintage game to get you started in your Insta-shopping quest. Read more about them below—and be sure to smash that follow button.
Not all of us have the opportunity to stroll into Worship's stunning, well-curated Brooklyn or L.A. shops, but luckily you're still able to snag some of their best pieces via DM. Selling "one-of-a-kind vintage for the freak in you," you'll find closet must-haves spanning the '40s through the '90s—and beyond. From vintage Disney crewnecks to needlepoint wicker satchels, there's a little something for everyone. Most importantly, the founders aim to serve all of their customers, so you'll find that its selection of goods covers an inclusive range of sizes—a real rarity in most vintage stores.
Miraqi Vintage is the brainchild of Noor Al. After realizing her passion for hunting for vintage in charity shops and the markets she visits in her travels and the joy of putting an outfit together, she decided to turn it all into her very own shop, where she hopes to save her customers from having to also partake in the often-arduous "hunt" that is vintage shopping.
Her pieces are what she describes as "eye-catching sexy, but an interesting sexy"—you'll find a number of sleek, silk slip dresses, effortlessly knotted vintage blouses, and a handful of form-fitting trousers amongst her treasures.
Unlike a lot of shops mentioned in this piece, Miraqi Vintage is based solely on the 'gram. Why? Because Al loves the personal aspect of the platform, where she gets to directly connect with her customers from all over the world. Ask her for some styling advice or to find something perfect for a special occasion you have coming up, and she'll do it.
We have to admit, it's pretty hard to visit the Persephone Vintage Instagram account and not immediately double tap—and covet—every single item it carries. Owner Susan Choi curates her offering meticulously, capturing an artsy, minimalistic chic vibe through a selection of pieces from the '60s through '90s (and a handful of older, more special pieces). From door knocker earrings to unique prints and silhouettes, there are plenty of pieces in Choi's beautiful selection that are perfect if you're looking to upgrade your wardrobe.
While the shop is mainly run on Etsy and is soon to launch its very own site, Choi knows her customer loves Instagram and is using it as a tool to shop. "Girls who really know what they want and how to shop tend to congregate on IG through the day," she says. "They're super-savvy and know they won't miss out on a must-have, one-of-a-kind item by using the app to navigate their favorite boutiques."
If you've never heard of Noihsaf Bazaar, prepare to become obsessed. Minnesota-based stylist Kate Lindello created the account to serve as a platform for Instagram users to sell their own items, rather than create a shop of her own. The result? A beautifully curated selection of cool girl fashion finds.
While you'll find all sorts of items for sale on Noihsaf Bazaar—from gently worn to brand-new contemporary and designer pieces—Lindello decided to open up a solely vintage branch of the platform back in 2013, where you'll find everything from '80s mom jeans to '90s floral sundresses.
Lisbon-based Girls of Mars is a queer women-run vintage shop selling hand-selected items from all over the world. The founders have specially curated their finds from a number of cities, from their base of Lisbon to Paris, Tokyo, and Istanbul.
On the 'gram, you'll find treasures from the '90s and the early 2000s. (Yes, the early aughts is considered vintage now, are you feeling old yet?) Silk blouses, lace-up camis, and grungy, yet cozy, sweaters are just a few of the gems you can DM for purchase. While you can also shop a selection of vintage on the website, the owners use Instagram for its ability to reach many as an "international, intersectional, and diverse platform."
Brooklyn-based Dusty Rose Vintage functions as a wholesale showroom-shop hybrid; founder Maresa Ponitch opens her Greenpoint location to both private appointments and to Brooklyn's vintage hunters. While her storefront is closed three days a week for said private appointments, anyone can shop the 'gram 24/7.
Items for sale span a number of eras and styles, and there's a strong focus on wearability and functionality. Vintage slides and chunky combat boots run alongside cutesy dresses, denim jumpsuits, and more. While Ponitch uses other platforms in addition to Instagram to sell, she loves IG for the ability to actually engage with her customers. "They've even started engaging with each other," she says. "I'm very proud to have created an intimate, mini-phenomenon: #nightboob"—which now gets her multiple submissions a day.
L.A.-based founder of Elia Vintage Amber Glaspie curates her shop as a representation of her personal style. "I love sleek silhouettes, fabrics with amazing quality, and looks that have a feminine feel to them—even if they're actually menswear," she says. What does that translate to? You'll find her shop filled with everything from sleek '90s styles to '70s jeans and antique pieces from the '30s. And may we add that her skirt suit selection is truly out of this world.
For Glaspie, even though she also sells pieces directly on her website, Instagram allows her to really get to know her customers. "Instagram is amazing and really creates this sense of community," she says. "Customers buy from all over the world, and we're all able to build relationships through our shared love of style. I get just as excited as the customers do when they find a piece they love."
Friends NYC is the brainchild of two best friends based in Brooklyn (if you can't tell by now, Brooklyn has some really good vintage). Fashion designer Mary Meyer and fashion/textile history expert Emma Kadar-Penner first opened the doors to their Bushwick shop back in 2012, and have since grown their business to reach the digital world via IG and online
In addition to a rad selection of vintage—mostly '90s, but with a sprinkling of items from the '70s and early aughts, as well as some special designers pieces—you'll find a selection of contemporary goods including jewelry and gifts. The focus is to be inclusive and price-conscious. "We pride ourselves on being a store for all different types of people, of all ages," says Kadar-Penner. "We like to say you can bring your mom and you will both leave with something you love."
Those not based in New York can not only shop some stellar vintage finds via comment or DM, but also snag the other, newer items the shop carries.