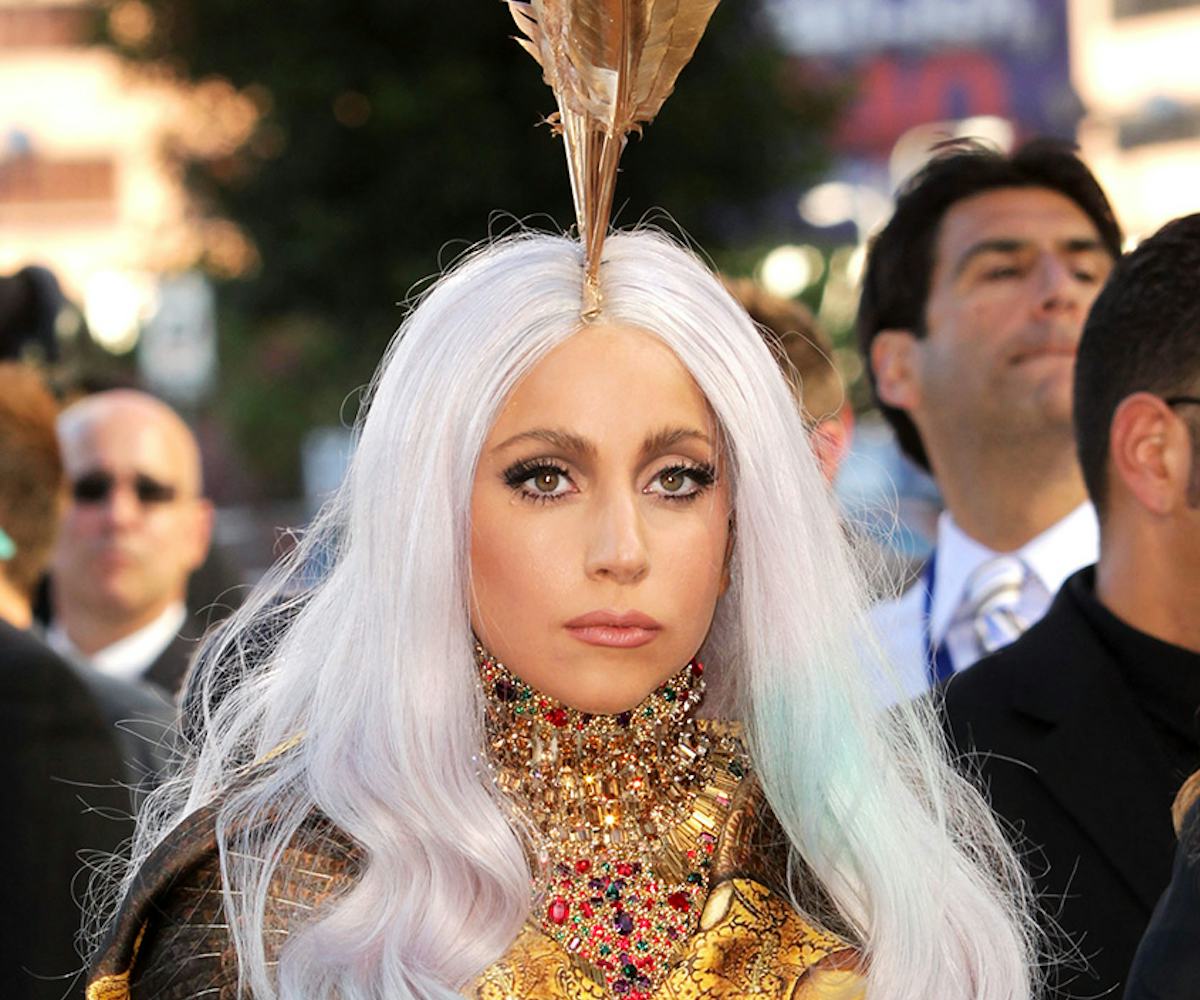 Photo: Frederick M. Brown/Getty Images.
The Most Unforgettable Red Carpet Dresses Of The Past 15 Years
awards season's most fearless.
Awards shows and their respective red carpets are a way to bring Fashion Week runway looks and the designers into America's living rooms. There are winners, there are losers, and ample digital space to cover and devour both. What always reigns supreme, however, is a killer dress paired with a badass sense of confidence. (Just look to Björk's swan dress: It may have wound up many worst dressed lists, but man, did she rock that number like pro.) Ahead, 15 of the most fearless, unforgettable, and, at times, controversial red carpet looks from the past 15 years. 
Honorable Mention: The MET Ball
Once a year, fashion world insiders show these actresses, (and the world) how it should be done.
Jennifer Lopez, in Versace, at the 2000 Grammys
Leave it to J.Lo to set the tone for 21st century red-carpet slaying in this sheer, plunging palm-tree print Versace gown. Revealing, risqué, and apparently, revolutionary; it is said that the world's hunger for images of J.Lo wearing this now-iconic look is the reason Google Image search was created. Now that's how you leave a lasting impression.
Chloë Sevigny, in Yves Saint Laurent, at the 2000 Academy Awards
It's not her choice of a relatively simple black cotton Yves Saint Laurent dress that puts Chloë Sevigny on this list, but it's how she wore it that solidifies her spot. When belted and paired with a dazzling diamond gothic cross, courtesy of Asprey & Garrard, she showed the world how downtown It-girls can kill on the red carpet. Extra points for vintage hair and the red lip.
Courtney Love, in John Galliano for Christian Dior, at the 2000 Golden Globes
While it was certainly not a dress for everyone, this Galliano frock was the perfect choice for a punk goddess. Love stalked the red carpet, slashed and tattered to perfection and teasing the world with a wardrobe malfunction at every turn.
Björk, in Marjan Pejoski, at the 2001 Oscars
Okay, okay, it was far from chic, but Björk as "Leda and The Swan" will be burned into our collective cultural memory for all time. And just to make sure we don't forget this artist's red carpet risk, MoMA recently included the look in a retrospective. So take that, haters.
Julia Roberts, in vintage Valentino Haute Couture, at the 2001 Oscars
This dress was a turning point in red carpet fashion. This marked the first time that vintage dressing became "a thing," rather than a hot-off-the-catwalk number, or something created as a one-of-a-kind piece. Although it was selected from the Valentino archives, this dress seemed as if it were created especially for Roberts. Beautifully fitted with awe-inspiring details, from the moment we saw her wearing this on the red carpet, we knew Roberts was there to win.
Diane Kruger, in Chanel Haute Couture, at Cannes in 2004
Fancy a frothy, feather-fringed frock anyone? Not only did Kruger hit a home run in this Chanel Haute Couture creation, but walked the Croisette fresh-faced with some sexy arm candy to complete the look.
Reese Witherspoon, in Vintage Christian Dior, at the 2006 Oscars
Witherspoon wowed in this vintage Christian Dior (1955) and quite clearly came to win. It is alleged that she found this divine white and silver beaded gown herself at Didier Ludot in Paris and that the dress had originally belonged to royalty. Regardless of its royal provenance, Witherspoon was, for sure, queen that Oscar night, hands down.
Nicole Kidman, in Nicolas Ghesquière for Balenciaga, at the 2007 Oscars
Red can, at times, be a difficult choice for the red carpet but in 2007, Nicole Kidman showed that when it's done correctly, the results are flawless. From the front, Kidman appeared minimal in a simple column silhouette, but when she turned to reveal a dramatic bow tied at the nape of her neck trailing to the floor, jaws dropped.
Lady Gaga, in Armani Privé, at the 2010 Grammys
Known for his modernist, understated elegance, Mr. Armani went full glitz with Lady Gaga for the Grammy Awards. Wearing several Armani Privé looks throughout the night, Lady Gaga, looked out of this world (literally) in her futurist, celestial-inspired silver frock with spike asterisk bag (?!), paired with her shoe of choice, which at the time was Noritaka Tatehana's heel-less booties. Say hello to the Judy Jetson of 2010.
Lady Gaga, in Alexander McQueen, at the 2010 VMAs
2010 was clearly Gaga's year, but at the height of her fame came the news of Alexander McQueen's death. A friend and recent collaborator, Gaga honored his memory beautifully by wearing a look from Lee's final collection, fully styled as it would have been shown to the few members of press who attended that somber and breathtakingly beautiful presentation.
Natalie Portman, in Viktor & Rolf, at the 2011 Golden Globes
While pregnant with her first child, Portman looked radiant in this blush, strapless, floor-length gown. It was embellished with a single red rose that mirrored by her lipstick, handbag, and shoe choice.
Rihanna, in Jean Paul Gaultier, at the 2011 Grammys
Rihanna has had a lot of memorable red carpet moments in the last 10 years, but this JPG wedding dress, originally shown on Andreja Pejić, is a favorite. It's sweet, playful, and naughty at the same time; just like Gaultier and just like Bad Gal Riri herself. A perfect pairing.
Cate Blanchett, in Givenchy Couture, at the 2011 Oscars
Cate Blanchett rarely ever gets it wrong, but at the 2011 oscars, Ms. Blanchett nailed it. Full avant-garde street cred was her real award of the evening in this Givenchy Couture gown. Blanchett looked impeccable in her lilac chiffon gown with its tonal pearlized beading and portrait window detailing.
Jennifer Lawrence, in Dior Haute Couture, at the 2013 Oscars
A modern day Cinderella falling down the stairs of the palace. This dress was everything.
Lupita Nyong'o, in Ralph Lauren, at the 2014 Golden Globes
If you were to describe this dress to someone, it might not sound like a winner—off the shoulder in vibrant red with an attached cape. But this look came alive when paired with Nyong'o's attitude, red lip, and glowing skin. Stunning.