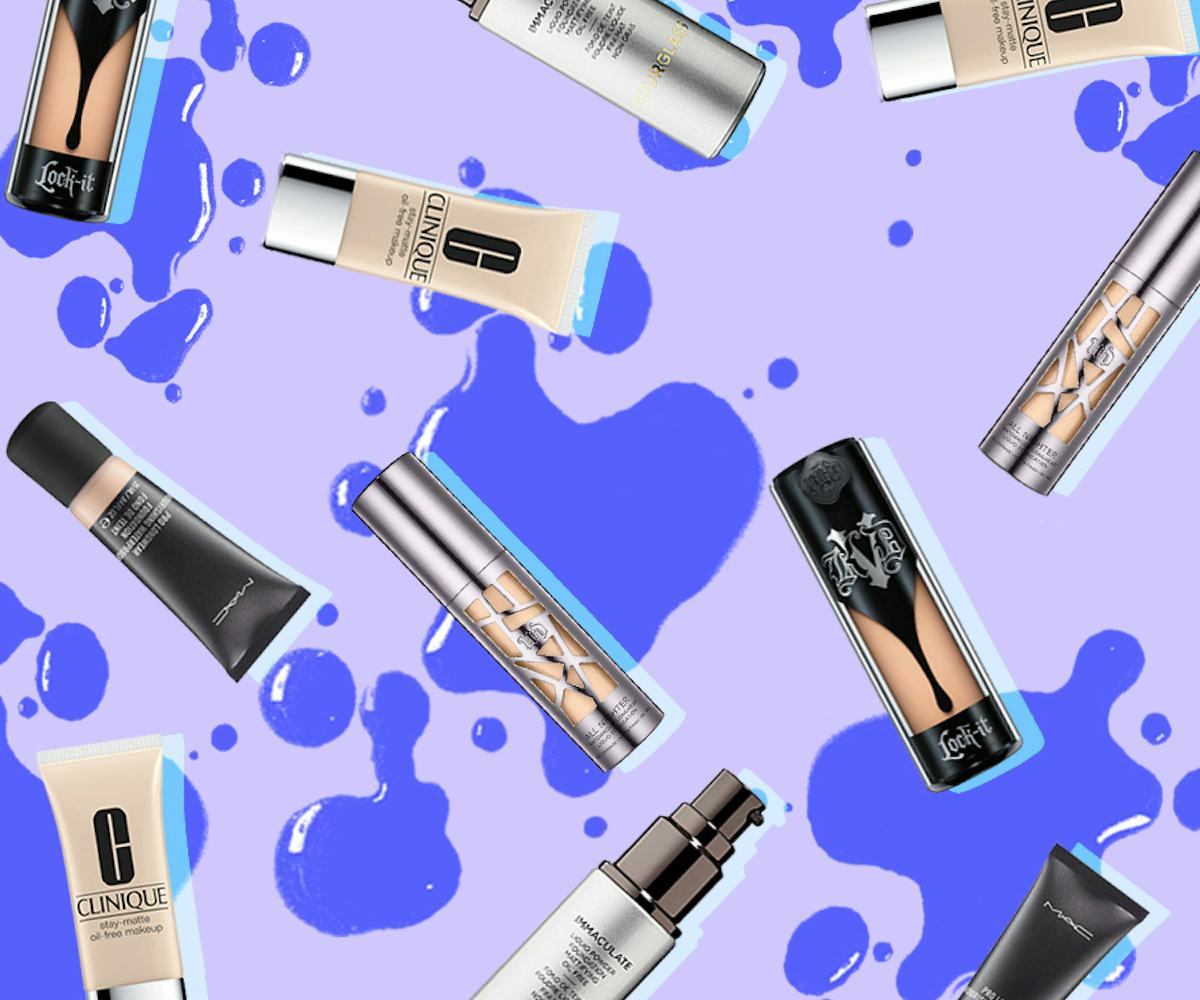 8 Summer-Proof Foundations That Won't Melt Off Your Face
Be your best sweaty, summer self without ruining your makeup
Sweat-proof foundation is the ultimate oxymoron—or at least so I thought. I was sure there was no such thing as a trustworthy, lightweight, even-covering, sweat-proof foundation. It just didn't exist, and there's nothing more frustrating than when a foundation doesn't live up to your expectations.
I'll be first to admit: I'm a pretty sweaty person and I'm also incredibly self-conscious of my skin. I spent years battling acne and uneven skin tone, and I still face these challenges today. Although I constantly spend money on expensive foundations and concealers that do work, I tend to sweat them off during the warmer months. They can't live up to even the most basic everyday activities, like commuting on the sauna that is the New York City subway or simply walking down the street on a hot and humid day. I want my foundation to be able to last through these gross, sweaty days without having to constantly check my face to ensure my makeup is staying put. 
In light of this desire, I put a selection of foundations—all of which claim to either last all-day, be sweat-proof, or power through anything—to the test. I walked around in 90-degree heat, stood on multiple subway platforms, and even took my out-of-shape butt up the stairs instead of using the elevator, all in order to sweat enough to find out which foundations can actually hold up against sweat and humidity. You can thank me later.
Click through the gallery below to check out which ones passed the sweat test.
Claim: Not only is the packaging of Kat Von D's foundation intriguing, but it claims to last through 24 hours of wear without needing to be reapplied. The brand promises the foundation will stay fade-free and transfer-proof, so what more could a girl want?
Actual: The formula was thicker than some of the other products I tried, which I feared ultimately would feel heavy on my skin. Surprisingly, it felt lightweight and blended evenly. I spent four hours outside in 85-degree heat with this on, and as the brand claimed, I didn't feel the need to reapply. Added bonus: It stayed matte the entire time.
Kat Von D, Lock-it Foundation, $35, available at Kat Von D.
Claim: M.A.C. claims that this foundation is long-lasting up to 12 hours, water-resistant, crease-proof, dermatologist-tested, and even non-acnegenic. I have fairly sensitive skin, so I was excited that this foundation most likely wouldn't make me break out and would last through the sweat.
Actual: When I squeezed the first little glob onto my sponge, I thought, Oh no, it's so thin. This will never last, but I was surprised about how much coverage it actually gave me and how well it held up. I walked a few blocks to grab matcha in the blistering, 91-degree heat with this foundation on, yet even though I was definitely sweating, when I looked in the selfie cam on my phone, my blemishes were still covered and my skin looked even.
M.A.C., Pro Longwear Nourishing Waterproof Foundation, $33, available at M.A.C. Cosmetics.
Claim: Clinique tested this product in 88 degrees for streaking and fading, claiming that it stays matte and fresh. It supposedly absorbs shine, resists sweat, and controls oil, so you can look your best all day.
Actual: I had very high expectations for this foundation, considering it is legitimately advertised as sweat-proof. I tested this out by climbing the stairs to my office building, and the only negative thing that occurred was me realizing that I should really hit the gym more often (ugh). The foundation stayed put, though, which was the most important part. My skin also felt smooth and untouched after I took it off, which was a nice surprise because some foundations have the tendency to leave my skin irritated and red after removal.
Clinique, Stay-Matte Oil-Free Foundation, $24, available at Clinique.
Claim: All Nighter seems very similar to Urban Decay's famous Naked Skin Foundation, just amped up a couple notches to give it longer lasting abilities and a more complete coverage. UD claims that their All Nighter Liquid Foundation will last through a hot hookup, a long night at the club, and all day at work. It's waterproof with three times the amount of pigment as their other foundation formulas, seemingly perfect for the girl on the go.
Actual: This foundation was honestly incredible. Not only did it blend evenly and completely into my skin, but it also felt weightless. It stayed fresh for the six hours I wore it (and sweated during) without no application needed. I definitely could have pulled an all-nighter wearing UD's mind-blowing creation.
Urban Decay, All Nighter Liquid Foundation, $40, available at Urban Decay.
Claim: LUSH creates many different color supplements for all different skin types with the intention of giving customers the perfect moisturizing supplement to nourish and correct skin tone. Their color supplements calm and hydrate the skin to give the ultimate, natural finish.
Actual: I dealt with limited AC on a delayed C train in these LUSH products. It was hot. I was in a bad mood. But watching the product stay on my face definitely lifted my low spirits. As directions stated, I mixed the Jackie Oates color supplement with the Celestial Moisturizer. It didn't give great coverage, so on bigger problem areas, such as my chin and my dark under eye circles, I applied the color supplement straight on the area, which achieved perfect coverage yet still looked natural. 
LUSH, Celestial Moisturizer, $25.95, available at LUSH; LUSH, Jackie Oates Colour Supplement, $17.95, available at LUSH.
Claim: Hourglass describes this product as "a breakthrough formula." If that doesn't grab your attention, what will? Hourglass claims that, aside from being weightless and long-lasting, this foundation will also improve the appearance of oily, sweaty, and blemish-prone skin. It claims to be quite the miracle, I must say.
Actual: It was indeed a miracle. A majority of my breakouts occur on my chin, so I layer the products onto that specific area to prevent blemishes from being noticeable; however, with Hourglass's foundation, I needed one layer, and it didn't vanish after I got sweaty. I felt as though I could wear this all day, sweat, and not have to reapply.
Hourglass, Immaculate Liquid Powder Foundation, $56, available at Sephora.
Claim: YSL offers 24-hour protection at no risk of having to reapply. This foundation will wear like an ink, yet apparently feel like a feather. Long-lasting and lightweight? Yes, please!
Actual: I'm honestly shocked by this foundation. It barely looked (or felt) like I had product on, yet it covered my blemishes and perfected my skin tone. I took my pups for a quick walk in this foundation and the product stayed put the entire time. It built up a little shine around my cheeks, but as long as my problem areas are covered, I am a happy camper.
Yves Saint Laurent, Fusion Ink Foundation, $60, available at Yves Saint Laurent.
Claim: Sweat Cosmetics is all about products for the active girl who can "run circles around the men at work." It was created by five Olympic and pro athletes, who wanted the active girl to have a product just for, well, being active. This foundation claims to be breathable, sweat-proof, waterproof, and filled with antioxidants to help create better-looking skin.
Actual: Based on the name of the brand, I thought this would be a great contender for this trial. Unsurprisingly, it did live up to its name. The foundation was easily applied with the twisted brush and blended completely into my skin. The brand promises 80 minutes of sweat-proof wear, but I found it lasting longer because I wasn't doing anything extreme, just walking outside and riding the subway. If I were to do more vigorous and sweaty activities, I would trust this foundation to hold up.
Sweat Cosmetics, Twist-Brush + Mineral Foundation, $42, available at Sephora.