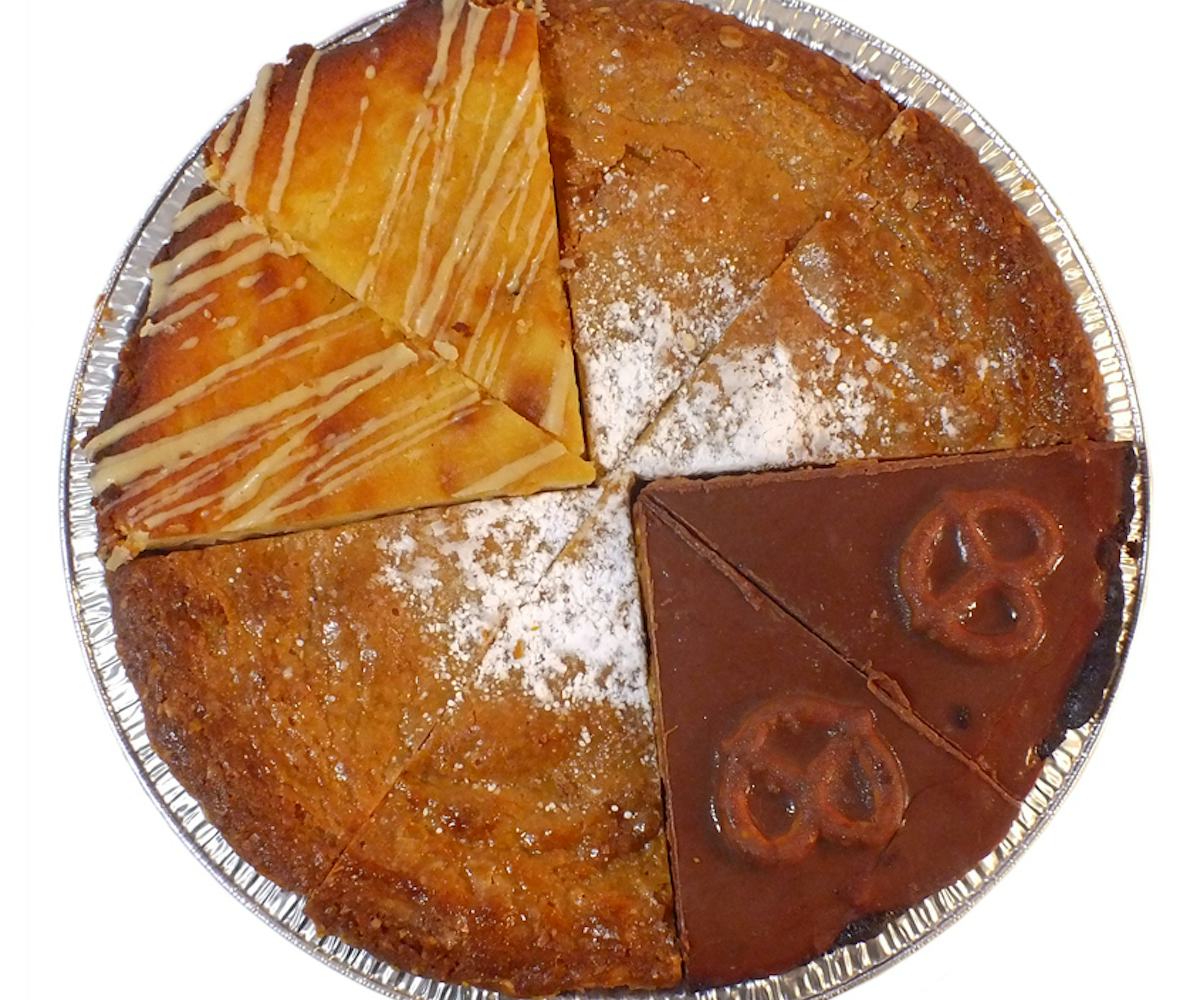 american pie
the most mouth-watering places to order your thanksgiving dessert from.
With just about a week to go until Thanksgiving, we have a lot on our minds, like what to wear and how to do our hair, but also--and maybe more importantly--what to have for dessert. Nobody wants to have a Pieces of April type situation at Thanksgiving dinner.
In the spirit of the holiday, and in the spirit of dessert, we pulled together the craziest and most delicious pies and cupcakes you can order to arrive by Thanksgiving day. So whether you're in the mood for a classic berry pie or are looking for something with a wacky twist (like three pies inside of three cakes stacked on top of each other--yes, that exists), we've found all the dessert options you really need. Just click through our gallery and get ordering because the last thing you want is to spend another Thanksgiving eating your aunt's not-so-great rhubarb pie, at least when you could have a ganache-topped cheesecake. 
IF YOU WANT: The ultimate pie
TRY: Three Brothers Bakery of Houston's Pumpecapple Piecake (That's three layers of cake with three pies baked inside each: a pumpkin spice cake with a pumpkin pie inside, a chocolate cake with a pecan pie inside, and a spice cake with an apple pie inside.)
IF YOU WANT: The best berry pie
TRY: Achatz' Crumb Topped Michigan Four Berry Pie
IF YOU WANT: A statement making pie
TRY: The Blue Owl's Nine Inch Apple Pie in the Sky
IF YOU WANT: To customize your crumbs
TRY: Grand Traverse Pie Company's Fruit Pies
IF YOU WANT: To satisfy your sweet tooth
TRY: My Sugar Pie's Award Winning Hoosier Sugar Pie
IF YOU WANT: Bite-sized snacks
TRY: Baked by Melissa's Thanksgiving Flavored Cupcake Set (That's sweet potato, chocolate carrot cake, and pecan pie.)
IF YOU WANT: Everything but the kitchen sink
TRY: Momofuku Milk Bar's Franken Pie (Four delicious flavors in one pie!)
IF YOU WANT: A pie infused with liquor
TRY: Mom's Apple Pie's Bourbon Walnut Pie
IF YOU WANT: A chocolate covered strawberry topped pie
TRY: Mr. Tod's Pie Factory New York Style Cheesecake with Ganache Icing