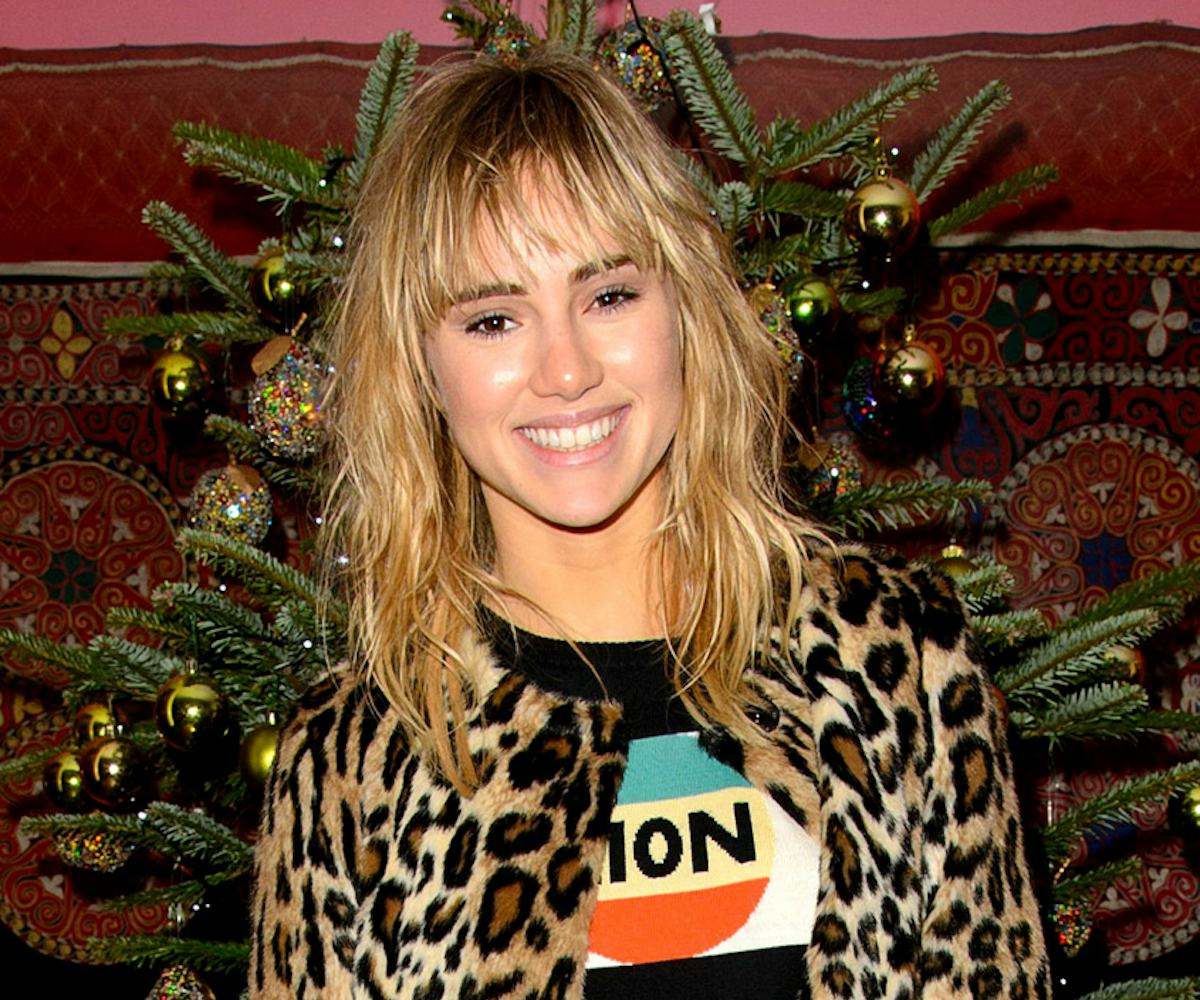 photo by getty images
beauty queen: suki waterhouse
one product. one holiday vacation. one perfect makeup look.
I am not exactly what you'd call a skilled packer: Besides the fact that I wait until the last possible minute to pack (seriously, I couldn't even tell you the last time I prepped for a trip more than 24 hours before a trip), I either pack too much and am stuck paying an overweight fee at the airport, or pack too little and grumble the entire trip about my lack of outfit options. Deciding what clothing to bring with me is clearly not my forte. But beauty products? I've got that down to a science.
The secret is in choosing products that will work double duty and make you look as effortlessly radiant as possible. Specifically, a small, edited palette that gives you just what you need and not much else. And there's no better example for the travel beauty goal than Suki Waterhouse. The It Girl attended a private screening of August: Osage County this weekend with a simple--but pulled together--makeup look that is particularly perfect for winter. A little glossy, a little sparkly, but mostly natural. It's how I like to look when I've got to pack for family time, friend time, and party time, and even if you're rushing to pick out all your outfits (slash struggling to get them all into your carry-on suitcase) it's ridiculous how easy it is to pull it together.
There are tons of palette options out there, but for this wintry look here are my three favorites. Pick one up now, thank me later.
Topshop Eye Palette In Game On - $25
My motto is usually In Topshop We Trust, but in this instance ignore the fact that they call this a set for eyes, because really you can use these cream-based formulas anywhere. That pink? Perfect for lips. That bronze? Dab along your cheekbones. Top it all off with the white used as a highlighter (plus across lids, as originally intended) and you've got a 30-second beauty look.
Too Faced The Secret To No Makeup Makeup - $39
The name kind of says it all. This palette includes a bronzing "veil," both cream and powder blush (use the former on your lips for an enhanced-pink look), concealer, brightener, and a luminizer (which, if you dab along your lid, will make your eyes pop like whoa).
Urban Decay Anarchy Face Case - $44
OK, so some people like the idea of traveling with just four products. But some people don't...and if that's you, then this kit is your travel go-to. It's a little more bulked up (it's two-tiered and filled with a few different shadows and blushes, plus a highlighter, eyeliner, and lip gloss. To pull off a look like Waterhouse's you'd only need a quick brush of shadow, some blush, and some well-placed highlighter, but then you'd be all set if you decided to splurge on getting tickets to that XX show in Mexico for New Year's Eve.