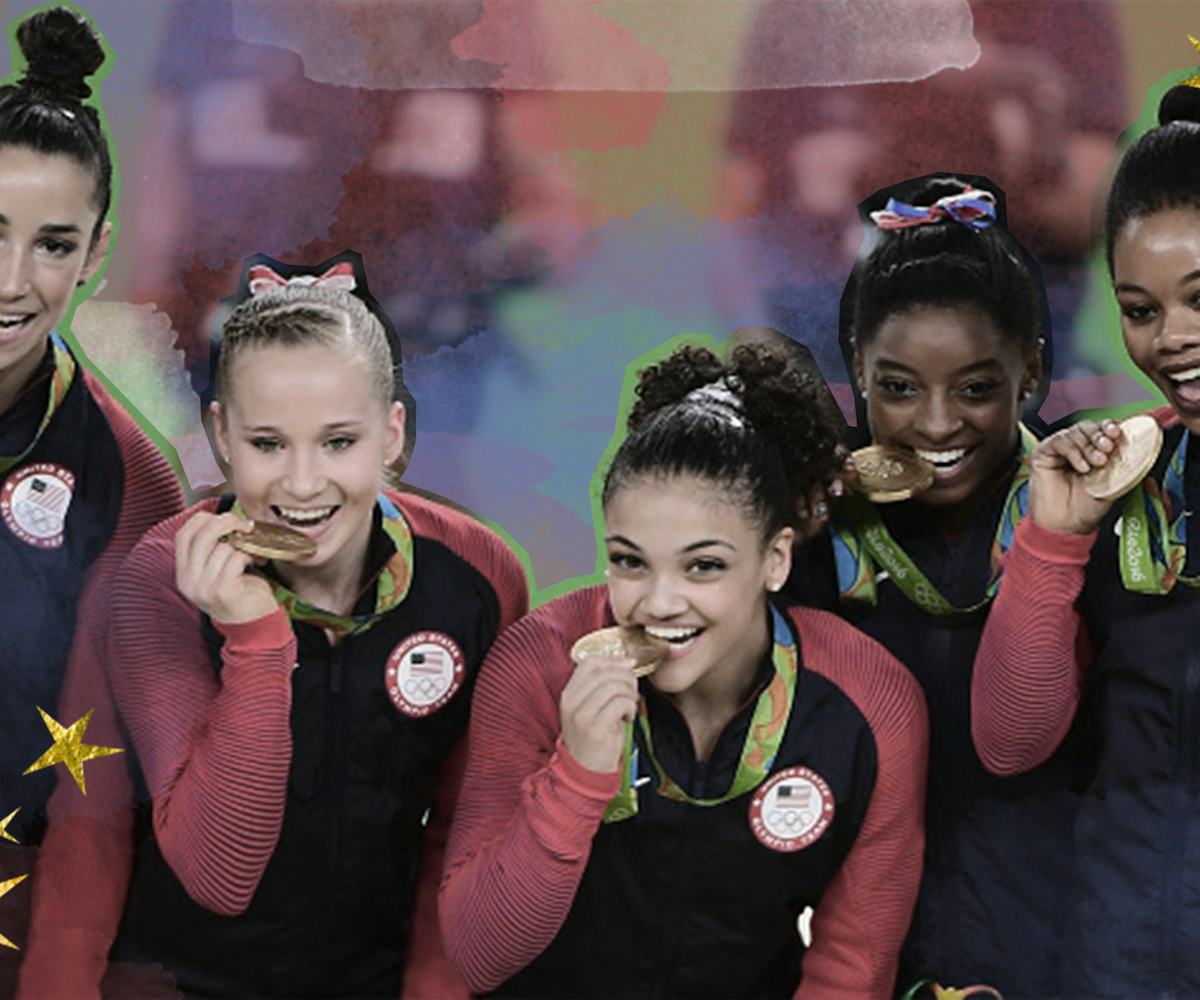 Photo by Emmanuel Dunand via Getty Images
The Best, Worst, And Weirdest Moments Of The Rio Olympics So Far
Going for the gold in memes
We are not even halfway through the Olympics yet, but there's been plenty of highs, lows, and general craziness to keep us entertained and feeling good about global unity and being Americans, which is especially important at a time when an actual pumpkin-faced monster is running for president. With that in mind, here are some of the best, worst, and generally weirdest moments so far.
Proving that they might just be the best gymnastics team to ever grace the world's stage, the fab five, also known as Simone Biles, Aly Raisman, Laurie Hernandez, Madison Kocian, and Gabby Douglas, won all-around gold medals on Tuesday, beating the silver-medaling Russians by an eight-point margin of victory. The win is further notable for the fact that this year's U.S. squad boasts a truly diverse roster and a breakout star in black gymnast Biles. U.S. gymnastics has long been dominated by white women, and so this mainstreaming of formerly marginalized and ultra-talented athletes is long overdue, but much appreciated. Squad goals realized.
The Olympics might feel like a lot of fun and games... until someone gets hurt. And, in the case of Dutch cyclist Annemiek van Vleuten, that means getting really, really hurt. Like, a concussion and fractured spine hurt. The world-class athlete was comfortably in the lead of her race on Sunday when she had a truly terrifying crash that left her crumpled by the side of the road. Many other cyclists have also crashed at the Rio games, confirming claims that road conditions are not ideal.
Weirdest: A Meme Is Born
Fact: Michael Phelps is one of the greatest Olympic swimmers of all-time. He's also got a meme-worthy face that, in this instance, is arranged into the kind of "terrifying death stare that will haunt your dreams."
Swimmer and human golden retriever Ryan Lochte's grandmother has caught the Olympic spirit. We strongly approve.
Yeah, this isn't so surprising. Sexism is everywhere! But it's still pretty shitty when female Olympic gold medalists like Hungarian swimmer Katinka Hosszú are denied full credit for their accomplishments because commentators think her husband-coach is, in fact, the "man responsible" for the whole thing. Gross. And then there's the fact that the Chicago Tribune identified another female Olympic gold medalist, Corey Cogdell-Unrein, as being simply the "wife of a Bears' lineman" instead of by her actual name. The list goes on. But it's still important to call it out when you see it because otherwise, you'd go crazy.
So, turns out that Michael Phelps basically is the *weird Olympics* all on his own! The swimmer was called out by The Atlantic for a practice called cupping, which is supposed to increase blood flow, but which can cause really dangerous blood clots. So, you know: Please, Michael Phelps, stop cupping!
The Instagram account SportsSwipe is shouting out all the Olympic athletes in Rio who are also on Tinder. Wanna get together with Ryan Lochte? Now's your chance. He's even verified.
Worst: They Kill Zebras, Don't They?
So, remember how it was terrible that gold medal-winning athlete Cogdell-Unrein was identified by the Chicago Tribune as being just "the wife of" someone or other, rather than by her own name? That was terrible. But you know what ELSE is terrible? That Cogdell-Unrein is a trophy hunter who enjoys such leisurely activities as shooting zebras. Guess it makes sense then that she won her medal in, uh, shooting. What a cool Olympic sport that is.
Weirdest: How Is This a Sport?
I don't want to be overly negative or anything because I'm sure equestrian dressage (literally horse training) is hard, but I'm also pretty sure it's not a sport. Maybe for the horse, it's a sport. But the horses don't get the medals, do they? (DO THEY??? That would be cool.) There are lots of other sports that could more accurately be considered "sports" in the Olympics (I'm looking at you handball), but none others which not only have the word "training" in their actual name but also are solely reliant on the work of another animal to perform well. Weird.