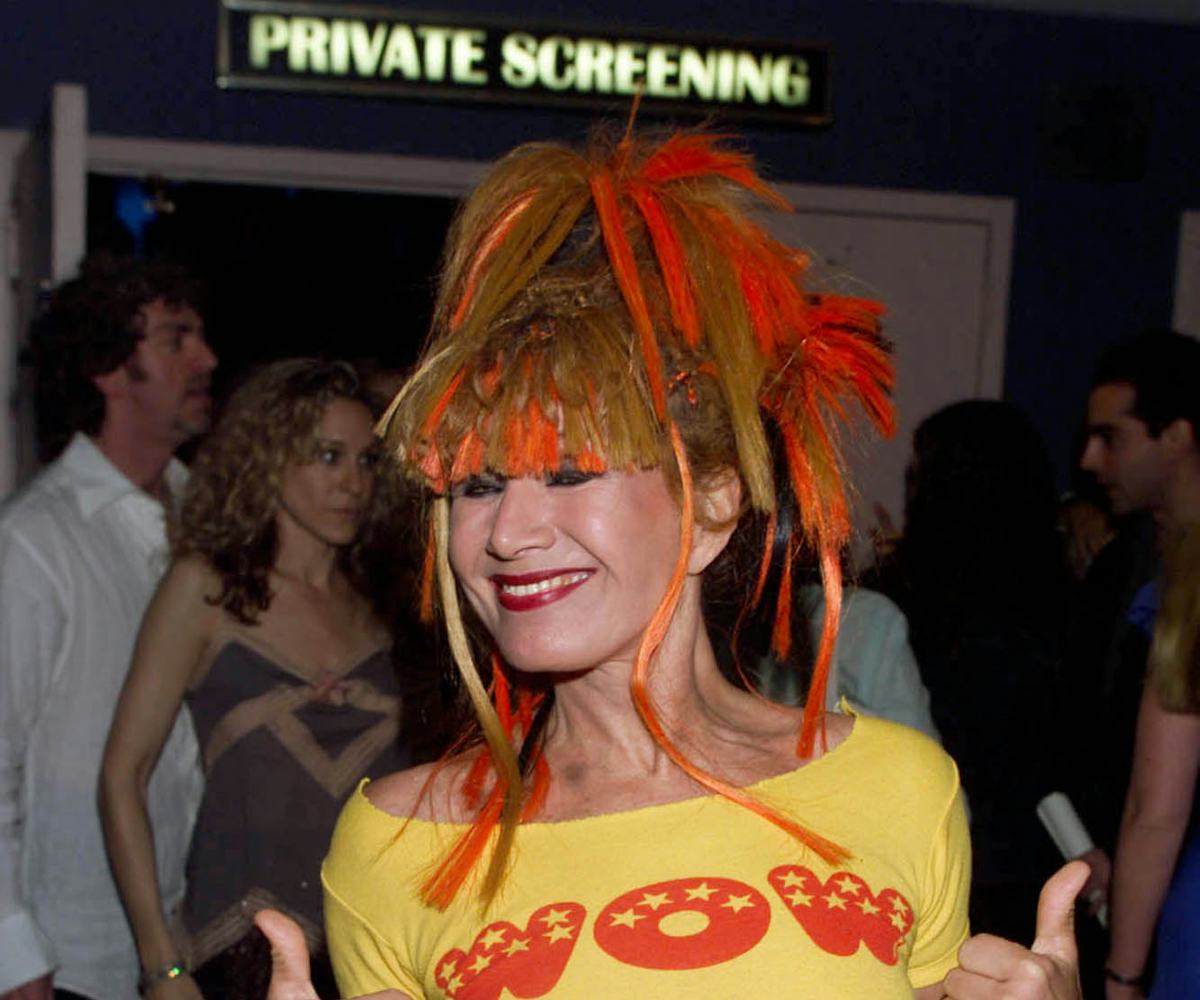 Photo Courtesy Of Keith D. Bedford/ Getty Images.
Betsey Johnson Is Still The Queen Of Prom
For generations of high school students, Betsey Johnson is prom. Her tulle-heavy dresses, funky accessories, and all-pink boutiques were the fashion holy grail for thousands, if not millions, of teenage girls. Her clothes made you feel adventurous, independent, and fiercely quirky—much like the designer herself. Of Johnson's clothes, Kim Hastreiter of Paper Magazine once said: "They're made for girls by a woman who won't grow up."
Of course, youthful trends come and go, and over the last several decades, Johnson's ubiquity has ebbed and flowed—her brand filed for bankruptcy in 2012—but if the kids love anything, it's a comeback—especially one from the '90s and early '00s (and late '00s and '80s... Johnson has almost never not had a popular decade). Now, the designer is teaming up with TLC's Say Yes To The Prom initiative, which helps underserved, high-achieving high school students make their prom dreams come true by providing them with dresses and tuxedos and accessories (Johnson donated hundreds from her current line), makeovers, and their own personal runway show. Johnson's been tapped to give one-on-one style sessions with the students, obviously because who better than the eternal Prom Queen?
Interviewing Johnson is exactly what you might expect. She's expressive, goes off on tangents, gets distracted easily, and goes a little too far down memory lane at some points—but topics involving prom always manage to bring her back into focus. She's the first one to tell you that high school students worldwide are what kept her and her business afloat for as long as it did. Unfortunately, not so much of today. "Most of the girls here know me from jewelry or bags or shoes or something, but not prom," she tells me, referring to the students chosen to be a part of the initiative. "My kind of prom dresses, I don't know, they'd never sell."
The kinds of dresses she's talking about are the "crazy, little, fluffy, tutu-y, ruffle-y, sparkly," ones from the '70s through the early '00s. "They were right out of my childhood dancing dresses," she says. "I would've been a really good costume designer because, basically, my clothes were like costumes, and I wanted to be a dancer, so there's all of that tulle and color."
The styles she designed weren't far off from what she wore to her own senior prom. "My prom dress was very sweet, very puffy, but I also wore little stiletto, pointed-toe heels, nylon hosiery, the whole nine yards," she says. The silhouette was similar, but the attitude was different. She recalls:
When I did prom, my girls were very Cyndi Lauper "Girls Just Want To Have Fun." From the beginning, it was like prom dresses with sneakers, with Doc Martens… It was a very different-looking prom dress but, in the end, it was what the girl did with it, like anything. It turned out to be our magic. Nobody was making prom dresses like me, I don't think. I did all kinds of colors, real fullness. They just were a lot of fun, and it took the right kind of girl to know how to work that pretty because it was really a pretty and punk time.
Times they have-a changed since. The dresses young women are wearing today, "they're very glamour," Johnson says, drawing out the word. "Just looking at these racks." She's referring to the thousands of dresses donated by Macy's, which include a slew of gowns, some with slits, lots with satin. "There's some color going on, a lot of bling," she observes. "Overall, the girls want to look older, they want to look sophisticated, they want to look like Elizabeth Taylor at 25, what was that movie she was in..." she asks, losing her train of thought. "Anyway, they want to look very red carpet. I mean, I go down the red carpet like this." The "this" she's referring to is her glitter leggings, off-the-shoulder top that reads rock and roll, and studded hi-top sneakers. "I've always been a little off, but it's worked really well for me, and it still works. After so many years, you have a look, you become a brand, la la la."
Johnson became a brand alright—a huge one. The dresses got to be so popular, at one point, they had sales employees track what school different girls attended. "We charted what school she was in to make sure that another girl didn't come along going to the same school buying the same dress. That would have been horrible."
If you claim you didn't go through a Betsey Johnson phase—and are over the age of 20—I have to assume you're lying. Her designs weren't the cheapest, a fact she's well aware of and is quick to defend ("The only reason the clothes were a little more expensive is we were only making 30, 50, 100… they were a good $50 more than other dresses. Not too much more, because I never liked things to be expensive, but they were more than your typical prom dress"), and they weren't for everyone. They were unique, though, which proved to be the core of the designer's popularity and, ultimately, her downfall also. "I just refused to go conservative for quite a long time," she reflects. "The excitement was in the 'is this going to sell?' I realized that my strength was being different."
Today, Blue by Betsey Johnson is her operating label. She doesn't have a huge hand in the items, but she says she helps out "inspirationally." The brand mostly specializes in wedding attire, which, if you think about it, is sort of an extension of prom—albeit, a lot more extravagant with a ton of additional details. Johnson says that a couple of women did wear her prom dresses to their big days back in the day, and she's made two wedding dresses in her time. But, it never stuck the way prom stuck.  
"To me, prom meant special. And that's basically what my work was about—feeling special, looking special… In my senior year, I was voted [prom] chairman and that person usually gets to be queen. It was huge to me; it was like a wedding day," she says. 
"Better a prom than a wedding for me," she says, laughing. "I've already gone through three of those."