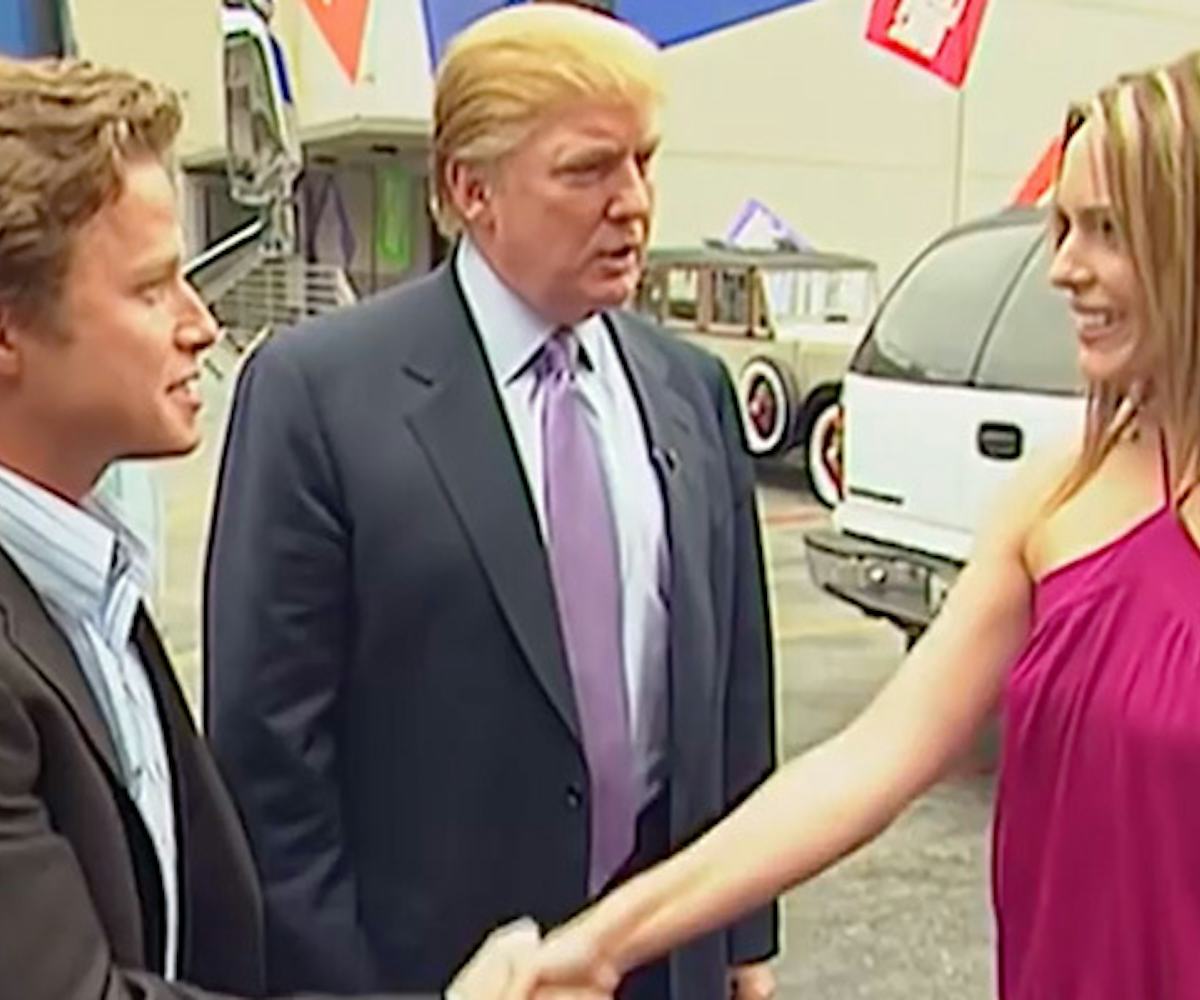 Image via YouTube/Access Hollywood
Billy Bush Confirms It's Trump In The 'Access Hollywood' Tape
In an op-ed for The New York Times, Billy Bush confirmed what we already knew: It is, in fact, President Donald Trump talking about grabbing women "by the pussy" in an Access Hollywood tape from 2005. While this was already pretty obvious—considering it was Trump's voice heard on the bus, saying he moved on Entertainment Tonight co-anchor Nancy O'Dell "like a bitch," who we then clearly saw exit the bus with Bush—it still apparently needed to be confirmed, given that the president has repeatedly denied that it's him. 
"Of course he said it," Bush, who was promptly fired from NBC after the tape was released by the Washington Post last year, writes for the Times. "And we laughed along, without a single doubt that this was hypothetical hot air from America's highest-rated bloviator. Along with Donald Trump and me, there were seven other guys present on the bus at the time, and every single one of us assumed we were listening to a crass standup act. He was performing. Surely, we thought, none of this was real."
Bush adds that "we now know better," after reading the accounts of more than 20 women Trump assaulted. "Some of what Natasha Stoynoff, Rachel Crooks, Jessica Leeds and Jill Harth alleged involved forceful kissing," he writes. "Ms. Harth said he pushed her up against a wall, with his hands all over her, trying to kiss her." That's when, according to him, he realized Trump wasn't joking at all when he said he likes to "just start kissing" beautiful women when he meets them. "I believe her," Bush writes of Harth. 
He also recounted the story of Kristin Anderson, who claimed Trump reached under her skirt and "touched her vagina through her underwear" at a New York nightclub in the 1990s. "That makes the 'grab 'em by the pussy' routine real," Bush writes. "I believe her." 
When Bush heard that Trump was telling people the voice on the tape wasn't his, it "hit a raw nerve" in him. "I can only imagine how it has reopened the wounds of the women who came forward with their stories about him, and did not receive enough attention," Bush writes. "This country is currently trying to reconcile itself to years of power abuse and sexual misconduct. Its leader is wantonly poking the bear." 
Bush explains that he needed to get close to celebrities, in order to get promoted at NBC, especially Trump, considering he was one of the network's biggest stars at the time, for hosting The Apprentice. "None of us were guilty of knowingly enabling our future president," Bush writes. "But all of us were guilty of sacrificing a bit of ourselves in the name of success." 
After Trump announced his candidacy for president, Bush says he talked on-air about how this wasn't a good idea. He also remembered a moment when he called Trump out for inflating his show's ratings. Trump told him, "People will just believe you. You just tell them and they believe you." This might be fairly harmless when it comes to the ratings of a reality TV show, but it's downright devastating when it's our democracy at stake. 
Bush went on to say that he hopes once the "current media drama" is over, it will "give way to a constructive dialogue between mature men and women in the workplace and beyond." He added that he agrees with the activist Jackson Katz that this isn't a women's issue, it's a men's issue. "Today is about reckoning and reawakening," he writes, "and I hope it reaches all the guys on the bus."