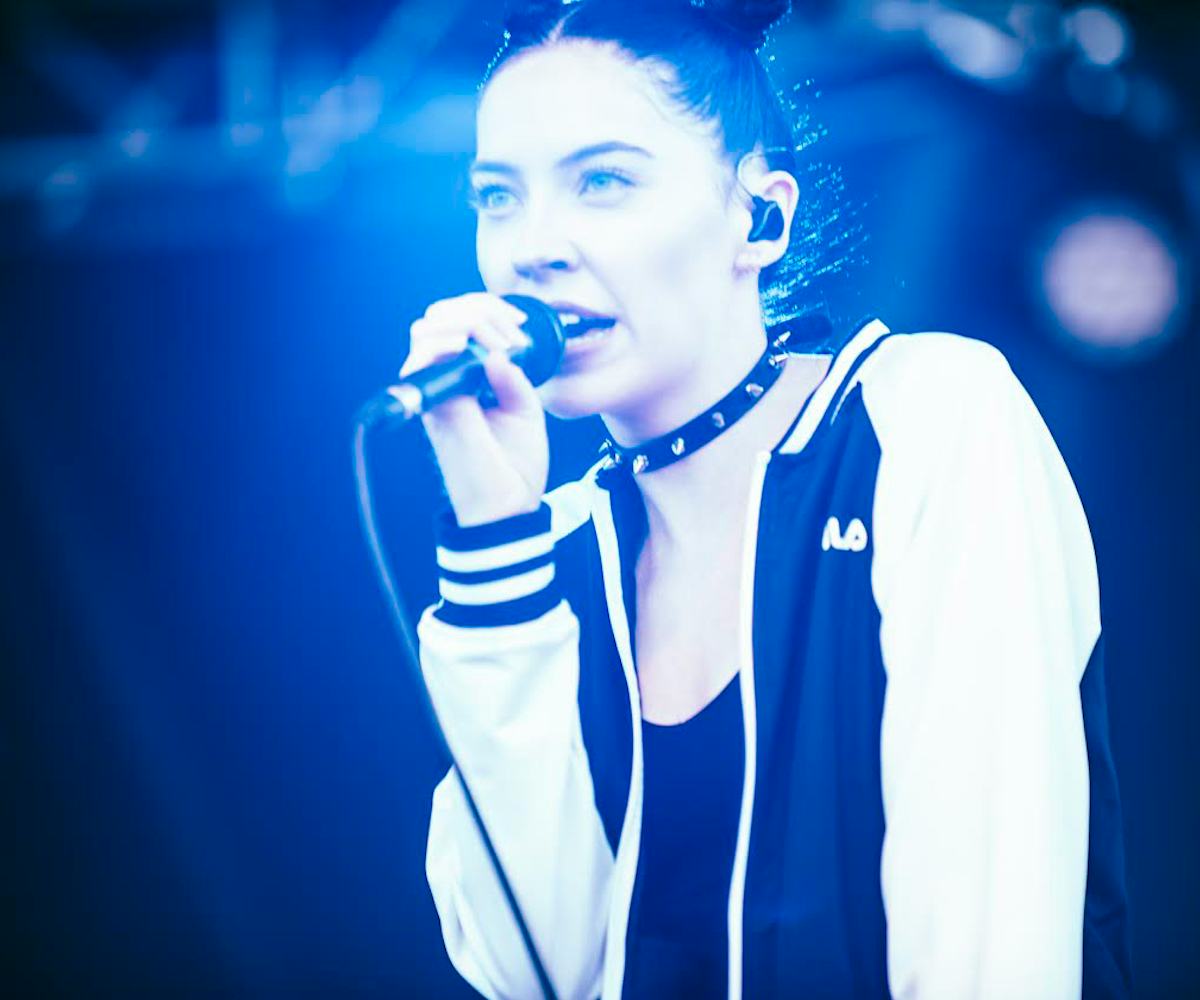 Photographed by Lindsey Byrnes.
How Bishop Briggs Went From Performing At Japanese Karaoke Bars To Opening For Coldplay
This singer-songwriter has got one unique story
Some artists have the power to capture you from the moment you first hear them, and there's no doubt that Bishop Briggs falls into this category. In just one year, the 24-year-old has racked up more than 30 million plays for her five tracks currently on Spotify, most notably for "River," which showcases her soulful, spine-tingling vocals and lyrics that are drenched in metaphor (there's a reason we've named her one of the best new singer-songwriters of 2016, after all). And her background story makes us all the more intrigued: Born in London to Scottish parents, she found her calling at the age of four when she watched her dad performing in a karaoke bar in Japan, where she grew up before relocating to Hong Kong and then later to Los Angeles.
A little under a year ago, she generated some buzz from everyone Shazaming that Acura commercial featuring her song "River." Now, she's got a host of other accomplishments under her belt—like opening for Coldplay on their A Head Full of Dreams tour and taking the stage tonight for her second opening for Kaleo at New York City's Irving Plaza—all before she's even released an album. Here, Briggs speaks with us about what it feels like to have such a successful first year in the game, how she crafted her sound, and her goal to nab an Adidas sponsorship.
What inspired the powerful voice and sound that you have? 
I think the best way I can describe it is emotion. Every time I write a lyric, I truly feel as though I am in that moment when it happened and whatever age it happened. And so I think sometimes when you are truly feeling an emotion, that's when the power in you can come out in whichever form it may come out in. 
Do you consider yourself to be an emotional person outside of writing music, or do you just channel your feelings into your songs?
I would say to a fault I am an emotional person [laughs], but I do think that I am a lot more calm than I am in my music. I think with writing, I'm a lot more expressive and maybe a little bit more explosive in how I'm feeling, whereas, in everyday life, I'm pretty chill, pretty go-with-the-flow. But I think sometimes that doesn't really translate in lyrics to how you were actually feeling, and even if you didn't voice it at the time, you're probably feeling really strong emotions. 
What's your creative process like for writing your songs? 
It's always changing. I love going back to when I was a lot younger, and I would just do pen to paper because I think there is something so raw about that. Considering we have so much access on our phones and on our laptops, there is something so precious to me still about doing pen to paper. That being said, I am someone who does use the Notes app while I am on the road or listening to someone tell me a story. I think there is inspiration in anything and everything. So, I would say my creative process is always on-the-go, no matter what, and it always ends up being through text. It's very easy, for me, to lose where the lyrics were because sometimes I email them to myself. No matter what, it's always about getting it out and not losing that train of thought. 
You got interested in music pretty early,—at about four years old, right?
The thing is, who knows if that's when I really decided? I just know that when I was four, that was when I moved to Japan and that's where I got introduced to the whole world of karaoke. I saw my dad performing at these karaoke bars, at these little family gatherings, and I just saw the extreme amount of passion he had. For him, it was a hobby and something that he just thought was fun to do but the minute I saw him, which I believe was at age four, I really wanted a piece of that, and I wanted to pursue it even further. 
Did your dad have aspirations in music, too?
He definitely just did it for fun, but the minute I got introduced to music, although I found it very fun, I knew at the back of my head that without it, I would feel an extreme amount of pain. From the beginning, there was a huge desperation to have music in my life and make it a part of my path wherever it may lead. 
What exactly did you parents do for a living that had you in living in Japan and Hong Kong?
My dad is one of the jack-of-all-trades types. He's an artist, he's a writer—he does it all, and sometimes when you are that type of person, you end up in places like Japan and Hong Kong.
What was your reaction to being exposed to so many different cultures at such a young age?
It was incredible! When you are that age, you don't realize how unique of an experience you're having. You think that being exposed to a completely new culture and history is normal. But what I'm thankful for is that I was always very appreciative growing up in those places, and I always knew how fortunate I was to have an opportunity like that at a young age. 
I've heard you refer to your sound as "trap soul." What exactly does that mean?
Yes. I think that's the best summary I can give because with trap music, what I've been noticing is that there are a lot of hip-hop elements and beats. And when it comes to soul, I grew up listening to Motown music so anytime I am coming up with melodies, it's always from that era that I try to channel into the music. So I think the best summary would be "trap soul."
It's funny that you say that because I don't know if you know the artist Bryson Tiller—
Yes! And [Trap Soul] is the name of his album. He definitely nailed it on the head.
You mentioned that you listened to Motown growing up. Who were some of the specific artists that you think influenced your sound the most?
It was a lot of Otis Redding, Aretha Franklin, The Supremes—it was a lot of these artists that I feel really stand the test of time. I was lucky that in the midst of all that, my parents would play The Beatles and Janis Joplin, so I got a mix of everything that I think down the line I really wanted to create in my own music.
I imagine being in a gospel choir in your youth had some influence on your sound, too.
Yeah. [Laughs] Sorry, it's just that there are these pictures of that time, and I just laugh every time I think about them. But yeah, in Japan, it was just this children's choir, and we performed gospel music. And it really, really got me interested in harmonies and hooks, and performing with soul. But it was short-lived, unfortunately. But, it was great for the time being.
Obviously, people are taking note of your music because you opened for Coldplay, which is amazing.
Thank you. That is insane. I don't know how to handle that. Anytime I hear that I still can't believe it. Yeah, we did nine dates with them, and it finished about a week and a half ago. And it was an all-arena, all-stadium tour, which, as you can imagine, I've never done before. [Laughs] I remember on our first date, which was the Rose Bowl, I walked up to the stage and I felt myself physically gulp, and I don't think I've ever really done that before. But, it's one of those situations that is almost too surreal to be nervous for. It's too out of your dream to not take in and appreciate. So, although I am naturally very, very nervous before I go on stage, I really try my hardest to enjoy every second and take the lessons that I was learning every night from watching them perform. And allow myself to be in the moment, rather than just watching the moment pass me by.
Did you get any downtime with Chris Martin and the rest of the guys while you were on the road with them?
Yes! Yeah, on our final day, there was a little get together after the show, and then on that same day, Chris actually came backstage and spoke to us and offered some advice, and it was really nice meeting a band that is so down-to-earth considering all their success. And they're supportive of up-and-coming artists. I think that's really rare.
I actually saw Coldplay perform at Made In America. It was so funny: It was the last song, Chris was on the piano, and he started singing. It was a really serene moment, and then he goes, "Oh, fuck. I messed up the words, we gotta start over." It was just the funniest thing I've ever seen.
Oh my god, I love that. How cool is that? Sometimes live performances now are too perfect, and there's something so rare and cool when they are acting like a real band, and they are turning to each other and laughing, saying, "Oh my gosh, I messed up." It just seems so rare now, so I'm glad you got to see that.
Let's get into some trivia: What was the last song you listened to?
"Goner" by Twenty One Pilots.
You seem like a huge Twenty One Pilots fan.
Yes, I love them so much. And that song, in particular, it is so depressing in the best way, which seems very odd that right before we spoke, I started to listen to it. But right at the end of that song, he does this scream, which is incredible, and emotional, and all of the above. After you listen to it, you're going to be like, "Wow, that's a bit dark, girl." [Laughs] But it's a piano ballad—it's incredible, he writes every single lyric on his own, so that's very commendable.
What do you do when you're not working on music?
Truthfully, I don't think I'm ever not working on music even if it's just mentally; I'm always thinking of ideas and brainstorming and jotting down notes. Even if I go to a live show, I am taking notes and noticing things that are inspiring me. But that being said, I'm pretty good at binge-watching YouTube videos. I love to go down the rabbit hole, and at the end of it, you're watching a makeup tutorial that's all about contouring and the right cat eye. It's like, "How did I get here? But I'm glad I did." And you have to subscribe and watch every single week.
I usually ask people about their sartorial signature or something they like to wear a lot, but you're obviously a fan of Adidas.
Oh, yes! I want a sponsorship. I'm trying every single day. I do love Adidas. I love sneakers so much, and I love their athleisure clothing. There's something so nice about being able to run around on stage and not have sore feet.
I actually just got a pair of gray Adidas Gazelles with gold writing on them. I love them.
Yes, yes! Oh my gosh, I love those shoes. And have you noticed that at the arch of your foot, there's like a little bump for your foot?
They're so comfortable! Okay, what's your favorite book?
I'm going to go with The Alchemist by Paulo Coelho. I think that's a book that, whenever you're at a standstill in life, it tells you a lot about what is happening before that event, and what's happening after.
What's one place where you've dreamed of performing?
I have been really lucky that this year I got to play The Troubadour and technically The Rose Bowl. Those two were definitely up there for a long, long time. I remember every single night going to bed wishing and hoping and dreaming of both of those venues, always. Because when I first moved to L.A., the first show I ever went to was The Head and the Heart playing at The Troubadour, and then shortly after I watched John Legend at The Troubadour, and Common came out and rapped which was incredible. And ever since then, it was my goal to play there. So then, to be able to sell it out was a huge dream come true. And then I think The Rose Bowl was up there as well, maybe not as close because I never thought that would be a possibility in my wildest, wildest dreams. It was a venue that I always loved going to see shows at. So, I think I've been pretty fortunate that those two, in the L.A. hometown, I've had the fortune of playing at.
What can we expect next from you?
More music, more surprises, and, hopefully, more connections made through music.