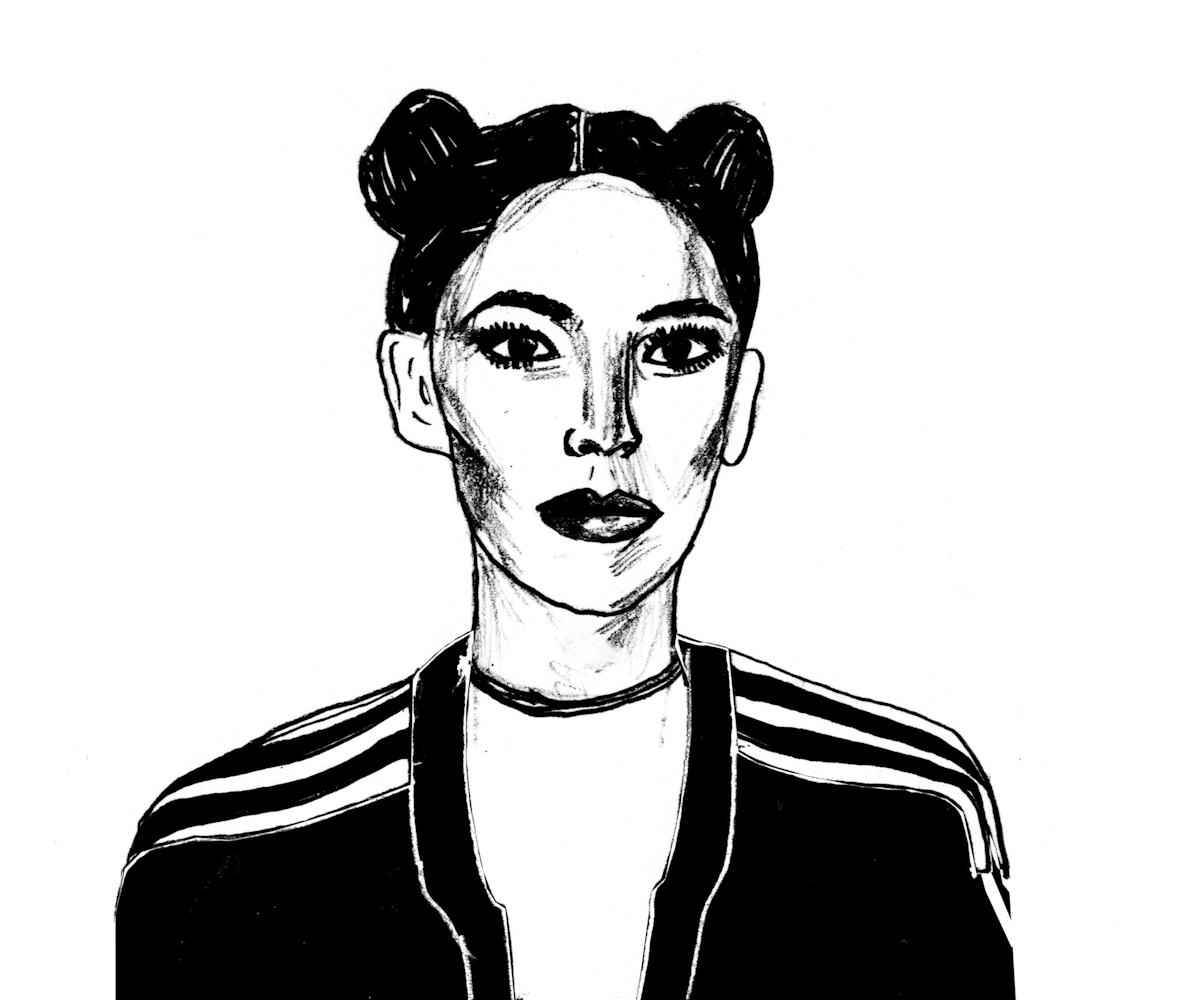 Illustrated by Liz Riccardi.
Singer-Songwriter Bishop Briggs On Music And Freedom
"I feel free and I don't judge myself. I'm just in the moment."
The following feature appears in the December/January 2017 issue of NYLON.
Who: A 24-year-old singer-songwriter who marries indie pop and trap soul in cerebral matrimony
What: Even without a full-length project to her name, Briggs boasts over 30 million plays on Spotify, 18 million of which, at the time of this writing, are allotted to her breakout single "River." It's her honest lyricism floating over trap-laden beats that will grab your attention, but the defiant soul of her high notes will hold it.
When: The powerhouse vocalist found her voice when she ventured into karaoke clubs in her youth. "Basically, anytime it was someone's birthday or an event was happening, we would hit up the karaoke bars," recalls Briggs. "My dad would get up there and sing Frank Sinatra, and I just saw the light in his eyes. He was so passionate about it. I wanted a piece of it." She signed to Island Records in early 2016, and got the chance of a lifetime that summer, opening up for Coldplay during their A Head Full of Dreams tour. "When I was told about the Coldplay show and that the first venue would be at the Rose Bowl, I did cry and freak out," says Briggs with a laugh. "That was a huge goal of mine that I thought would be happening way later in life, so for it to happen now, this fast, is amazing."
Where: She's of Scottish heritage, but Briggs was a globe-trotter before she even graduated grade school. Born in London, she grew up in Tokyo and Hong Kong, then relocated to Los Angeles when she turned 18. But regardless of her zip code, she always found influences within her home. "That's where I first found my roots and got excited about music—it was whatever was being played in the living room. So, when I was in Japan it was a lot of Motown music and The Beatles. And then when I came to Hong Kong it was a lot more of Janis Joplin—those throwback artists who are so iconic."
Why: Briggs admits that her pursuit of music is selfish—"It was all about how I felt at the end of the day if I did music and if I didn't," she says—but hopes that baring her soul on stage will infuse her audience with the courage to do the same. "There are generally two different sides to everyone, and one is who they are when they're alone," says Briggs. "That's when I really feel the most free. I think sometimes the appeal of being alone is that you feel free, and you feel as if there's no judgment. I think that's how I feel when I'm on stage now. No matter what, I feel free and I don't judge myself. I'm just in the moment."