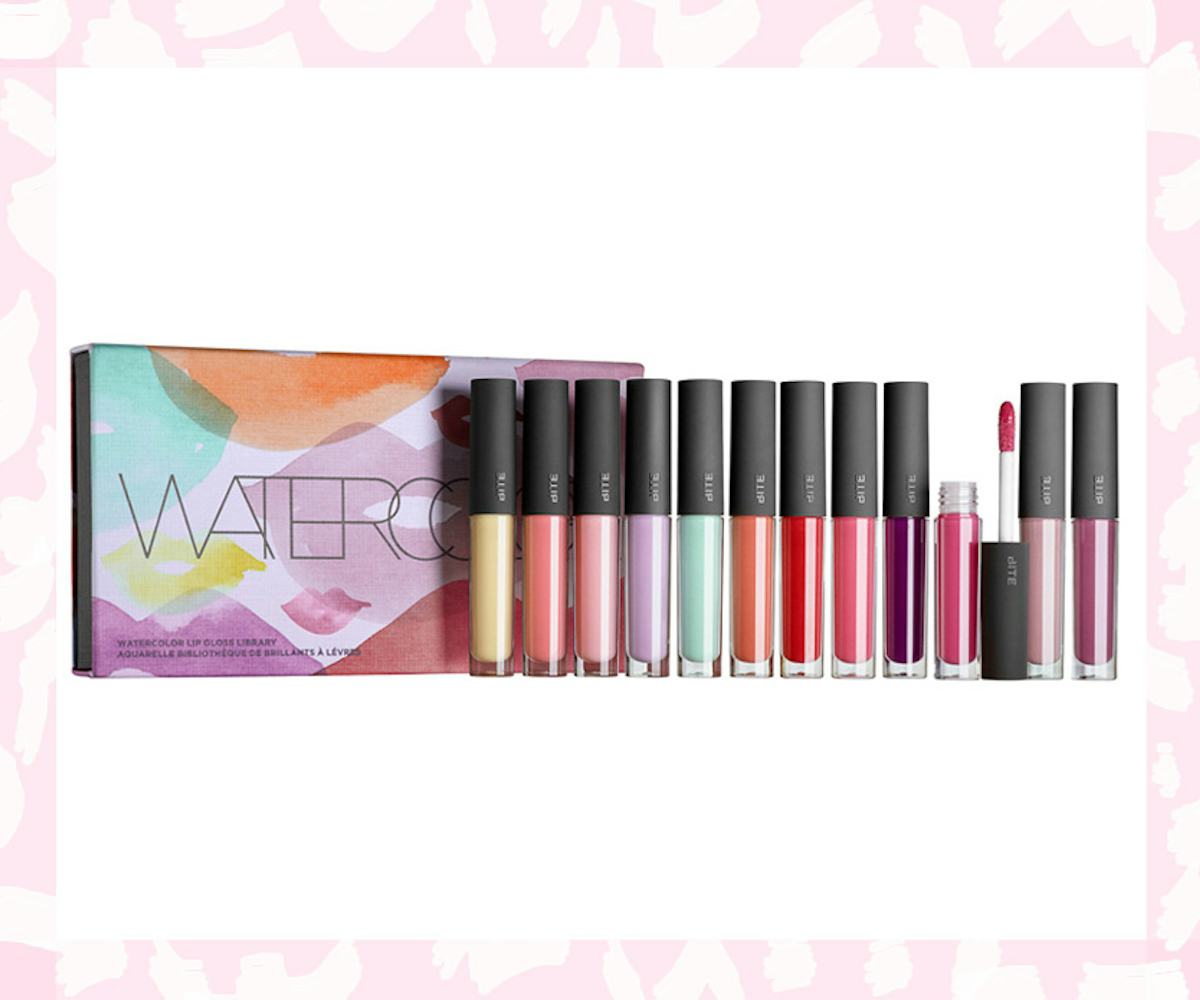 Photo via Sephora
the lip glosses that'll make you rethink shine
After demolishing what seemed like one Lancôme Juicy Tube a month for a seminal part of my early teenage years, midway through my high school career, I swore off lip gloss entirely. And, to be honest, I had abandoned nearly any semi-shiny lip products in fear of having my hair (and various random objects) stick to my person. I was completely content with my matte destiny—that is, until Bite's Watercolor Lip Gloss Library landed on my desk. 
While the variety of pastel colors and the watercolor packaging would be enough to sway any adventurous, beauty fanatic, I had been burned before. Then, I thought about how many Bite tints and pigment pencils fill my bags (a lot) and decided to do the previously unthinkable: I tried them out (gasp!).
As far as texture goes, the handcrafted glosses are tacky and heavy enough to remind you of their presence, but it doesn't feel like much more than a heavy lip balm. Rich in antioxidants, fruit extracts, and jojoba oil, the glosses are touted as ultra-hydrating. While the 12 hues may seem intimidating, the shades are sheer and work to accentuate different natural colors. The mint green acts as a modern-day mood lipstick, bringing out purple and berry tones; the lilac slightly tints lips to an opalescent shade; and the daffodil yellow slightly warms your lips' natural colors. (The rest act as a slight tinge of their specific hue.)
The library retails for $49 and is available to Sephora VIB Rouge Members today. If you're not a member, you can pick up a set online at Sephora.com April 15 and in Sephora stores April 16. Worth a buy, especially for those of us who had sworn off gloss ages ago.