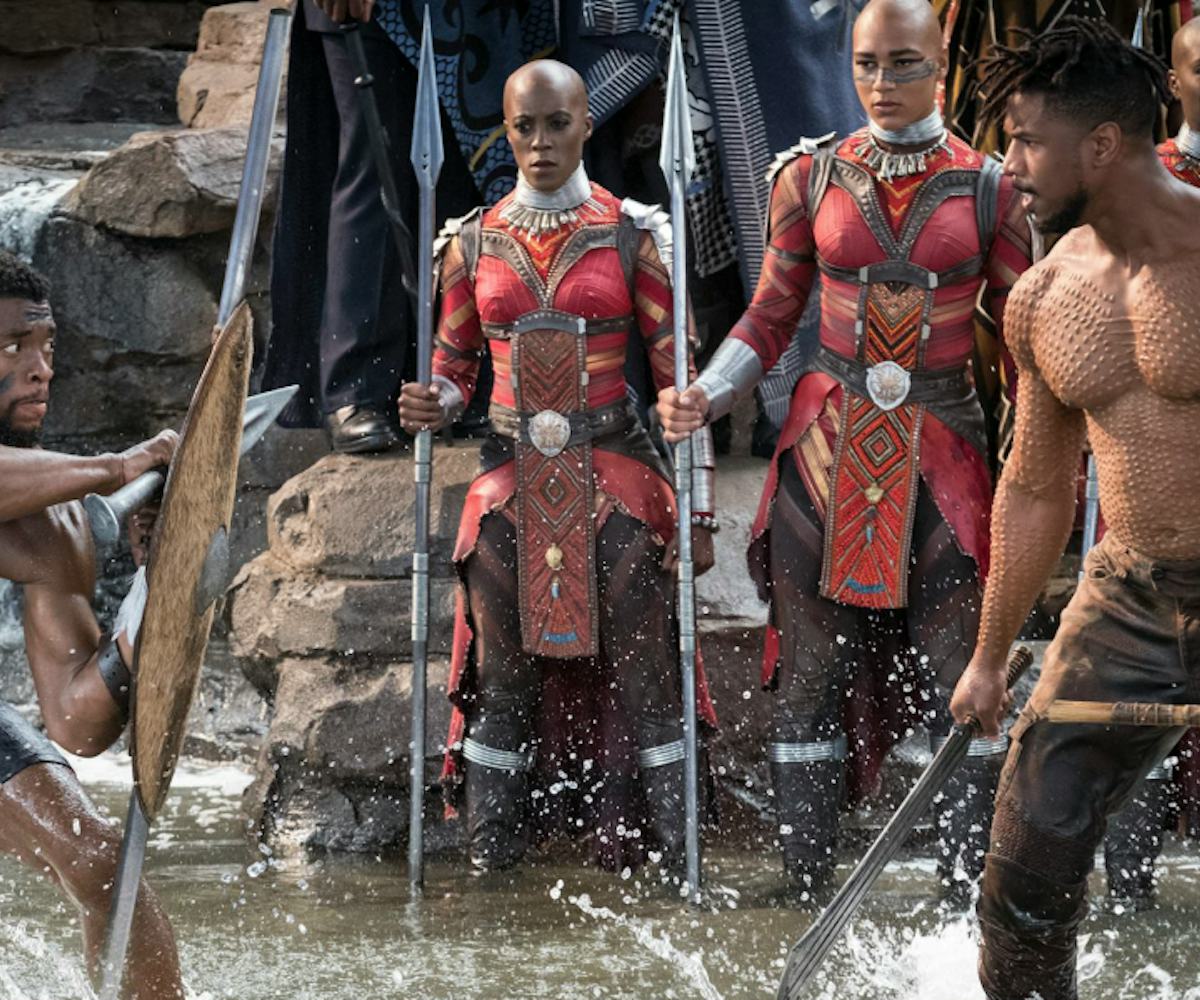 Photo via Facebook @BlackPantherMovie
'Black Panther' Has Most Successful Opening Week Of Any Movie In The Marvel Universe
Diversity doesn't sell, right?
Black Panther was breaking records before it even came out—a month before its release, the movie sold more pre-sale tickets than any other flick in the Marvel Cinematic Universe. Now? It just had the highest-grossing first week of any other Marvel film, according to comicbook.com. The film has grossed $292 million in North America and $228 million around the world, for a total of $520 million.
For comparison, Complex points out that The Avengers, Marvel's last box office smash, raked in $270 million in North America in its first week and $300 million after nine days. At the rate Black Panther is going, it's on track to reach the $300 million mark after eight days in theaters. 
The importance of Black Panther has been reported on extensively online and in the news. The film, featuring a nearly all-black cast, is an incredible celebration of black culture in a way that is simply never seen—or never cared about—in mainstream culture before. Certainly not in the United States, where people of color are celebrated when they can perform and be otherwise objectified but are simultaneously disparaged by our government, justice system, and just about every other aspect of society. 
As Tre Johnson at Vox points out, it's not just the (incredible) style that's pulling everyone into Black Panther: 
...It's also about black culture's journey, and it points toward a future where it could be the culture. It acknowledges and celebrates everything from traditional African society to African-American political debates, from the power and beauty of black women to the preservation of identity, all within the lush confines of the fictional African nation of Wakanda.
In addition to being an incredibly important new piece of Afrofuturism and a love letter to the richness and diversity of black culture, in many ways the success of Black Panther is important for all historically-marginalized communities because it shows just how much audiences now want inclusive movies. Black Panther won't be the end to whitewashing, but it may just be the biggest nail in the coffin of those who try to justify casting white people in nonwhite roles by saying that people of color just don't sell films. You want Ghost in the Shell to be made into a movie? Tough luck, you just can't get it made without having Scarlett Johansson as the lead. Death Note? Well, it's made for a western audience so it has to star a caucasian actor. Arguments like these just aren't going to cut it anymore. 
Slowly but surely, the tide is changing. Wonder Woman proved you you can have a blockbuster superhero film with a strong female lead and a female director. Get Out, a movie about the commodification of black bodies, was nominated for multiple Oscars. We've seen episodes of mainstream TV shows spoken entirely in Mandarin. And now Black Panther has proved beyond a shadow of a doubt that audiences want to see people of color in films, and they want to see nonwhite cultures celebrated. 
To anyone who still wants to try and defend their choice to whitewash? As a real hero recently said, we call BS.