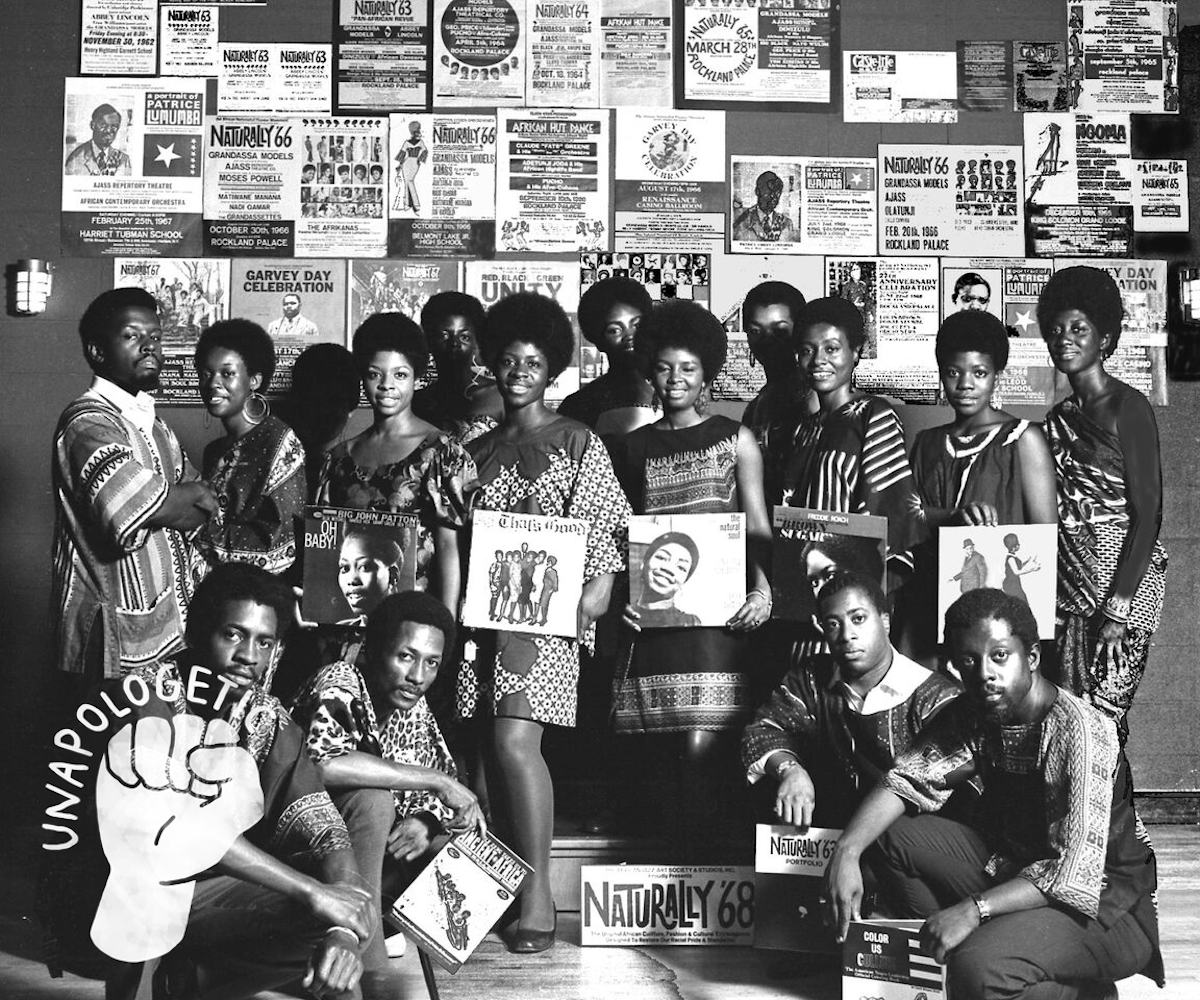 This Exhibit Is Shining Light On The Black Power Movement
It's on display at the Schomburg Center in Harlem
In celebration of Black History Month, NYLON is running a spotlight series called UNAPOLOGETIC. Every day, we'll celebrate different aspects of black culture through profiles, interviews, roundtables, reviews, videos, and op-eds. #Blacklivesmatter and we hold that truth to be self-evident.
There's a framed poster publicizing a protest that hangs in the Harlem Schomburg Center's new "Black Power!" exhibit. It's from 1975, but it would appear right at home advertised on Twitter, Facebook, or Instagram today. It's from the Black Women's United Front, and the slogan declares: "Abolition of every possibility of oppression and exploitation." Below, figurines carry signs demanding "Free Public Housing [at a] Low Cost," "Free Medical Care," "Free and Public Education," "Family Planning Not Genocide," and ask to "Stop Killer Cops." The aims of the signs, which include "build[ing] an anti-racist, anti-capitalist, anti-imperialist" world, parallel the goal of next month's Women's Strike. Though the movements are 41 years apart, we're still fighting the same battles.
Black Power is a simple concept with a complicated history. It's a movement birthed after the Civil Rights Movement of the 1960s and conceptualized by Stokely Carmichael and Willie Ricks that helped mold black consciousness and identity. It encouraged black men and women to embrace black culture at a time when their blackness was viewed as something to hide. But the evolution expanded outside of embracing your natural hair, popping on a beret, and wearing African-inspired clothes, and "Black Power!" invites visitors to dig deeper into its impact.
Some of this impact included pushing for the study of African-American history in schools and the hiring of black faculty, as well as forming coalitions and alliances with other races and focusing on community service programs. The exhibit also highlights the ways in which the Black Power movement seeped into the arts and popular culture, through music (Nina Simone), sports (Muhammad Ali), and writing (James Baldwin). It's also a lesser-known fact that the Black Power movement reached beyond American borders. Marginalized individuals across the world connected with the struggle black men and women were enduring in America and the values and practices the movement put in place.
The best-known organization to partake in the movement was the Black Panther Party. And there are pictures, video clippings, even the first "Black Panther" newspaper lining the exhibit. The Panther party was often portrayed in the media as a radical group with violent intentions, but in one of the most powerful aspects of the exhibit, excerpts from files kept by the FBI, which ordered surveillance on members of the party, hover near the ceiling. They peer down on visitors, just as the government peered into the lives of party members.
"Black Power!" manages to tell the story of the movement through posters, documents, flyers, newspapers, video footage, clips from Blaxploitation films, and more. It visualizes a history that is more present, now, than ever. So much so that it might make some people uncomfortable. But hopefully, that feeling turns into confidence. 
"It's a little bit disturbing how it feels looking at a lot of content in the show; this could be about current events today," exhibition designer Isissa Komada-John tells us:
I think there is an urgency, and I think it's comforting in a way to know that some of the struggles that can feel really weighty now, we have a history to look back on and to guide us, and there are a lot of successes. The things that we're doing now and working on now are not just these ephemeral ideas that will disappear, but can actually last for decades and have a big impact.
"Black Power!" opens to the public today at Harlem's Schomburg Center and will remain so through December 2017. If you're unable to make it uptown to visit, there's also an online version you can check out. Click through the slideshow below to see a preview of selections from the exhibit.