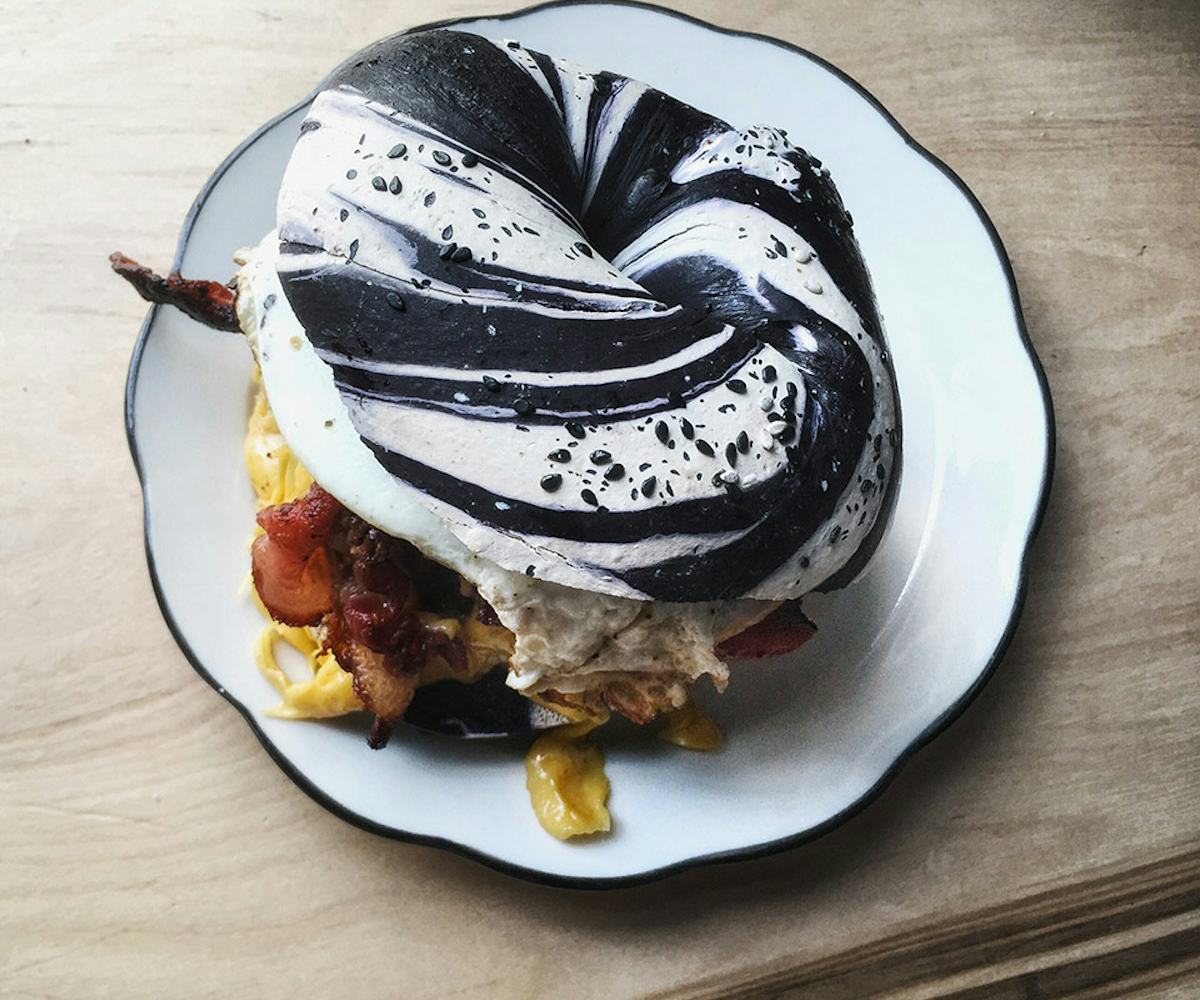 Courtesy of Black Tap
Move Over Rainbow Bagel, The Goth Bagel Is Here
And it's made with truffles
UPDATE 9/30/16: Starting October 2, Bagel Burger will be available in limited quantities at Black Tap restaurants every Sunday.
If you thought rainbow bagel was the epitome of #BrunchGoals, you are going to love this. Our favorite burger and milkshake joint, Black Tap, is collaborating with the original rainbow bagel creators, The Bagel Store, on a limited-edition, wait for it, Bagel Burger. Made using black sesame seeds, black sea salt, pepper, and truffle essence, the black-and-white swirled bagel is what our culinary goth dreams are made of.
Outside of the truffle oil bun, the burger boasts Pat LaFrieda beef, bacon, egg, cheese, and truffle mayo. "Everyone loves a good bacon, egg, and cheese on a bagel, and we decided to take that classic and add our own great flavors," Joe Isidori, chef and owner of Black Tap, told us. "When we talked to Scott [Rossillo] at The Bagel Store, we told him we wanted to play around with Black Tap's colors—black and white—and he came up with the bagel."
For now, the bagel burger will be available at Black Tap's Soho and Meatpacking locations this Saturday and Sunday, so don't wait to try it. (There goes our NYFW diet.) Given the popularity of the rainbow bagel and Instagram appeal of Black Tap's milkshakes and taste factor of their burgers (the Spicy Mexican recipe has become our grill go-to), it has to be only a matter of time before the public demands for the creation to become a permanent staple at both restaurants. For those of you not taking any chances, we'll see you in line at Black Tap.