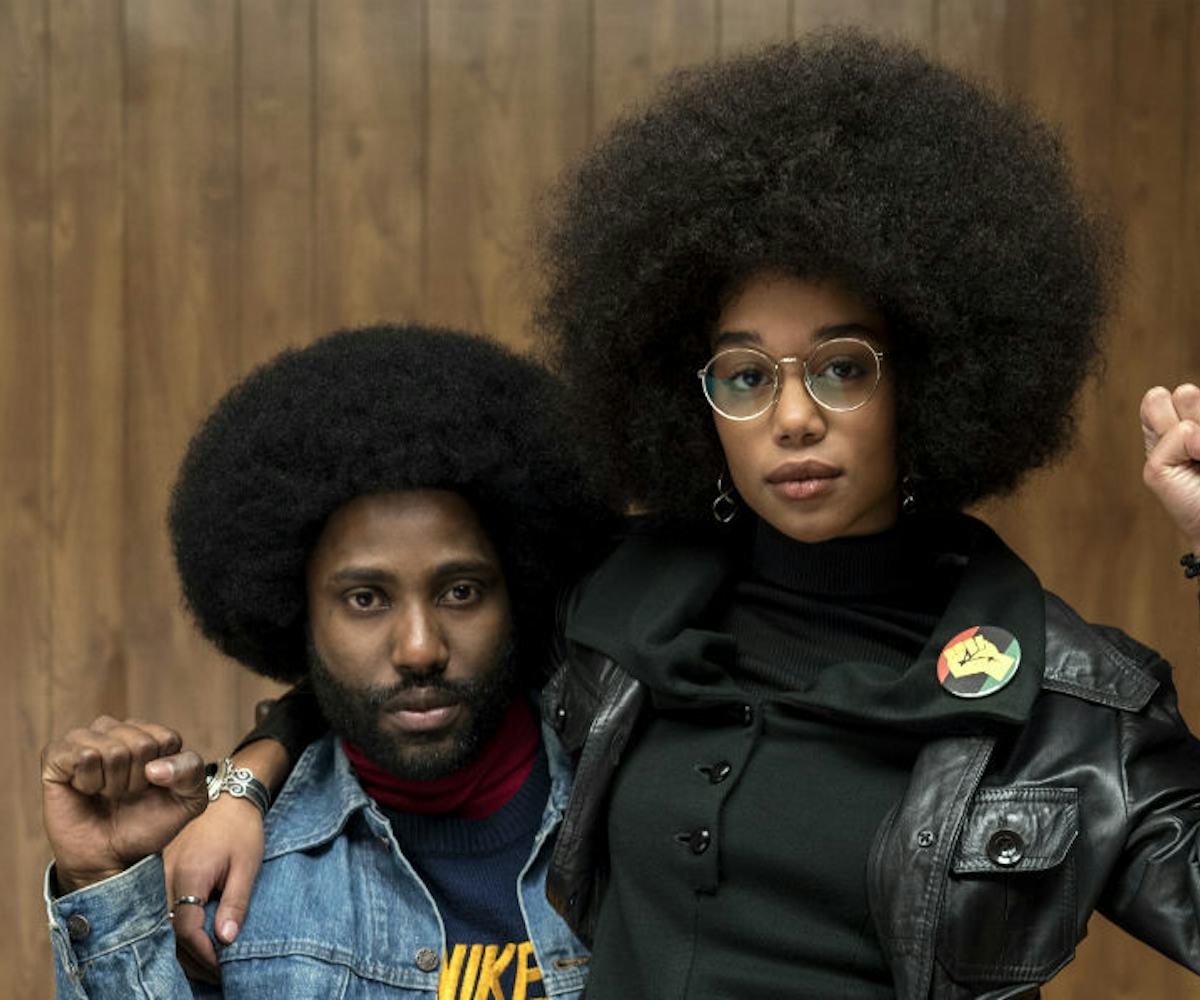 Photo Courtesy of Focus Features.
The 'BlacKkKlansman' Costume Designer On Bringing The '70s To The Screen
We chat with Marci Rodgers about her work on the Spike Lee film
There's a specific pressure that comes with creating films based off of real-life events. It's the stress of getting the story right, casting the appropriate people, and recreating moments accurately. And yet, if it's a story based in reality, there are also lots of historical references from which to draw, something BlacKkKlansman costume designer Marci Rodgers found very helpful when creating the '70s looks for the story of Ron Stallworth (played by Denzel Washington's son John David Washington), the first black detective in the Colorado Springs Police Department, who managed to infiltrate the Ku Klux Klan.
For the project, Rodgers—who considers herself a visual historian—started out doing research, and lots of it. First, she watched Birth of a Nation and Gone with the Wind, both of which, though not films of the era, are referenced within BlacKkKlansman. Then, she headed over to the Library of Congress and her alma mater Howard University where she reviewed historical documents and periodicals from the era. She searched through old Jet and Essence magazines, read through journal entries from Kwame Ture (aka Stokely Carmichael), a Black Panther leader played by Corey Hawkins in the film. She even went through sewing patterns from that time to get a better sense of the fashion aesthetic. Rodgers says she spent about a month and a half solely studying and educating herself. "Typically, when I get into the research mode, I kind of become obsessive with it," tells us. "I don't stop. And because this was a period piece, it definitely took a lot of my attention. I wanted to make sure I was reading the research correctly and translating the research into costumes."
The best way to create a look is by going straight to the source, though. So she set out to speak with Stallworth about his style from the time. "I was able to meet with him and have a conversation about some of the things he did when he was undercover," Rodgers shares. "He said that sometimes he would wear different accessories, some days he would wear a walking suit or other things that made him feel cool, if you will." Think about it, she emphasizes, he's young, he's stylish, it was his first job, so he wanted clothes that would be professional but still smooth. It was also important that Stallworth be noticeable and stand out in every scene, so you might notice that his outfits are slightly brighter than those around him in the film.
Photograph Courtesy of Focus Features.
He particularly stands out in scenes with Laura Harrier's Patrice Dumas, a character Rodgers describes as being a marriage between Black Panther leaders Angela Davis and Kathleen Cleaver. The all-black uniform typically donned by members can come off as flat and one-dimensional onscreen, so Rodgers supplemented that by adding texture to Harrier's outfits, like ribbed turtlenecks, a button-up black dress, and a leather jacket with prominent pockets. Rodgers made it a point to have Odetta (played by Damaris Lewis), Patrice's best friend and passive spirit animal, be the opposite, garb-wise. "Her attitude, as the viewers will see, is a little spicy. So, I added color to her which kind of adds another layer to Patrice." The key, Rodgers says, is to make everybody look separate and like their own standalone character. "When they all come onscreen, I wanted them to be very identifiable," she says. "There's Ron, there's Patrice, there's Kwame."
The outfits worn by the Ku Klux Klan members also came about through lots of research, which Rodgers says wasn't always easy. "I had a separate set of information for the organization and I just studied the photos," Rodgers says. "I tried, obviously, to remove as much emotional reaction as I could to it and just make sure it was historically accurate… I actually read an article on how [the hoods and robes] are made, and what they're made out of.  I just kept digging and digging and digging." For the former KKK Grand Wizard, David Duke, played by Topher Grace, Rodgers also consulted archival photos. "I noticed that David Duke, he wore fat ties or stripes," she says. So, she put him in just that: fat ties or stripes.
Photograph Courtesy of Focus Features. 
Overall, the BlacKkKlansman clothes (aside from those worn by the white supremacists) aren't too far off from what we might wear today. Rodgers says she sourced clothes from costume houses in L.A., but also vintage shops in New York and Philadelphia. Plaid shirts, sheepskin jackets, logo sweaters—even the afro is back now, hopefully to stay. As the film displays toward the end scenes—a juxtaposition of the KKK burning a cross and the white supremacist rally that took place in Charlottesville, Virginia, last year—not much has changed in the past four decades. The BlacKkKlansman story, at least, has a positive ending and proves that not all heroes wear capes—sometimes they wear jean jackets and Nike Cortez sneakers.