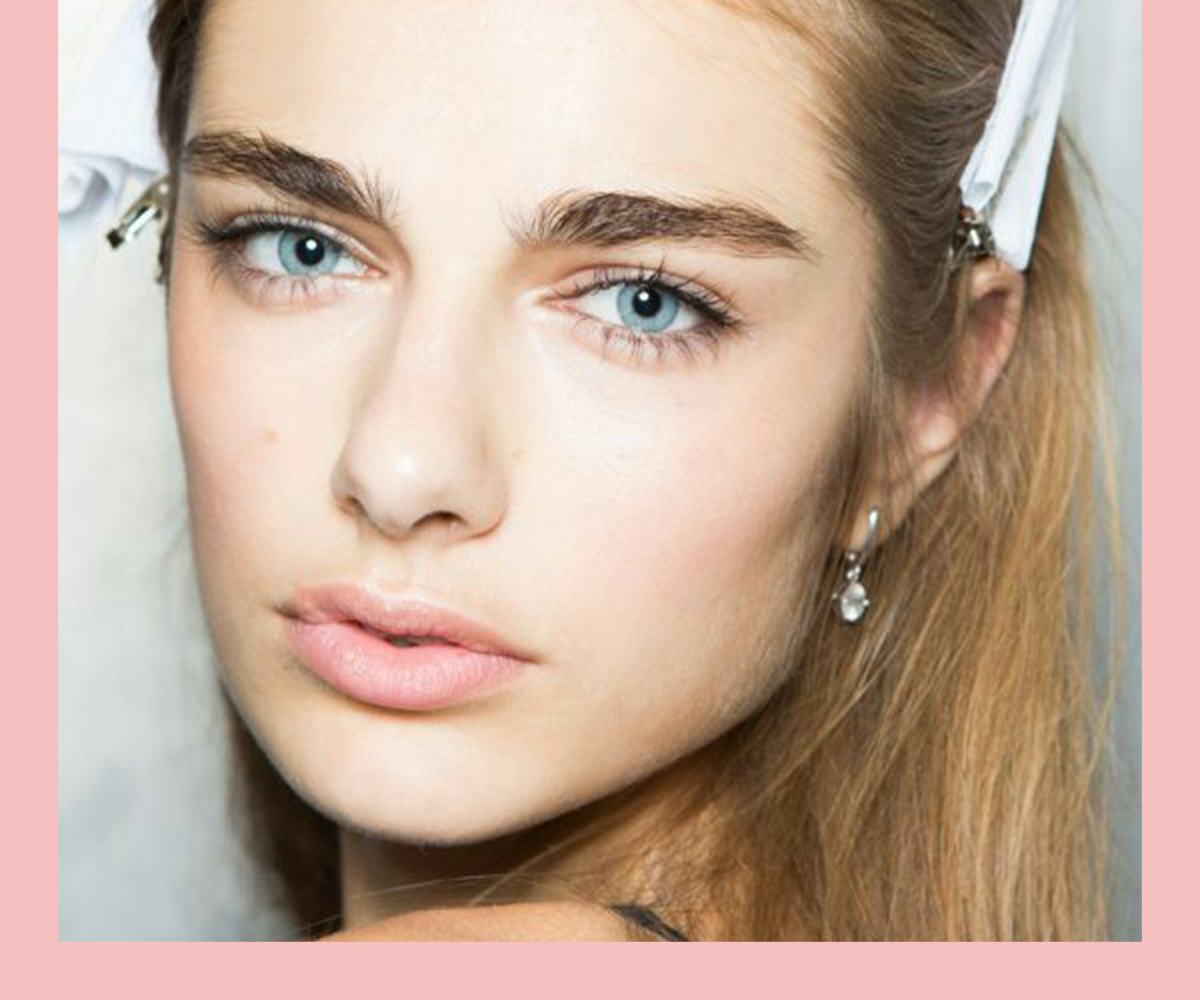 Photo via The Zoe Repot
How To Bleach Or Tint Your Eyebrows At Home
From our friends at the Zoe Report
Curated by Rachel Zoe and her team of editors and stylists, The Zoe Report is not only your stop for all things fashion and beauty but all-around lifestyle as well. Check out their site for everything from shopping tips to dating advice, to the latest in celebrity news.
Regardless of what genetic lottery you've cashed in on, eyebrows are a feature that requires a bit of work. Is it just us or are they always either too light or too dark? If you're tired of booking a salon visit every time you need a bleach or a tint, read on. We're sharing the best tips for doing both (whichever floats your boat) at home. No appointment, no problem.
Step 1: Wash Your Face
No matter what bleaching agent you decide to use, cleansing (and doing it well) will ensure you get an even color payoff. The slightest bits of makeup residue or oil can leave patchy areas. Tip: Tweezing before bleaching can lead to irritation.
Clarins, Clarifying Cleanser, $20, available at NERD. 
Step 2: Test On An Inconspicuous Area
The last thing you want is an allergic reaction right above your eyes. The jawline is the best place to try out a product because a resulting breakout can be easily covered with makeup.
Sally Hansen, Extra Strength Crème Hair Bleach, $5, available at Amazon.
Step 3: Apply Bleach Carefully
Most at-home kits come with an applicator, but you can also use a cotton swab. Be careful to apply the solution evenly, but don't rub it into the skin—harsh bleaching agents can be irritating, so just gently lay it over the brow hairs. Precision Tip Cotton Swabs, Q-tips $4
Sephora, Detox It Out: Charcoal Cotton Swabs, $3, available at Sephora.
Step 4: Time It Just Right
If you've never done this before, start with half the suggested time—you don't want to burn your skin or end up with invisible brows. Remove the bleach with a warm, damp washcloth but, again, make sure not to rub the product into the skin. If your brows aren't light enough, reapply the bleach and keep an eye on the clock.
Nate Berkus, Geo Sculpt Jacquard Hand Towel White, Nate Berkus $8, available at Target.
Step 1: Prep Your Brows
Same as the bleaching process, make sure to thoroughly wash your face beforehand. The slightest bits of makeup residue or oil can leave patchy areas. Outline your brows with a layer of Vaseline to prevent unsightly stains. Tip: Tweezing before tinting can lead to irritation.
Vaseline, First Aid Petroleum Jelly, $5, available at Amazon.
Step 2: Apply Tint Carefully
Some brow-tinting kits may come with a spooley brush for application, but it can be difficult to use. Try laying down the product with an eyeliner brush or wooden stick for more control. Start the tint at one side of the brow and dab it along to the other, focusing on the center, then on the baby hairs along the edges.
Sephora, Pro Brow Brush #20, $17, available at Sephora.
Step 3: Do One Brow At A Time
It's the best way to get even color. Quickly and carefully apply the solution to one side, set a timer, then wipe it off. Repeat on the other side in the same order.
Godefroy, Instant Eyebrow Tint Permanent Eyebrow Color Kit, $13, available at Amazon.
Step 4: Thoroughly Remove Tint
Make sure to wipe off the product completely with a damp towel. Any residue left behind will continue to develop (making your brows darker). Once you've cleaned both brows, wash your face just in case you left anything behind. If your brows are still too light, repeat the process. If they came out too dark, lightly scrub them with a cleanser and an old toothbrush, rinse, then wipe with a toner.
Marvis, Toothbrush, $6, available at Sephora.