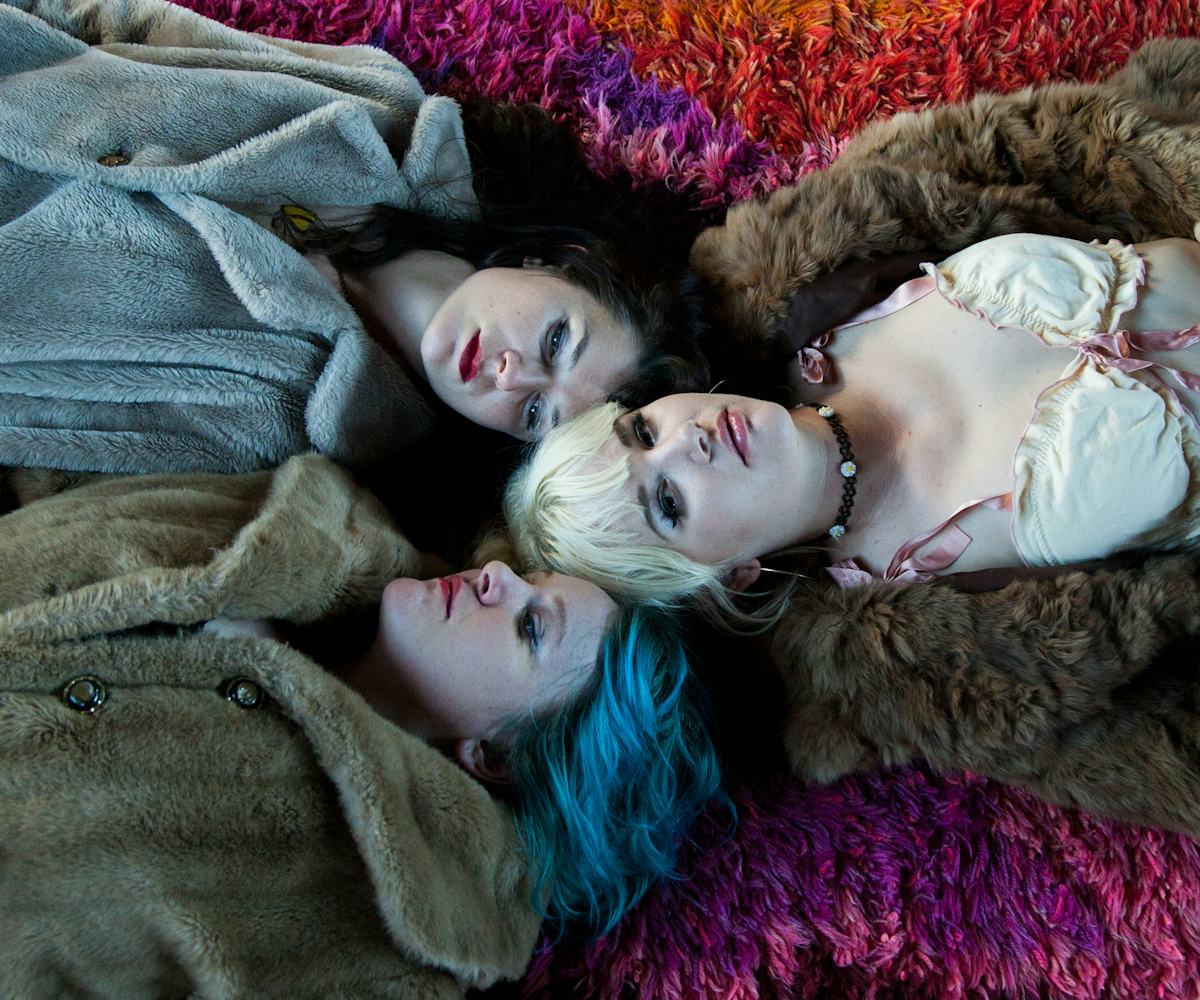 Photo by Nicole Anne Robbins
Bleached Wants To Know If You Can Deal With Women In Rock
Learn more about their brand-new EP and zine
Jennifer and Jessie Clavin are done with the sexist bullshit that permeates the music industry. The sisters aren't holding anything back in their punk rock band Bleached, and recently let it all out in newly-released EP, Can You Deal?. The title track is specifically aimed at members of the media that consistently limit the conversation about rock 'n' roll with questions about gender. 
Bleached really hits the nail on the head with lyrics like: "Pretty little child, tell me your tale/ How you got the courage to rebel yell/ I'm really feeling cheated." Each aspect of the track—and the rest of the EP—is killer, with driving guitars that'll keep you headbanging 'til the last beat. Earlier last month, Jennifer released a passionate statement on the band's site: 
It was also our most ambitious body of work yet, with guitar work and guitar sounds and production we had only dreamed of until then. And yet to this day I am still fielding interview questions that have more to do with my gender than with the art I am creating. 
The statement served as a segue to announce Bleached's limited-run zine of the same title, which is filled with essays and artwork from women in the music industry as a way to bring this shared experiences into conversation on a public platform. All profits from the sale of the zine will go directly to Planned Parenthood. 
We were lucky enough to chat with Jennifer and Jessie about working on the EP and zine, and finally getting to put the frustration from years of sexist interviews into their art. Watch as they ward off these interviewers in a black-and-white dystopia in the brand-new video for title track "Can You Deal?" and stream the EP as you read the conversation, below. 
What is the inspiration for the new EP?
Jennifer: "Well we had just been touring a lot on Welcome The Worms which came out April 1. It was non-stop touring, and we had three weeks home before we had to leave on another tour. We had some old demos that we wanted to rework, and then we had 'Can You Deal?' which is a totally new song that we all wrote together, and we just felt this really good energy amongst all of us and wanted to just get into the studio and record. We recorded it, and we felt like it would capture the live energy that we were feeling off the tour and I feel like it did that."
Jessie: "Yeah, I feel like a lot of the songs are really driving and I feel like that's where we were in that moment. We were constantly driving on tour, and getting on planes, and it was kind of expressing in that moment what we were doing in the band onto the record."
Who would you say some of your formative artists were that made you want to play music, or have influenced your current work? 
Jennifer: "I would say that when we used to go to shows every weekend when we were in high school, it wasn't until I saw this band F-Minus play that I felt this need to go home and start a band. At that time, we really liked Blondie and The Slits and X-Ray Specs, and Jessie really liked Jimi Hendrix and T. Rex. I was obsessed with Marc Bolan. Our dad played instruments; he played guitar. He had guitars that he had made laying around the house. Jessie already kind of knew how to play bass 'cause she asked for one for Christmas. So we just decided to go home and start a band. We tried doing covers but they sounded nothing like the actual songs, but I think that's what led us into writing our own music."
How did the idea for the zine come into existence?
Jennifer: "Originally, it was just the song 'Can You Deal?' and that's when we were in this three-week period of recording. The other songs were kind of already previously worked, so I felt like this song was my chance to have some sort of important message. Since we'd just been touring constantly after releasing Welcome the Worms, we were doing interviews every day, and it was always the same question: "What's it like to be a girl in a band?" I was kind of baffled at the fact that it was still a question over 10 years later from when I first started playing music and so I was just like, I'm going to write this song right now. Then, our manager was like, 'I think you have something more here, you really could see what other female musicians have to say about this.' I was a little bit nervous at first when I really was like, 'Okay, yeah. I'm going to try to put this zine together.'
"Jessie and I grew up collecting zines and reading about political stuff or DIY stuff so I was always a fan of zines. So then it came time to email people to see if they wanted to be involved. I was so surprised by everyone that was responding back to me excited about the zine. This really is something that's affecting a lot of women in music and I wanted to give a space to let everyone share how they feel. It's not like everyone in the zine is saying the exact same thing. I feel like it's a special space where people are finally getting to share how they feel about being a woman in a band and always being asked what it's like and if they feel like it's holding them back. I've been emailing and getting the submissions and reading them one by one, a day here, a day there, but then I think once it's all in a book together, page after page, it's going to be so empowering."
Is there one essay or contribution you've received that you are especially excited for people to read?
Jennifer: "Yeah, the very first one we got in was by Tegan from Tegan And Sara and hers was so good. I was just like, 'Wow, this is amazing. This is so cool.' Then after hers was one from Ali Koehler who is in the band Upset and was in the band Vivian Girls. Hers was so good. I was like, 'Whoa, this is crazy.' Then Kate Nash's came in, and hers is super honest. It's just like, I can't pick one favorite, but those three right there, I was like, 'Wow. These are so good, and those were the first ones that came in.' But everyone's was so amazing."
I can't wait to get my hands on a copy of it. It seems so timely, especially with the way things are going in the country right now. We need powerful women to talk about this topic. With the success of the zine, is this going to be a one-time thing or do you hope to keep the zines coming with future projects?
Jennifer: "Yeah, we were actually talking about it. We didn't at first. We had no idea the zine was going to be so successful. I was imagining maybe ten women musicians submitting as the final number and just going to a Kinkos and photocopying everything myself. Now it's over a 50-page book and we're having an actual printer print it. When we realized that was happening, we were like, whoa, this could potentially turn into a book. Maybe this is the first batch of it and then there could be more volumes. I totally could see a future in these zines now."
Jessie: "I was also feeling like people are going to read this zine and feel like... I feel like it's just the beginning where if someone didn't have a piece in the zine, they're going to read it and be like, 'Oh my god, I wish I did write something.' So I feel like it's going to get more people to start talking about it or writing about it, even if they're not used to doing something like that. I feel like it's going to get more people wanting to express their opinion and create and start and make it a trilogy."
Is there someone that you either reached out to and didn't hear back from, or didn't even think about that you hope this zine reaches so that you can maybe get them in in the future? 
Jennifer: "Well yeah, there were a few people that just were too busy, which I totally understood, because this is something you want to put your heart into. So if you don't have time, I totally get it. But I was really hoping Brody Dalle would find time to submit because she contacted our manager and was like, 'I really want to be a part of it,' but she didn't know if she had time. There's so many female musicians that I grew up admiring like Debbie Harry and Viv Albertine from The Slits so if it became a bigger thing, I'd be so down to see if they would want to submit. It was kind of more people I knew and people that they knew."
I know it's a limited release of 500 copies, but will there be an e-version as well for people who couldn't get their hands on it?
Jennifer: "There's 500 and then we printed 250 more now, but we might print even more, and there is going to be an online version."
Before we talked about how you're pretty vocal about disliking being labelled as a girl-fronted group. Aside from Can You Deal?, if there's one thing that you could get across to music critics before they even think about asking you those questions, what would it be?
Jennifer: "I want to be asked about what I feel passionate about and we have such a limited time to sit there and talk. It'd be cool to talk about our guitar tones and what we've been doing the whole last seven months of our lives and not just about my gender, 'cause that has nothing to do with how I play music. I feel like that boxes me in and doesn't allow everything that we feel like we're about to be seen. I think it's cool to talk about the guitars we play and the amps we use and the lyrics we write about. I don't even think we feel, just because we're in a band, that it's something we feel forced to talk about. It's what we truly love, the same way we listen and collect vinyl and stuff. Since we've been doing interviews, since the zine, and since Can You Deal? has come out, I've so enjoyed the interviews. Even talking with you has been so enjoyable and I feel like in the past I'm always like, 'Ugh, when is this interview going to end? Can we talk about something that I care about?' So, it's cool."
If you could give one piece of advice to girls who want to enter the music industry, or play rock music, what would it be?
Jennifer: "I would just say to believe in yourself and keep practicing and find friends that you get along with and can play music with and that are into the same things. You need people that believe in you, and you have to believe in your friends. I think that's what will keep you going in the music world. 'Cause if you're playing with people that you feel like are shutting you down or think they're better than you, then it doesn't allow you to explore your talents."
Jessie: "I totally agree with Jen on just believing in yourself. It's so key. Jen really just said it all. I feel like also, it can be really easy to let someone seem like they know what you're doing, and so you're like, 'Oh, okay, I should do it your way.' Then you do it that way, and you're like, 'Wait what? You have no idea.' So, you know, I feel like it's really important to just kind of try new things and allow yourself to make mistakes, because that's how you learn."