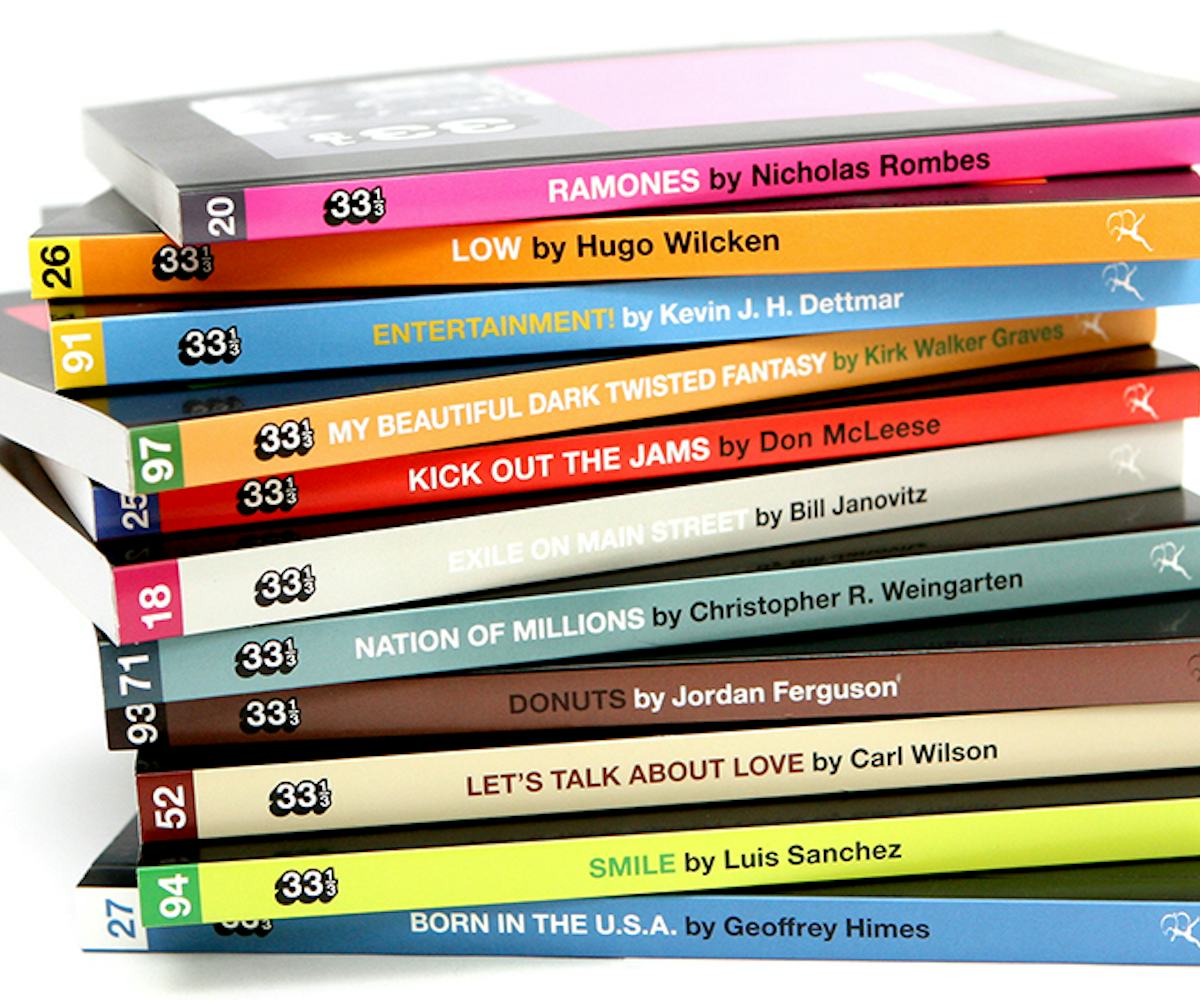 team nylon writes about their favorite records, ever
celebrate 10 years of 33 1/3!
If your vinyl collection looks anything like ours, then it's filled with everything from Illmatic and Electric Ladyland to albums by Radiohead and Patti Smith—all of which happen to be albums in the 33 1/3 series. The iconic books from Bloomsbury Publishing feature editions written by music lovers about specific albums from music's history. The first-ever edition featured Dusty Springfield's Dusty in Memphis written by Warren Zanes. As of this year, there are 101 books in the series, and yes, collecting each is both totally addicting and as fun as uncovering new albums for your LP library.
To celebrate 10 years of 33 1/3 series, team NYLON wrote about our favorite albums of all time that have not yet been featured in the official editions.
Album: Panda Bear - Tomboy
Writer: Haley Stark, Art Director
The spring that Tomboy came out was a pretty serious time for me. I was finishing up a high-stress freshman year and was scared that I hadn't yet "found myself" (as many films and TV shows had promised for my time in college). There were several internships, a changed major, and blood, sweat, and tears—and then there was Tomboy. Every track has such a soothing quality, with droning loops, poetic yet somewhat non-sensical chants, and a general air of eerie. It was a perfect 49-minute dose of sad, giving me the chance to let out some angst (I was a real-life version of the sad girl on the album cover) and then get back to writing some essays.
Favorite Track: It's a tie between "Alsatian Darn" and "Last Night at the Jetty." I think that they're both intricate and haunting tracks, with "Alsatian Darn" confronting self-doubt and "Last Night at the Jetty" mourning a past relationship. The latter was my wake-up alarm tone throughout college, so it has a special place in my heart (and gives me late-for-class anxiety every time I hear it).
Fun Fact:Tomboy was recorded in a basement, which makes perfect sense. As Noah Lennox (AKA Panda Bear) told Pitchfork, "I think a lot of [the vibe] has to do with how much I was alone making [Tomboy]; the studio I found in Lisbon is really down in this basement. When I was working, I would only use this one little light, and I could only work during the day. So there was this weird sense of knowing it's daytime upstairs but I'm in this nighttime bunker zone…it's definitely a more solitary thing."
Best Moment to Play It: Late at night with a candle burning. But here's a good time not to play it: Don't listen to "Last Night at the Jetty" right after a break-up. Take it from a pro.
Album: Bob Marley and The Wailers - Legend: The Best of Bob Marley and The Wailers
Writer: Xenia Rollinson, Photo Editor
The first time I was introduced to the world of Bob Marley was the summer of 1998, on a family friend's yacht sailing around the Bay of Islands, New Zealand. My favorite tracks are "Could you Be Loved" and "Buffalo Soldier."
Fun Fact: This compilation is the best-selling reggae album of all time.
Best Life Moment To Play It: The best time to listen to Bob has got to be anytime in the summer, but especially when you're lying in a hammock on an empty beach, with a Corona in hand. I've seen two of his sons play live, Damian and Ky-Mani, and they're easily two of my favorite shows ever. Damian played during the Vancouver Winter Olympics in 2010 when I was living in Whistler, and that was particularly awesome.
Album: Erykah Badu - Mama's Gun
Writer: Katherine Martinez, Director of E-commerce
When I was 11, I used to pretend to go to sleep dutifully at 9 PM. In reality, I would sneakily stay up an extra two hours playing my portable boombox on low under the covers listening to the "Love Talk and Slow Jamz" segment of my local hip-hop radio station. That's when I first heard Erykah Badu's whispering vocals in the infamous "Bag Lady" from Mama's Gun—she was utterly captivating. Although I was too young to fully understand what it meant to carry emotional baggage in relationships, something about the soulful track still spoke to me.
Favorite Track: The song "Green Eyes" was said to be about Badu's breakup with Outkast's Andre Benjamin. My favorite line has got to be: "My eyes are green / Cause I eat a lot of vegetables / It don't have nothing to do with your new friend." A few adolescent heartbreaks and years later, all of Mama's Gun finally clicked. Today, the album is my therapy anytime I'm coming out of something semi-serious, reminding me to stay grounded and "pack light."
Album: Ra Ra Riot - The Rhumb LineWriter: Jackie Yaeger, Special Projects Manager
The first time I ever heard anything by Ra Ra Riot was in 2008 when I was in college, working at dELiA*s in the mall. I know I talk about it a lot, but working there was kind of awesome (big discount on clothes, had the chance to check out the brand's catalog before anyone else, listened to really good music all day). When it comes to the latter, we played everything from Robyn to Lil' Jon to Kate Nash to Paramore to The Runaways. A few tracks we played were by this band called Ra Ra Riot (I would have to run to the back room and look at the speaker's digital screen which had the name of the band, the album, and the track name). After that moment, I looked up the band on my phone and listened to all of their albums when I got home from my shift.
Favorite Track: All of Ra Ra Riot's songs are super emotional. I like songs that dig deep into your soul, mind, and heart to make you remember a time when all of that was really hurting, or was really great. For me "Can You Tell" does that really well. It takes me back to the times when I wanted something so bad I just felt like I couldn't figure out how to make it happen.
Fun Fact: The song "Dying Is Fine" is inspired by the e. e. cummings poem, "dying is fine)but Death".
Best Life Moment to Play It: When you're in the mood to feel nostalgic (for me this is usually when summer changes to fall and you have a really weird feeling—that feeling is usually just change).
Album: Nahawa Doumbia -  La Grande Cantatrice Malienne, Vol. 3Writer: Mickey Stanley, Senior Editor
"Hey man, you've got to listen this!"
When a friend plays you a song, there are two possible outcomes, both terrible. Either what you hear is brilliant, in which case you (me) become sick with jealousy—pained that it was not you who discovered the song—or, what's worse, the track is not at all good, but you find yourself saying things like, "I can tell it's well done, I just don't listen to this sort of thing anymore…" Years ago, I started a pirate radio station in Los Angeles with my friend Richard. This dude always found the great songs first, much to my anguish. At some point in our friendship/carpool arrangement, he began playing little-known, totally awesome music on his car stereo. He'd turn on a song, then pretend it was just one in a long list of cool things he was listening to—no preference given. This was, of course, a lie, and he had saved his best finds for our rides together, eager to watch me squirm with envy. I first listened to West African-singer Nahawa Doumbia's album La Grande Cantatrice Malienne, Vol. 3, in just this way, from the passenger seat of Richard's Volvo. I began to say, "I don't like African music…" but Richard knew better than to believe me, so he smiled, and I left knowing about this incredible album that I couldn't find myself.
Favorite Track: "Kungo Sogoni"
Fun Fact: Some genius named Brian Shimkovitz was on a Fulbright scholarship in Ghana, where he fell deeply in love with West African pop and soul. He bought up every cassette and LP he could find over there, came home, and started posting bits about the music on his site, Awesome Tapes from Africa. This stuff hadn't been heard much outside of the continent, so people went nuts—myself included. Brian decided to re-release the better LPs on his own label, and in 2011, he put out La Grande Cantatrice Malienne, Vol. 3 (first released in Mali, in 1982).
Best Life Moment To Play It: It is technically "happy" music, but Doumbia's voice is shrill, sometimes crackling, which makes it more feel-good-for-being-tough music. This is "Do it yourself, I quit," music. But whatever your moment is, do play Nahawa sparingly. It's not a daily driver. Her voice is completely insane, the guitar riffs are constant and repetative. There are only four songs on the album and nothing is sung in english, so you won't want to overdo it.
Album: Smashing Pumpkins - Siamese Dream
Writer: Julie Humeas, Eastern Advertising Manager
I was 11.  It was 1993. I couldn't be bothered with anything else in life except school and coming home to listen The Smashing Pumpkins' Siamese Dream album. The album's first single, "Today," got me hooked, but it was "Mayonaise," "Soma," and "Luna" that kept me playing this album on repeat.
Favorite Track: All of these songs start dreamy and build intensity during the chorus, with my favorite being "Soma," specifically around its 3:30 mark. Every morning began the same way: hitting play on my Sony cassette player and beginning the album from where it left off the evening before.   
Fun Fact: The album was produced by Butch Vig, drummer for the '90s alt band, Garbage. Vig also produced another famous album of the '90s: Nirvana's Nevermind. When I finally ran into James Iha at the living room in the LES during my first year in New York, I got weak in the knees. I could barely get out a "hello"—and it was amazing.
Album: Sean Nicholas Savage - Other Life
Writer: Busra Erkara, Senior Editor
Sean Nicholas Savage stands halfway between a romantic poet and a dark Canadian pop prince, and I mean that in the best way possible. He must be one of those people who knows how to be prolific on their own as well—the man has put out ten albums since 2008. I didn't know about him until last May, around the time he came out with his latest, Bermuda Waterfall. However. It was my roommate, who is also a (romantic) musician that steered me Savage's way, saying his last album was really good, and insisting I should listen to his former full-length, too (2013's Other Life). Laden with hip-hop infused beats, bedroom synthesizers, and soulful vocals, Waterfall is typical of Savage's most recent work and I listened to it without skipping a song. But it was when I started listening to Other Life that I felt home, as it immediately dawned on me that I was witnessing one of most beautiful creations that ever came out of a failed relationship (I was healing from a friendship that felt like twisted relationship for a second, plus it was a long, rainy May). Having recovered from all that, I still listen to Other Life and Bermuda Waterfall as a double album, the breaking factor being the enchanting sorrowfulness of the former.
Favorite Track: My favorite track on the album, "We Used To Live In a Dream" breathlessly delivers the line: "I woke up in a nightmare, where you don't love me anymore / No you don't love me, and I don't know you / So I don't love you anymore, too." If for some reason you are still not completely sold on Sean, take this: One of his former albums is called Mutual Feelings of Respect And Admiration. But then again, I'm sure you already are.
Best Life Moment to Listen To It: Besides the quality of the music, I think what marks Other Life as a bedside break-up album is the ambiguous passivity to its lyrics. As sad as it is, it's about moving away from the dried husk of a relationship but the agony does not necessarily come from being broken up with; It's more about self-recognition, rejection, and denial that is shared with an "other" at a place where these things are not mutually exclusive.
Album: Lil' Kim - Hardcore
Writer: Joseph Errico, Fashion Director
As soon as this album came out in the late '90s I was an early convert.
Favorite track on the album: "Big Momma Thing," duh. When Lil' Kim spit that very first line on the first track of the album, she rapped her way into music history.
Fun Fact: Up until this point, female rappers were for the most part about female empowerment (MC Lyte, Queen Latifah) or they were making pop-radio friendly cheeky tracks (Salt-N-Pepa). However, Lil' Kim took a page from the guys and rapped as a badass gangsta with overt (hardcore) sexual rhymes, while name-checking major fashion designers along the way. Kim redefined what it meant to be a female rapper and forever changed the game. Oh yeah and Biggie, Puffy, Jay-Z and Jermaine Dupri were all up on this debut album.
Best Life Moment To Play It: Cruising in the drop-top with the radio at full volume.
Anything Else You'd Like to Add? No shade, Kim is the original queen bee. Bow down, bitches.
Album: Britney Spears - BlackoutWriter: Beth Garrabrant, Photo DirectorI listened to a bootleg copy of Blackout before it was released. Black Market Britney.
Favorite Track: "Freakshow" or "Heaven on Earth"
Fun Fact:This was the only Britney album to not open at #1. Non-Basic Britney. 
Best Life Moment To Play It: Blast it in your car while you drive to McDonalds after you just signed those divorced papers and got the most badass haircut ever.
Anything Else You'd Like To Add: This behind-the-scenes picture of Britney's "Gimme More" video.
Album: Aqua - Aquarium
Writer: Yasmeen Gharnit, Editorial Assistant
I don't necessarily remember the first time I heard Aquarium, but I remember the second time I bought the cassette. I was five years old, at my family's house in Morocco and I hadn't heard English in days. I became even more obsessed with Aquarium and listened to it over and over on my Sony Sports Walkman.
Favorite Track: "Happy Boys & Girls"
Fun Fact: Mattel filed a lawsuit against Aqua for their song, "Barbie Girl," because it associated "sexual and other unsavory themes with Mattel's Barbie products." After nine months of legal battles, a federal judge dismissed the suit, favoring with Aqua. After all, Aqua really just gave Barbie some major street cred.
Best Life Moment To Play It: Any time and every time you ever think of it. But, if I had to choose a prime time, I'd say whenever a party seems to be winding down and you're ready to keep going.
Album: of Montreal - Hissing Fauna, Are You The Destroyer?
Writer: Jenny Peck, Senior Marketing Manager
I discovered of Montreal during my senior year of high school, approximately nine months before I moved to their home town of Athens, GA to start my freshman year of college at University of Georgia. My first weekend at school included, what I would consider, a legendary of Montreal show at the 40 Watt. I had never seen anything like it—live performance art that spurred a 500-person dance party. Their manic energy and crazy live show was the perfect intro to the little town of Athens, where I would spend the next five-ish years "finding myself" and partying with southeast's highest contingency of weirdos.
Favorite Track: When Hissing Fauna, Are You The Destroyer? came out, I had just started DJing at my college radio station. It was the first album they released after I moved to Athens, and I was super excited to spin it. I was still figuring out the equipment, so I put on the longest song they had, "The Past is a Grotesque Animal," (coming in at just over 12 minutes) to give me time to pick out my next few tracks. It's still my favorite of Montreal song of all time. It's the most obviously dark track on an album that deals with lead singer Kevin Barnes' chemical depression. Despite the dark undertones, the album is still full of signature of Montreal pop songs that are guaranteed to get anyone dancing.
Fun Fact: "Bunny Ain't no Kind Of Rider" references the blue lights of Go Bar, Athen's best disco bar modeled after Andy Warhol's factory (also my place of employment before moving to NYC).
Best Life Moment To Play It: Spin it after a break-up when you are in that manic phase and going out all the time, and you know it's kinda dark but you just want to dance.