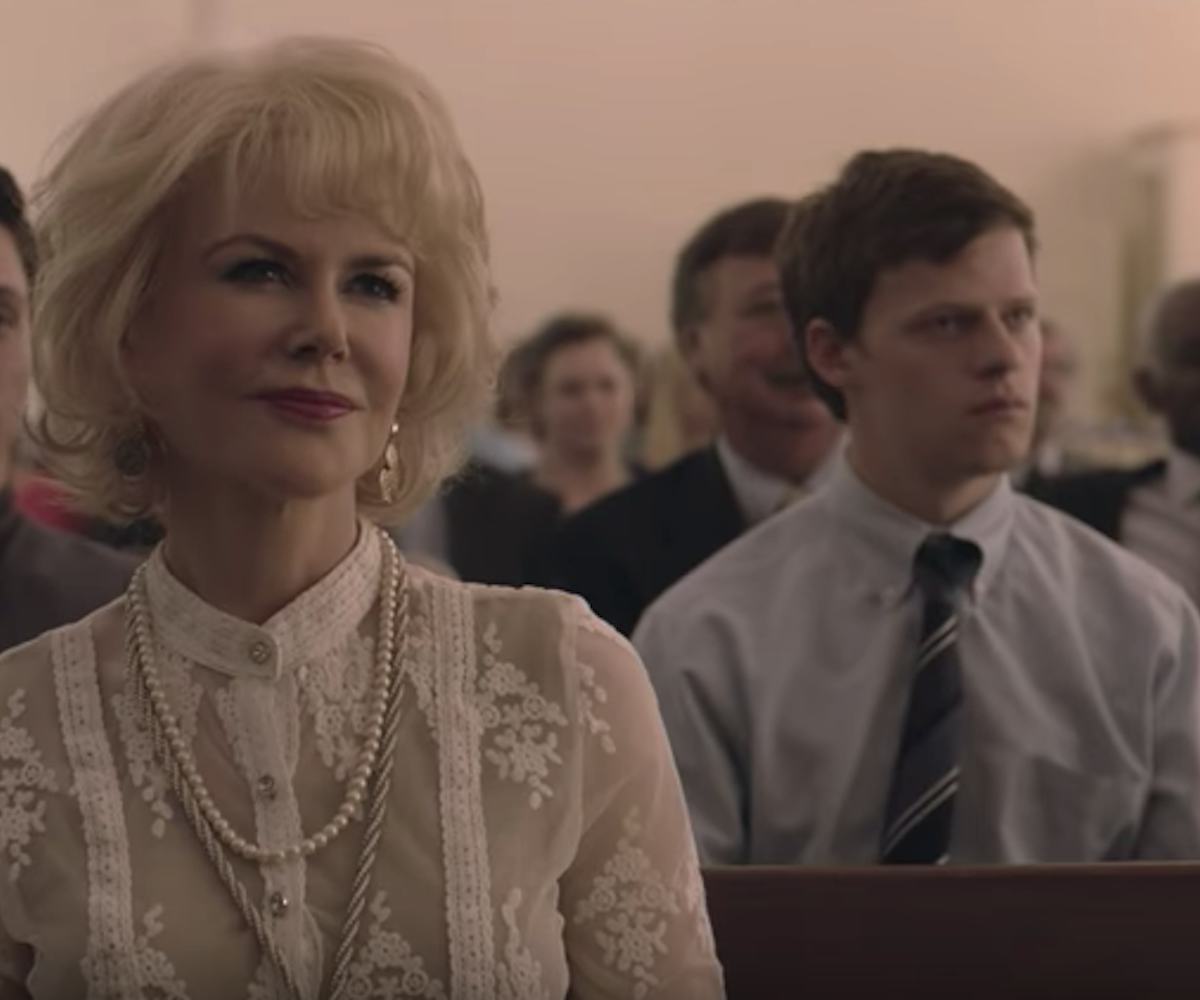 Photo courtesy of Focus Features
The 'Boy Erased' Trailer Tackles Homophobia Disguised As Morality
Based on a true story, the film stars Lucas Hedges, Nicole Kidman, and Joel Edgerton
The second movie in as many weeks to tackle gay conversion therapy just dropped its first full-length trailer. Boy Erased is based on a true story and stars Lucas Hedges as Jared, a high school student living in the Deep South who is forced into conversion therapy by his religious parents played by Nicole Kidman and Russell Crowe.
The film is a bleak look at the torturous effects of forcing evangelical beliefs on queer individuals. After being outed to his parents, Jared is sent to a therapist in order to "fix" his sexuality. After the therapist, played by Cherry Jones, reassures Jared that there is nothing wrong with him, his parents, unable to process this "diagnosis," send him to a religious conversion camp. The conditions that he endures there are taxing to watch, as those forced to attend (including a character played by Troye Sivan) are abused both mentally and physically—they are literally beaten with bibles.
This trailer also portrays the guilt placed on queer individuals living in areas where being gay is still considered immoral and wrong, and the intense shame that is forced upon them by their communities and even their own families. What's more, these parents, as shown by Kidman's and Crowe's characters, actually believe that potentially scarring their children by shaming their identities is an act of tough love, and not potentially damaging to their children's psyches.
From the trailer, it looks like Kidman's portrayal as a wife of a preacher is filled with nuance; it's moving to watch her wrestle with her religious beliefs and her devotion to her own son. While she initially echoes her husband's assertion that Jared's sexuality is immoral, she starts to realize that what her son is going through is wrong over the course of the trailer.
Although described as dangerous by mainstream psychologists, gay conversion therapy is still perfectly legal in 37 states (and condoned by our current vice president). Watching this, one has to wonder how this kind of torture is disguised as an acceptable form of therapy backed by religious institutions. This film serves as a painful reminder of the discrimination, homophobia, and dangers that queer people face in places where their identity is condemned.
Directed by Joel Edgerton (who also stars), Boy Erased is coming to theaters on November 2. Watch the trailer, below.