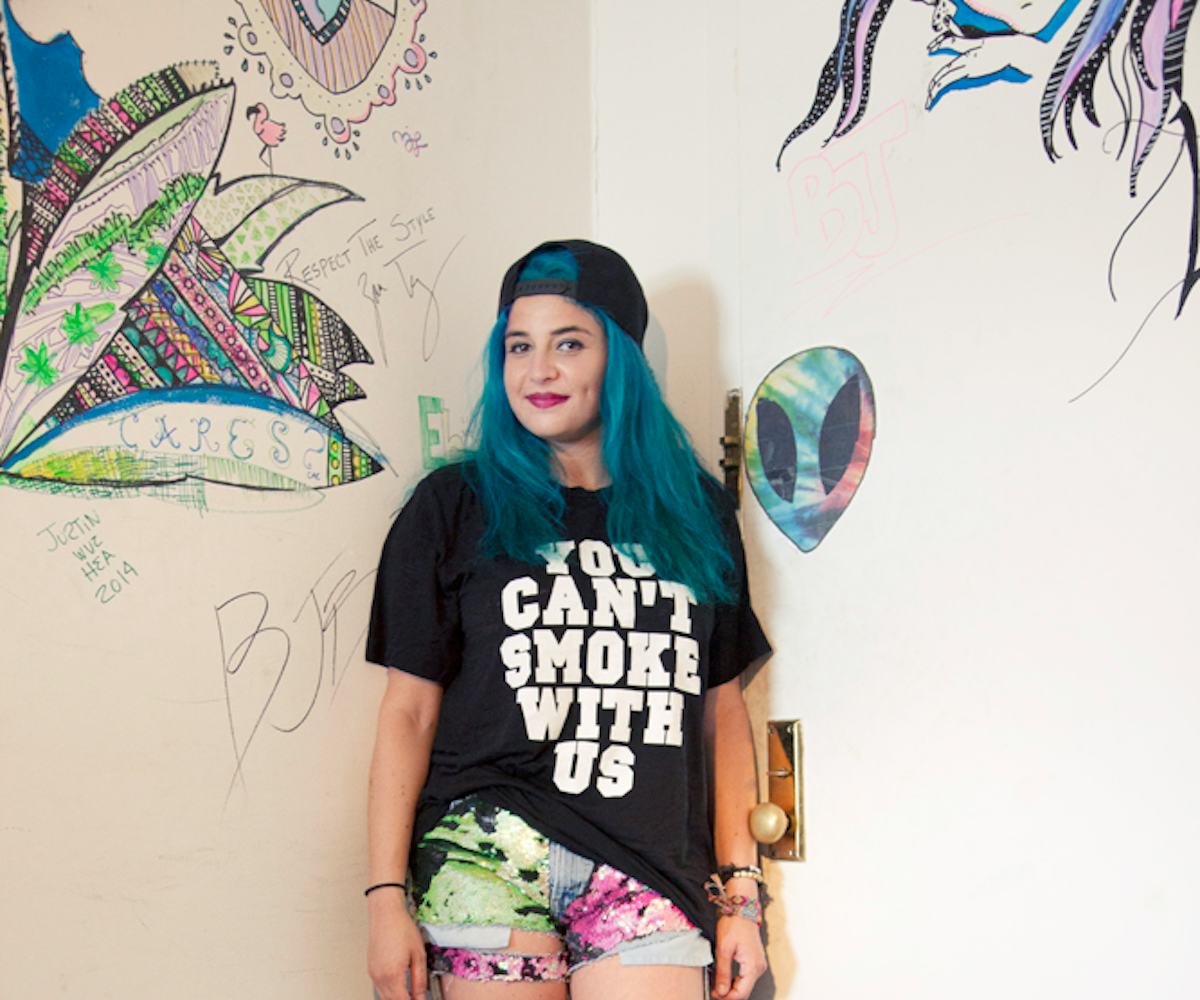 Photo by: Vivian Loh
brand to watch: whocaresnyc?
get to know street-punk designer Ava Michele.
Name: Ava Michele
Brand: WhoCaresNyc?
Current City: New York
1) How long have you been slinging graphic tees and how did you get started?
When I was 18, a friend gave me Photoshop—I was instantly addicted and taught myself everything I needed to know to work freelance jobs, including [making] T-shirts. I also started to make jewelry out of everything in sight. I used to walk around the beach in NY and Miami with necklaces around my arms like a gypsy. In 2012, I figured out a way to combine the two and started WhoCaresNyc? out of my parent's garage. The first collection consisted of graphic printed bodysuits along with studded vintage Levi's.
2) Favorite item from WhoCaresNyc's current collection? (Those 90's socks are everything.)
My favorite Item from the current collection has to be the pink collage skater dress. I made the print myself and expressed everything that I love and am so into right now.
3) How would you describe the girl who wears your goods?
The WhoCaresNyc? girl is fearless, creative, and doesn't give a !@#$% what anybody thinks of her. She is street smart and a gypsy at heart.
4) Where do you get your inspiration from?
I travel a lot internationally... every city I go to leaves a mark on me. I always ending having to get another suitcase in order to bring all the inspiration home! Another big inspiration to me is music and old movies. I think a big part of being a designer is understanding how to recreate the classics in an original way. I love watching and listening to anything '90s!
5) What's next?
A few new collaborations with some other street wear labels... I will also be offering some of my new collages, drawings and pop culture theme prints on whocaresnyc.com as well as select galleries in NYC and Los Angeles! 
Shop the latest from WhoCaresNyc? on NYLONshop
Beanie, $40, and tunic, $65, WhoCaresNyc? Available on NYLONshop
Dress, $112, WhoCaresNyc? Available on NYLONshop
Jeans, $175, WhoCaresNyc? Available on NYLONshop