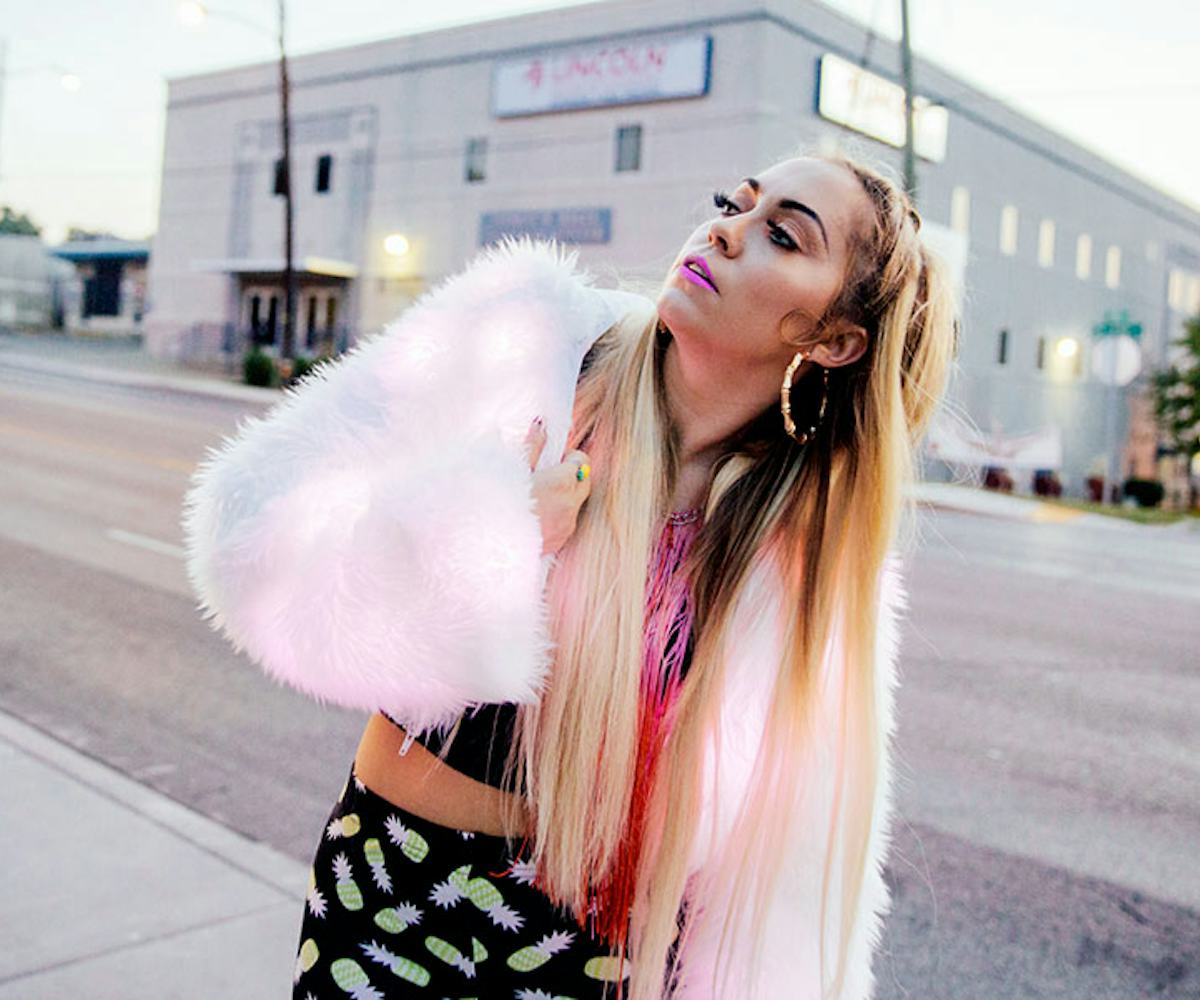 Photographed by Joseph Llanes
Brandi Cyrus: The Southern Sophisticate Rebels
+ talks fall beauty, her film debut, and shutting down Miley's haters.
When you hear the surname Cyrus, your mind either darts to vigorous twerking and low-key vape-toking with Leonardo DiCaprio, or achey-breaky hearts, depending on the year you were born and proximity to the American South. But the prolific family name doesn't stop at just music and salacious headlines.
Enter: Brandi Cyrus, the entrepreneurial-minded big sister to everyone's favorite glittery, little Wrecking Ball who's blazing onto our radar this season with her killer style blog StyleNative, Web series, and her film-acting debut in the upcoming indie-horror flick Old 37 hitting theatres October 6. With over 535-thousand followers on Twitter and a whopping 635K on Instagram, the elder Cyrus sister and social-media maven is a force to be reckoned with—and not to mention a total knockout stunner—who simply won't be stopped.
We hung out with the chic Steel Magnolia in her native Nashville as she channeled her rebellious side and opened up about her busy lifestyle, fall style inspo, and why Miley's haters will never keep her or the Cyrus family down.
Photographed by Joseph Llanes
Makeup by Mari Fandl using Obsessive Compulsive Cosmetics, Anastasia Beverly Hills products, and Ardell lashes. 
Hair by Tarryn Feldman using Kevin Murphy products and T3 Micro Hair Tools. 
Styling by Nashville Glam Squad
You were in the family business for a while pursuing music as one-half of your former band Frank + Derol. What are you up to right now, career-wise? Do you have any big projects in the works? 
I actually have my first feature film coming out October 6th—a horror film called Old 37 I did a few years back. It was funded independently and is releasing just in time for Halloween this year! I'm so excited about it, and that project has inspired me to do more acting, so I'm auditioning a lot as well right now.
Aside from that, it seems like I'm always working on a million things at once. The recurring things I've got going on are my music-show Web series The Queue on PopularTV, a monthly style editorial for equestrian magazine The Plaid Horse, as well as keeping up with my own blog, StyleNative.
You're known for your sophisticated, classically Southern vibe. What inspired you to change your look up and experiment with a more urban, edgy look?
Honestly, I can't take any credit for this awesome shoot! My stylists Tarryn Feldman and Mari Fandl from Nashville Glam Squad put this together, and I totally let them take the reins in creative direction. And I'm so glad that I did! This turned out to be one of my favorite shoots I've ever done, and we had a blast on set.  
Clearly, good genes and stunning looks run in the Cyrus family. Do you have any go-to beauty routines or products you can't live without? 
I'm crazy about skin care. My roommate makes fun of me because I have a zillion products in the bathroom, but I really do use them all! I like to have bright, clean skin so that I can wear minimal makeup. I like soft, natural brown shades for makeup with a bold lip if I want something glam. I'm obsessed with brown lipsticks right now—Jeffrey Star makes a lip stain in a shade called Celebrity Skin that is my everyday go-to. 
We love all the super-accessible styling tips on your site! What inspired you to start StyleNative?
After I quit my band Frank + Derol, I was trying to decide what was next for me, and the fashion industry has always been appealing. Ever since I can remember, the idea of "style" has been really intriguing to me, and I've always made a point to wear clothes that make me stand out and represent my personality. I didn't realize it until I thought about it, but over the years I had become the go-to for all of my friends that needed a closet to raid, an outfit to borrow, and advice when shopping. So the blog has been my outlet to not only share my style tips with fans and followers, but it's always inspired me to evolve my style even further!
Who are your style icons?
I love, love, love the Olsens. I look to them a lot for beauty inspiration. Whenever I have a red carpet or big shoot, I pull up hair and makeup looks from them because their looks are always on point—and timeless, as well. I'm a big Alison Mosshart fan, too. She's the lead singer of both The Kills and The Dead Weather, and she's a badass with a killer, effortless, rock n' roll style. Chrissy Teigen is another chick that, specifically on the red carpet, always looks amazing.
Are there any styles you're particularly excited about for fall? Who are your favorite designers or notable lines right now?
I love seeing all of the Western-style trends, especially for fall—fringe, suede, hats, pointed-toe boots—they totally speak to my Southern roots. But the most exciting trend to stick is sneakers. I never, ever wear heels (unless I'm forced!), and the fact that my Adidas and Reeboks can now put me on the best-dressed list makes me a happy tomboy. Some of my favorite designers and lines right now are Loeffler Randall, C/Chrst, the Kooples, and Gelareh Mizrahi accessories. I love all of the faux fur from Shrimps, and the new AllSaints stuff is really incredible—their fall color palate is great. 
Obvious question: What's it been like being Miley's older sister? You grew up in the public eye, but has is been difficult or overwhelming to navigate and adjust to the media zeitgeist surrounding Miley and your family?
People ask me this all the time, but honestly growing up with my dad [Billy Ray Cyrus] being a massive country music star, this lifestyle was just kind of always normal. I don't read trash magazines or anything negative posted online ever, because it really just doesn't matter what people write. I have so many incredible friends and people surrounding me that couldn't care less about what my last name is, and it's those people that matter the most to me. So, who cares what some stranger is saying somewhere that doesn't even know me, or my family, ya know?